Why You Should Always Have 2 Types Of Olive Oil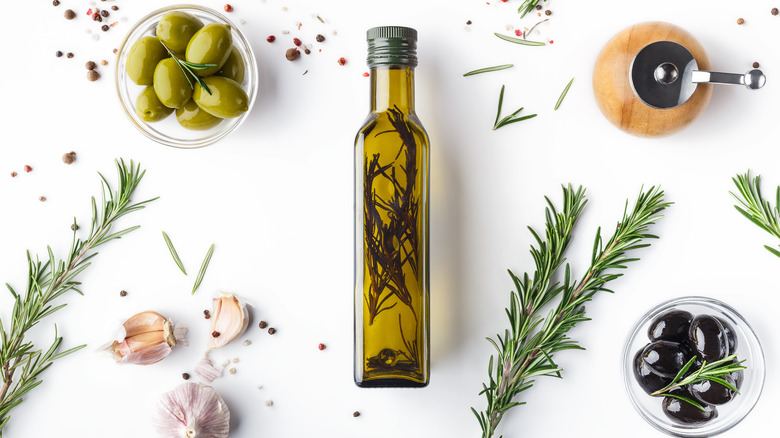 Shutterstock
It is no question that chefs are big fans of olive oil. Food TV personality Rachael Ray loves extra-virgin olive oil so much that she gave it the nickname EVOO. The shorthand moniker quickly caught on with Ray's fans and was later added to the Oxford American College Dictionary in 2007 (via The Mercury News). Ray and her fans are not the only ones to celebrate the beloved oil extracted from olives. Olive oil producer and importer Morocco Gold lists Emeril Lagasse and Todd English as famous chefs who regularly use olive oil. Per Morocco Gold, Lagasse uses a combination of citrus fruit and a drizzle of extra-virgin olive oil when grilling seafood, vegetables, and meats. English reveals olive oil and healthy fats, like nuts and avocado, are essentials in his culinary repertoire.
According to New York Magazine's The Strategist, there are myriad olive oil options. Among their 19 brand recommendations are California Olive Ranch Extra Virgin Olive Oil and Tenuta Di Capezzana Extra Virgin Olive Oil. The Strategist also lists Olio Verde Oil Olive Extra Virgin as an inexpensive option for budget-friendly EVOO enthusiasts. But some may argue having just one brand of olive oil in your kitchen isn't enough for the average home cook. 
Two Oils Are Better Than One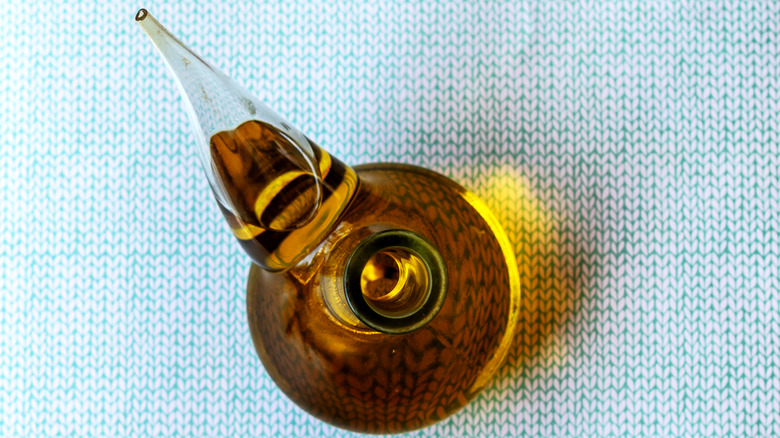 Shutterstock
Acclaimed chef David Lebovitz is one of those people who recommend having multiple olive oils in your pantry. Lebovitz, who has been working in restaurants since the age of 16, knows a thing or two about cooking. And with that vast experience comes expert knowledge on how best to utilize ingredients. On his official site, he compiled eight tips for using olive oil, adding this piece of advice in his cooking and storing suggestions: Always have two olive oils on hand. But why?
Lebovitz shared that he uses high-quality olive oil when it comes to uncooked dishes like salads and raw veggies. But he revealed that he also keeps an inexpensive olive oil at the ready, or what he calls "house" oil, for frying. This is a helpful tip, considering the price of olive oil can add up, particularly if you're following in his footsteps and using different brands. So next time you're frying your favorite meat, it's okay, according to Lebovitz, to reach for that less expensive bottle of EVOO to drizzle over it.