Talenti's New Ice Cream Flavor Has A Top Chef Twist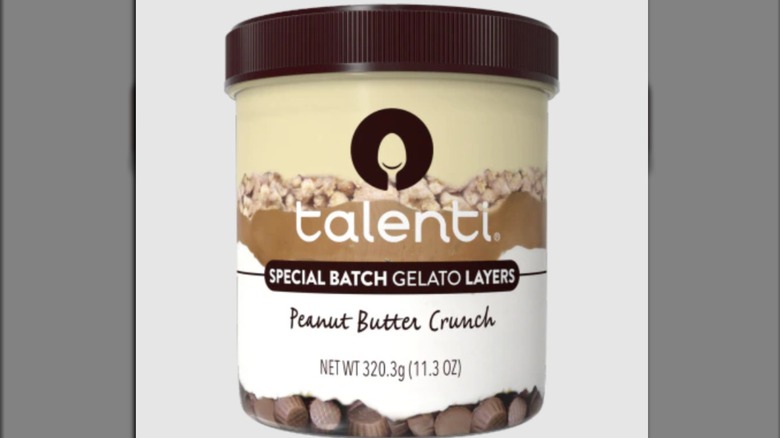 Talenti
If you're an avid "Top Chef" viewer, then you already know a Quickfire challenge is a competition between the cheftestants that offers a very limited window of time to whip up an impressive dish under specific guidelines. According to Bravo, one such culinary relay required each chef to create a dessert using Talenti Gelato Layer products, those jars of delicious gelato and sorbetto layered with yummy sweet and crunchy add-ins (via Talenti), as inspiration. The chefs had 45 minutes to create a layered dessert in a new flavor for a chance at immunity going into the next round, oh, and $10,000.
During the competition, competitor Avishar Barua tried the Peanut Butter Vanilla Fudge flavor of Talenti and said, "I could probably eat this entire thing ... It reminds me of a Buckeye." If you're not from Ohio, then that line may have invoked a little head-scratching. A Buckeye, according to the Food Network website, is a peanut butter-and-chocolate truffle named for a nut with a similar appearance that grows on Ohio's state tree, the buckeye. Barua used that nostalgic reflection to create his challenge-winning dessert, a Buckeye Bonbon with peanut butter, graham cracker, brown butter, and chocolate flavors. With a description like that, we would have declared him the winner without even tasting it!
Talenti turned Avishar Barua's Buckeye Bonbon into Talenti Layers Peanut Butter Crunch
As if a cool 10 grand wasn't enough compensation for creating his Buckeye Bonbon dessert, Avishar Barua was also rewarded by having Talenti use his dessert to inspire a new Talenti Layers gelato. According to Foodbeast, Talenti Layers Peanut Butter Crunch is the new flavor based on Barua's creation, and it's a decadent one! According to the site, the Peanut Butter Crunch jars are filled with layers of peanut butter gelato, graham cracker pieces, vanilla gelato with brown butter sugar sauce, and if you make it to the bottom — and we're pretty sure you will — there are even little peanut butter cups!
Over on Guilty Eats, they had the chance to actually try the new multilevel treat (jealous much?), and had this to say: "Whether you eat this gelato in its individual layers or make sure that all the layers end up on your spoon, this is an amazing dessert that will satisfy your sweet tooth with ease." Now, to be honest, we never actually considered tackling this dessert with different methods, but we'd definitely make sure of one thing — that all the layers ended up in our mouth!