Easy No Bake Buckeye Cookie Recipe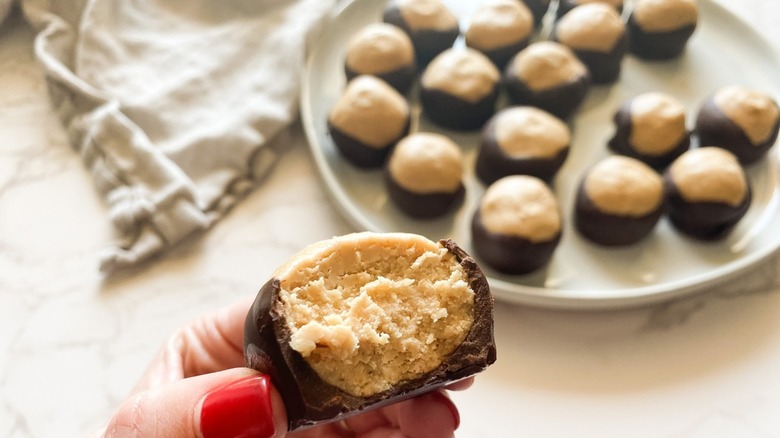 Kristen Carli/Mashed
If you love peanut butter and chocolates, then you will definitely adore buckeye cookies, as you can enjoy your two favorites in one adorable and satisfying dessert. The sweet delights got their name for their resemblance to the nut of a buckeye tree. Basically, the treats are peanut butter balls dipped in chocolate — sounds super tasty, right? That's because they are. Plus, they are super easy to make. "Anyone can make these!" says recipe developer and registered dietician Kristen Carli of Camelback Nutrition & Wellness.
The buckeye cookies are also great treats for big and small parties, simple gatherings, and the holidays. "My family actually makes these for Christmas Eve dessert with rock candy," says Carli. "They are a crowd pleaser." 
Buckeyes are the type of dessert that both kids and adults can enjoy — which is why they are perfect for celebrations. For personal consumption, you can also keep these cookies for a long time. Carli notes that you can store the treats "in the freezer for up to three months." Give these delicious cookies a try, and you will surely wow your family and friends.
Gather your ingredients for the tasty treats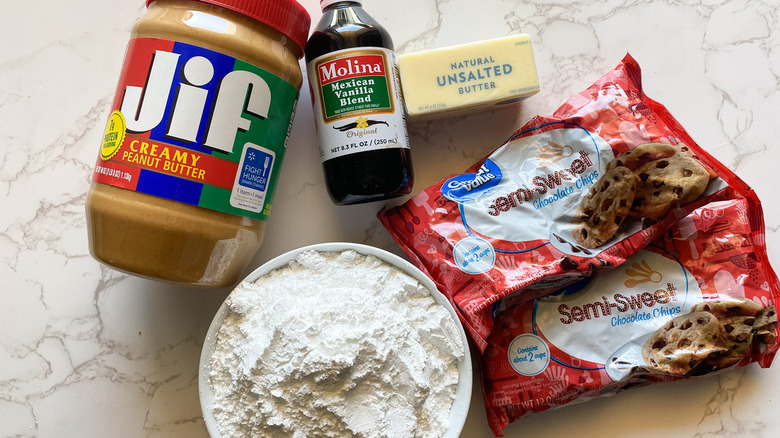 Kristen Carli/Mashed
To make buckeye cookies, you will only need six ingredients: peanut butter, unsalted butter, vanilla extract, powdered sugar, salt, and chocolate chips. Since you will be making peanut butter balls, you will definitely need lots of the spread. Two cups of peanut butter are needed in Carli's recipe alone, so purchase extra if you want your cookies bigger, and maybe an extra pack of chocolate chips if you want more chocolate.
Combine peanut butter and unsalted butter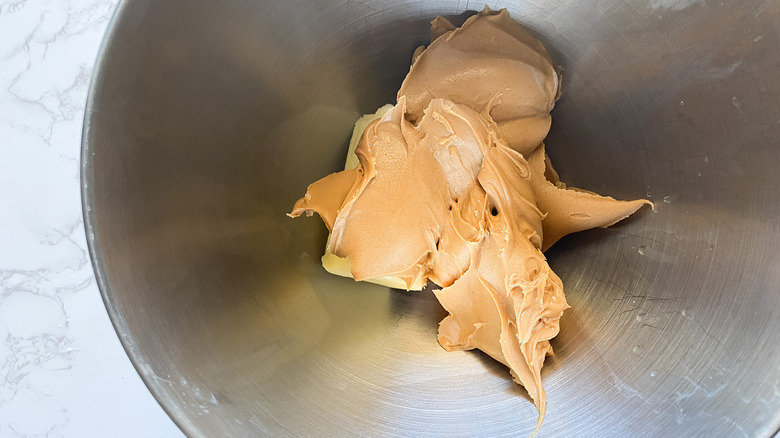 Kristen Carli/Mashed
Using the bowl of a stand mixer, place the 2 cups of peanut butter and add in the unsalted butter. Then combine everything thoroughly. Continue to let the mixer run until the batter is smooth. While Carli used a stand mixer, you can also use alternatives. If you only have a hand mixer or a whisk, those are just fine. Although in manual whisking, it may take you a while to get the right consistency. But you can still achieve the same result.
Pour in the rest of the ingredients and mold them into balls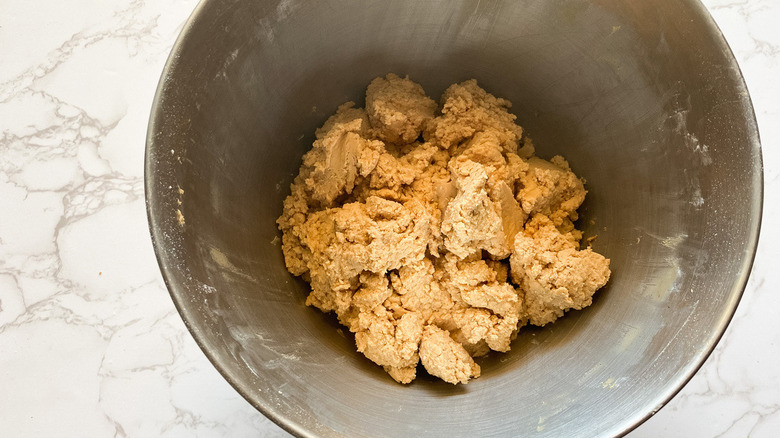 Kristen Carli/Mashed
When your batter is smooth, pour in the vanilla extract, and add the salt and powdered sugar. Mix everything well. Now that your mixture is set, you are now ready to make your peanut butter balls. 
Scoop about one tablespoon of the batter and form it into a ball. However, if you want the size to be bigger or smaller, simply scoop more or less of the dough. Continue molding the rest of the mixture.
Place the peanut butter balls on a baking sheet and freeze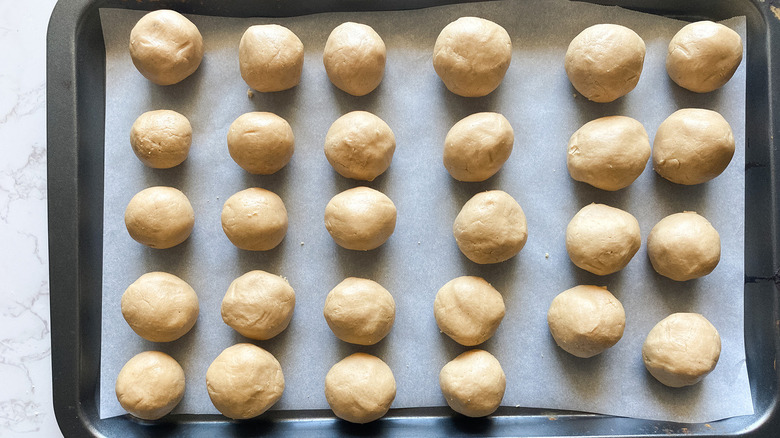 Kristen Carli/Mashed
Cut the parchment paper and place it on a large baking sheet. When they're ready, place the peanut butter balls on the tray and arrange them neatly. Depending on the size of the balls, you may need two baking sheets. Freeze the peanut butter balls for up to 30 minutes. While waiting for the treats to harden, you can continue with the other steps.
Melt the chocolate chips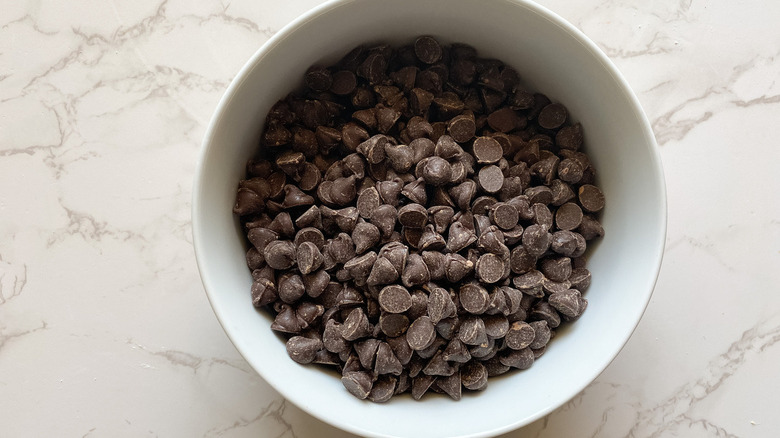 Kristen Carli/Mashed
Grab a small bowl and pour in the chocolate chips. Pop them in the microwave for 30 seconds to melt the chocolates. When done, stir the chocolate, and place the bowl back into the microwave and heat again for 30 seconds. Repeat the steps until the chocolate is smooth. Doing the process a few seconds at a time will prevent the chocolates from burning and getting the right consistency. Set aside and check on your peanut butter balls.
Dip the peanut butter balls in chocolate and freeze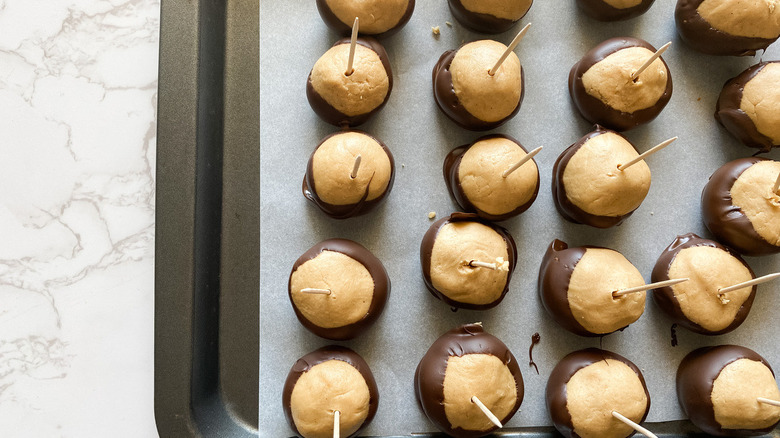 Kristen Carli/Mashed
In the next step, you will need to use toothpicks. Insert them in the peanut butter balls and dunk each ball into the chocolate — but don't coat everything. Only dip the buckeye cookies halfway, leaving a small part of the peanut butter exposed. Place the cookies back onto the baking sheet and freeze again until they're ready to serve. For leftovers, store them in a container and just pop them in the freezer for up to three months.
Easy No Bake Buckeye Cookie Recipe
Peanut butter and chocolate buckeye cookies require no baking and can set in the freezer. All you need is a bowl, mixer, and microwave for these tasty treats.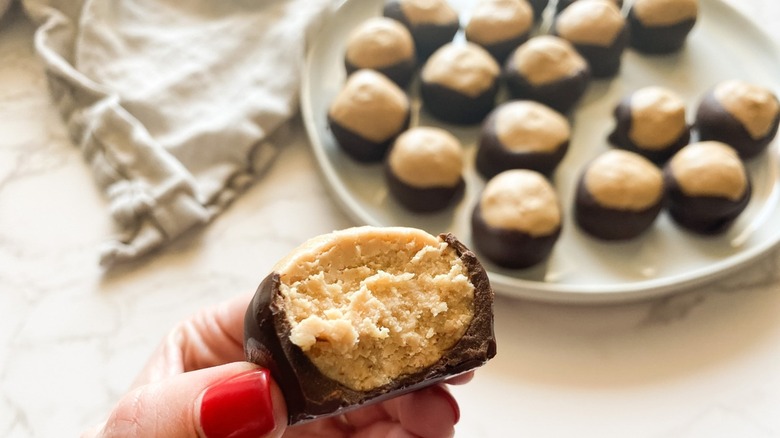 Ingredients
2 cups peanut butter
1 stick unsalted butter
1 teaspoon vanilla extract
½ teaspoon salt
3 ½ cups powdered sugar
1 16 oz bag chocolate chips
Directions
In the bowl of a stand mixer (or a regular bowl if you don't have one), add peanut butter and butter. Mix to combine until smooth.
Add vanilla, salt, and powdered sugar. Mix to combine.
Scoop about 1 tablespoon of dough into your hand or so and roll into a ball. Repeat with remaining peanut butter dough. Place on a large baking sheet covered in parchment paper.
Freeze baking sheet for 30 minutes.
In a small bowl, add chocolate chips. Microwave for 30 seconds and then stir. Microwave again for 30 seconds and then stir. Repeat until chocolate is smooth.
Using toothpicks, dunk peanut butter balls into chocolate, dipping halfway.
Place back on the baking sheet and freeze until ready to serve.
Nutrition
| | |
| --- | --- |
| Calories per Serving | 521 |
| Total Fat | 30.8 g |
| Saturated Fat | 11.8 g |
| Trans Fat | 0.3 g |
| Cholesterol | 20.7 mg |
| | |
| --- | --- |
| Total Carbohydrates | 56.3 g |
| Dietary Fiber | 2.5 g |
| Total Sugars | 49.9 g |
| Sodium | 105.3 mg |
| Protein | 9.1 g |