The Secret Dog Treat You Never Knew Chick-Fil-A Offered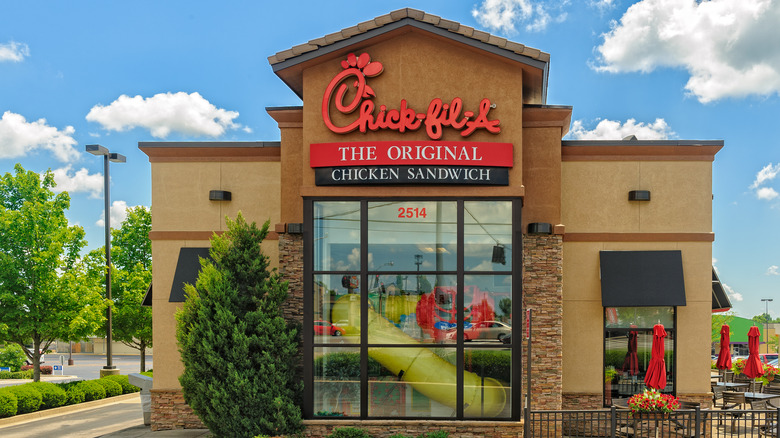 Barry Fowler/Shutterstock
Chances are pretty high that at some point in your life, you've either been to or driven past a Chick-fil-A. After all, according to the American Customer Satisfaction Index, the national chain is the number one fast food restaurant in America for the seventh year in a row. When you pull up to the drive-thru, you likely have juicy chicken nuggets, crispy waffle fries and a giant tangy lemonade on the brain. 
From the classics like chicken sandwiches to the healthier options like salads, there's something for everyone in the family on the menu. But the people in your car aren't the only ones that can indulge in a Chick-fil-A meal. Apparently your pup can too. While most pet owners know about Starbucks' whipped cream Puppuccino, not as many are familiar with what Chick-fil-A offers — given that its secret dog treat isn't actually listed on the menu. Here's what you should know about it, including how to order it.
You can ask for treats at the drive-thru
Here's the deal: Chick-fil-A doesn't make dog treats on its premises, but it does hand them out. According to The Daily Meal, you can ask for a dog treat at the drive-thru window because many restaurants keep a jar of them at the counter for pups on the go. If you're lucky, Wide Open Eats reports that some locations even have a "Pup Cup" available, which is a scoop of Icedream topped with a dog treat. It's a big hit among four-legged family members. 
One customer wrote on Yelp, "[Our] pup devoured her treat before we turned out of the drivethru." You shouldn't feel bad about asking for a little something extra for Fido, either. On its website, Chick-fil-A says, "We love seeing a pair of paws and a wet nose peeking through the window." So next time, bring your furry friend along for the ride when you're heading to your nearest location for a special treat.