Slow Cooker Chicken Tagine Recipe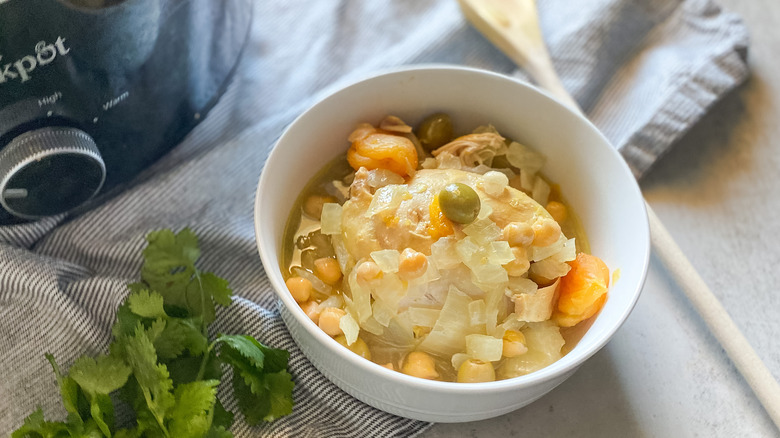 Kristen Carli/Mashed
Are you ready for another fantastic slow cooker recipe? You know, one that you can throw in before you go to work and have it prepared by the time you come home? Slow cooker recipes are great because they require little prep time, little work, and the machine does the job for you. It's a win-win for all, and the result is always a fantastic meal as it cooks all day and soaks in a ton of incredible flavors. This recipe for chicken tagine is filled with a melody of spices that take the taste to a whole new level. It also contains chickpeas and green olives, and it's incredibly filling. Honestly, what's not to love about it?
Recipe developer and private practice registered dietitian Kristen Carli is the creator of some of the best slow cooker recipes on the planet, and this one is no exception. We love Carli's crockpot meals, because they're so simple but are still packed with flavor. "Chicken tagine is a Moroccan chicken dish," Carli says. "I love the Moroccan flavors paired with olives," she adds. Keep reading to find out how to make this amazing recipe. 
Gather the ingredients to prepare slow cooker chicken tagine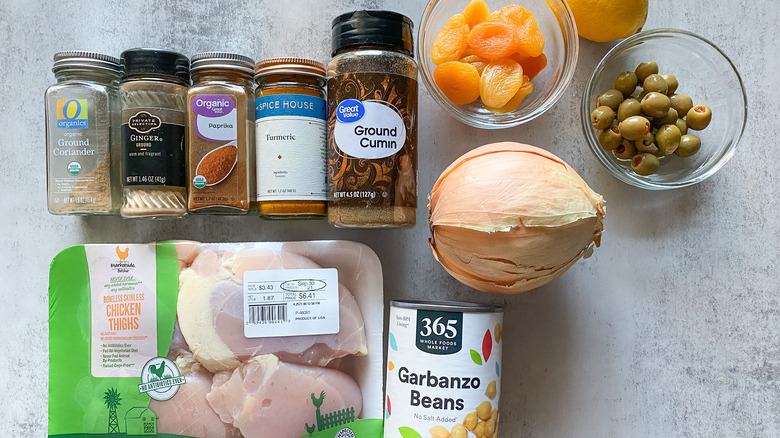 Kristen Carli/Mashed
The first order of business is to gather all of the ingredients necessary to whip together this yummy dish. For starters, grab four boneless, skinless chicken thighs. Next, pop by the spice aisle and pick up some ground ginger, paprika, ground cumin, ground coriander, and ground turmeric. (Be sure to check your spice cabinet first, as you may already have some of these at home.) The next thing you will need is an onion, followed by green olives and dried apricot. To complete your list, add a can of chickpeas, a cup of water, and lemon. Now, it's time to get cooking.
The benefits of chickpeas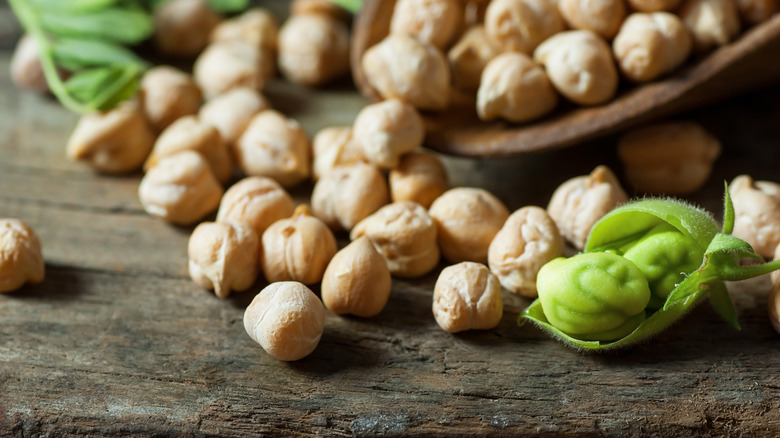 Halil ibrahim mescioglu/Shutterstock
There are so many great, wholesome ingredients in this recipe, but one of the most nutritious is chickpeas — the same thing that you make hummus with. (Side note, if you didn't already know, chickpeas are also called garbanzo beans.) According to WebMD, chickpeas are known for helping to maintain blood sugar levels, and if you have diabetes, you should consider eating a lot of these. This tasty treat is also filled with fiber and can assist digestion, help gut health, and aid in regular bowel movements. Among other things, they might help decrease your risk for developing cancer (via WebMD).
Add the ingredients to the slow cooker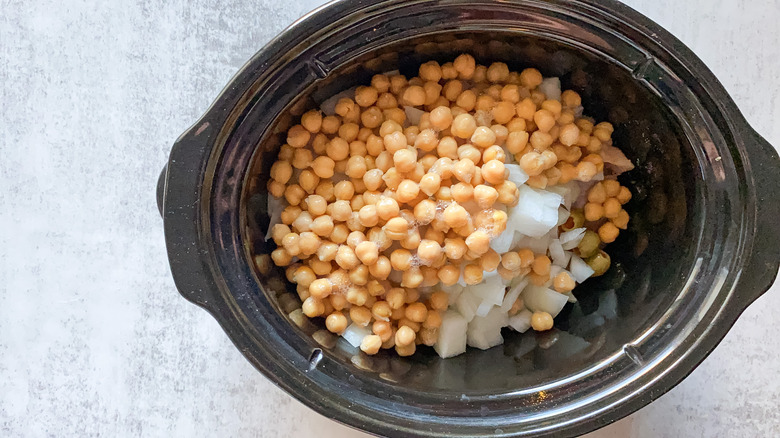 Kristen Carli/Mashed
As we mentioned before, this recipe is super simple and just involves adding the ingredients to the slow cooker. "[Slow cooker] meals are so easy and a favorite in my house," Carli raves. "They make meal time so easy during busy weeks." 
Take out a 4-quart slow cooker, and put in the chicken thighs first. Next, add the spices including ginger, paprika, cumin, coriander, and turmeric. After the spices, add the chopped onion. Then, it's time to put in the green olives, dried apricots, and chickpeas. (As a reminder, you should have drained and rinsed the chickpeas.) The last two items — lemon juice and water — add some liquid to the mix.
Cook the chicken tagine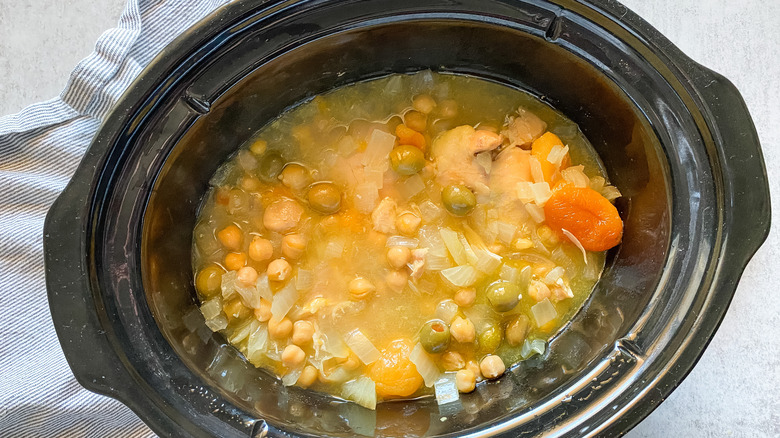 Kristen Carli/Mashed
To be honest, the most work involved in this recipe is adding all of the ingredients to the slow cooker. From here on out, it's smooth sailing. Take out a wooden spoon, and give the mixture in the crockpot a good stir. This helps to spread out the spices and evenly coats the chicken.
Then, place the lid on top of the slow cooker.. Set the timer on high, and cook the chicken tagine for four hours. When the timer dings, you can turn the slow cooker off. Do you smell that wonderful aroma? It's truly such a treat to come home to this delicious scent!
Serving suggestions and leftovers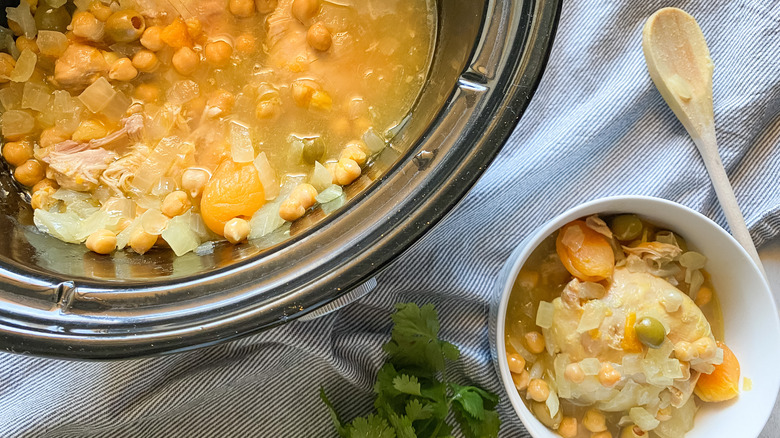 Kristen Carli/Mashed
You can plate and serve the chicken tagine any way you would like. It's great to serve in bowls by itself, and it's plenty filling for a main course. "I love to serve this as a stew in bowls, but it is also delicious over jasmine rice," Carli shares. 
Unless you're the only one eating, we don't think you will have leftovers. However, if you happen to have some extra, that's no big deal. "This stores best in an airtight container in the fridge for up to three days," Carli shares. We hope you love this recipe as much we do!
Slow Cooker Chicken Tagine Recipe
This recipe for slow cooker chicken tagine is filled with a melody of spices that take the taste to a whole new level.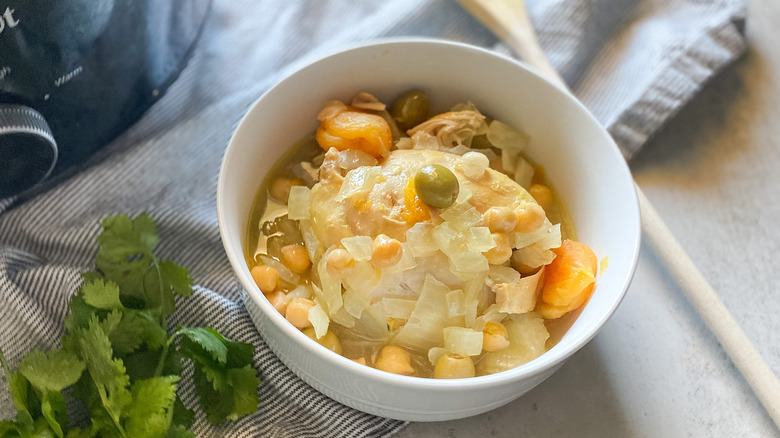 Ingredients
4 boneless, skinless chicken thighs
½ teaspoon ground ginger
1 teaspoon paprika
½ teaspoon ground cumin
½ teaspoon ground coriander
½ teaspoon ground turmeric
1 yellow onion, diced
¼ cup green olives
¼ cup dried apricots
1 (15-ounce) can chickpeas, drained and rinsed
½ lemon, juiced
1 cup water
Directions
In a 4-quart slow cooker, add the chicken thighs, ginger, paprika, cumin, coriander, turmeric, onion, olives, dried apricots, chickpeas, lemon juice, and water.
Using a wooden spoon, give the mixture a little stir. Place the lid on top.
Cook on high for 4 hours.
Serve, and enjoy!
Nutrition
| | |
| --- | --- |
| Calories per Serving | 432 |
| Total Fat | 12.3 g |
| Saturated Fat | 2.5 g |
| Trans Fat | 0.0 g |
| Cholesterol | 181.4 mg |
| | |
| --- | --- |
| Total Carbohydrates | 33.9 g |
| Dietary Fiber | 8.8 g |
| Total Sugars | 10.2 g |
| Sodium | 567.2 mg |
| Protein | 46.4 g |