National Pizza Month 2021: Where To Get The Best Food Freebies And Deals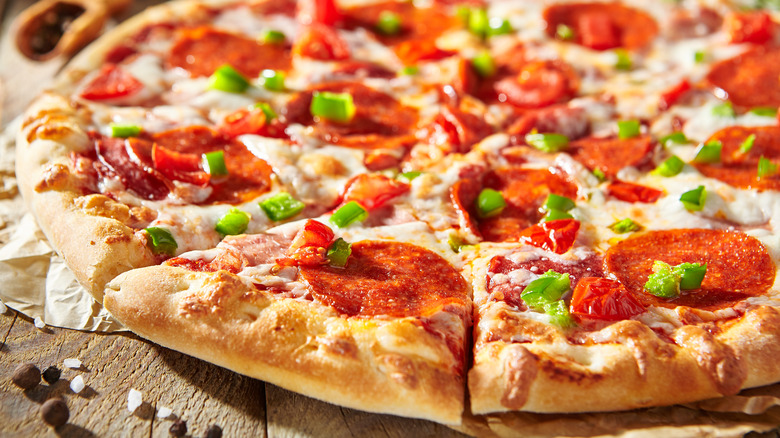 Ryzhkov Photography/Shutterstock
Even if you have never celebrated National Pizza Month before, you couldn't ask for a better time to start than now. Pizza.com explains that this celebration started in 1984 when the founder of "Pizza Today" magazine declared October as National Pizza Month in honor of his magazine's launch. At the time, trade shows and industry events didn't cover this Italian dish, and the founder started the month-long dedication to the dish to help raise its awareness. Fast forward to 2021 and the momentum hasn't slowed down — a ton of pizza chains have special promotions for the event.
According to a press release sent to Mashed, Schlotzsky's plans to offer $5 pizza and flatbreads on October 1 to celebrate National Pizza Month. The items covered under the promotion come with double cheese, BBQ chicken and jalapeño, veggie supreme, pepperoni and cheese, or California chicken and avocado. To get yours, order through the eatery's app, where the offer will be in the Schlotzsky's Reward Account. There's a hard limit of five pizzas per customer, and the deal only happens on October 1.
Meanwhile, Red Robin announced that its Royalty Members can score buy one get one 50% off for any Donatos pizza purchase at Red Robin's Donatos locations from now until October 31. The discount will be applied to the lowest-priced item, per a Red Robin press release.
A ton of deals for National Pizza Month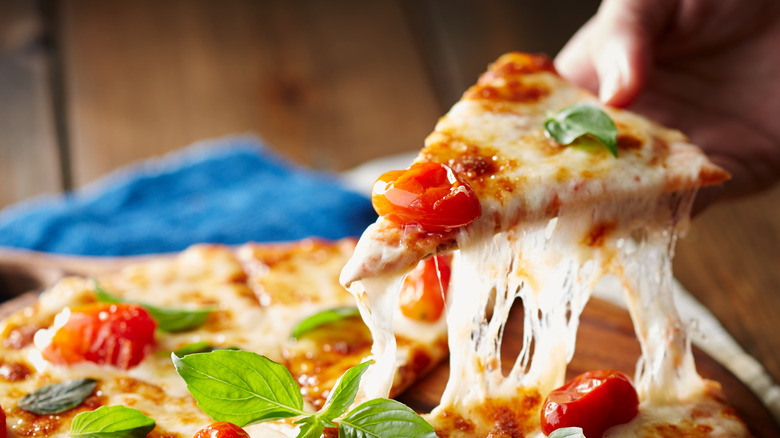 Tolin168/Shutterstock
California Pizza Kitchen wouldn't miss National Pizza Month for the world, and its latest aims to please. According to a press statement sent to Mashed, from October 18 to October 21, the restaurant plans to offer the first 65 guests at each location who spend over $50 a free Take & Bake pizza to take home. This includes take-home pies like the chain's Original BBQ Chicken pizza, Thai Chicken pizza, Carne Asada pizza, and The Works. If you don't get lucky or qualify, the chain also offers these pizzas for $8 with the purchase of any entrée.
On the other end of the pizza spectrum, Marco's plans to celebrate the month by offering customers 20% off menu-price pizzas after 9 p.m. when they order online or through an app and use the code GETCRISPY920, according to a statement from the company. The chain also intends to give all customers a 25% discount on carryout orders every Monday in October and November 1 when they use the code NPM25.
Grotto Pizza is ringing in the month-long holiday by offering $5 off any featured pizza on its menu, which includes The Meatball Mama, The Chicken BBQ, and Four Cheese Pizza. This deal lasts all October (via FSR).
National Pizza Month wouldn't feel complete without a bit of love for everyone, including your pets. According to WXYZ, Michigan's Buddy's Pizza plans to give away a 4-square pizza to anyone who adopts a pet from the Michigan Humane Society anytime between now and October 31. When you can help an animal and score a free pizza, you just can't lose. Next time hunger strikes, remember these deals and get ready to enjoy a ton of pizza this month.