Ree Drummond's Favorite Breakfast Meal May Surprise You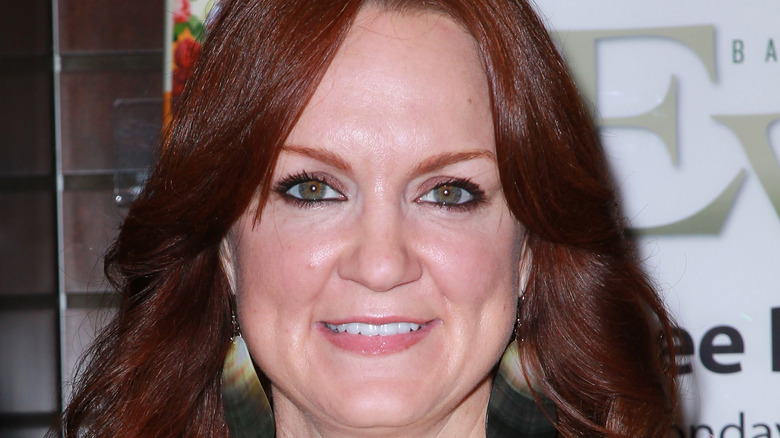 David Livingston/Getty Images
Ree Drummond has some strong opinions when it comes to breakfast foods. For instance, when it comes to pancakes, the Pioneer Woman revealed she hates the chocolate chip variety. She posted on Twitter, "I do not like chocolate chip pancakes *ducking.*" Drummond still made them for a crowd of teens but it definitely insulted her taste buds to do so. And when it comes to McDonald's, Drummond is not shy about sharing her favorite breakfast feast from the fast food chain, noting on her website that during her pregnancy, she would order up "two Breakfast Burritos, a Bacon, Egg, and Cheese Biscuit, Hash Browns, and...ahhhh....a large Dr. Pepper." Who can argue? The breakfast is pretty tasty. But it's not her favorite meal.
Nope. Per Drummond's blog, the cookbook author actually experienced her favorite breakfast meal when she was visiting her sister and brother-in-law in Texas. Are the Southwestern vibes kicking in on your palate? They should be. Drummond shared that she was suffering from LBSCBDO, or Low-Blood-Sugar-Cranky-Butt Disorder. She wrote, "It's a tragic condition that causes pain, suffering, and pissiness not only for the sufferer himself, but for everyone within a hundred yards of him." To cure the ailment, Drummond had hoped to go to McDonald's, but her sister's husband had other ideas. And so the tale goes, Drummond was hungry enough not to argue and ended up falling in love with this Tex-Mex favorite.
Ree Drummond loves Migas for breakfast
While in Austin, Texas, Drummond enjoy her first plate of Migas and it was love at first bite. She wrote on her Pioneer Woman blog, "Migas, in a word, is heavenly. In another word, divine. In another word, dadgum delicious! I was instantly hooked, and spent the next several months perfecting my own version." If you are not familiar with this iconic breakfast dish, Drummond goes on to explain it is comprised of scrambled egg, bell peppers, jalapeños, onions, cheese, and "the best part," fried and chopped corn tortillas.
Per New York Times, in Spanish, Migas means "crumbs" and the dish was invented by people with little money who did not want to let stale tortilla chips go to waste. Migas may not be the prettiest dish — but it is delicious. The outlet goes on to explain that it is generally served along side a some lard rich refried beans and tortillas. If you are a calorie counter, you don't want to do that with Migas. Just don't.
Drummond loves this dish so much that she developed her own recipe for her Mercantile store menu and shared on Instagram that it is her go-to for her "rare" breakfast dates with her husband. The Mercantile serves them up with "guac, sour cream, Pico de Gallo, and breakfast potatoes" and they look yummy. But Drummond isn't opposed to stealing a bite or three of her hubby's pancakes when he isn't looking.