The Domino's Rice Bowls You Can Only Get In Japan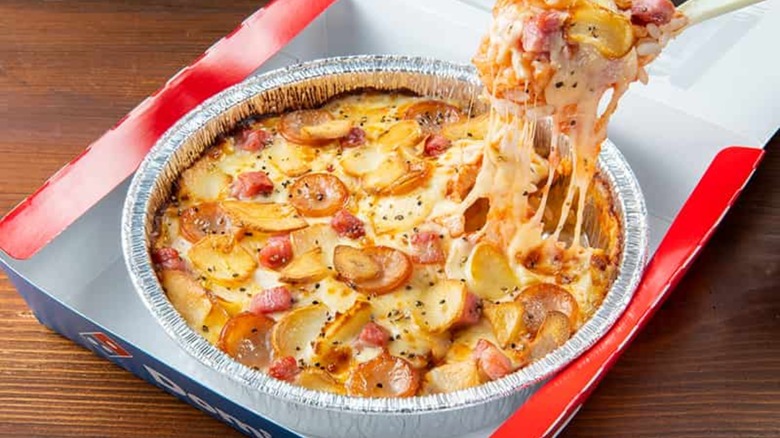 Domino's Japan
America has some of the best fast-casual dining and fast food in the whole world. It does food chains well, and people love them. But we'd be lying if we said that we didn't get a little envious sometimes when we see something delicious that's only available in another country. (Cough, cough, Burger King Malaysia's Chocolate Melt.)
The U.S. knows Domino's as a fan-favorite pizza chain where you can get fluffy, cheesy pizza delivered to your door in minutes. None of its offerings made it onto Food Network's top-5 list of pizzas in America, but it will always do the trick in a pinch and could be more reliable than most people you've dated.
But Domino's Japan decided to really up its game in May, offering a brand-new menu item that sounds like it would be right at home in Tokyo or NYC (via Japan Today). Let's just say it takes the best of both worlds and combines them into one epic dish.
What's in the Domino's rice bowl
Presenting: the Domino's Pizza Rice Bowl (via Japan Today). The small, savory bowl comprises butter-flavored Japanese rice and 100% mozzarella cheese, with your choice of toppings from seven different pizzas. The varieties include charcoal-grilled teriyaki chicken, a seafood special with a white sauce, and Goryeo Galbi rice bowl, which will greet your belly with beef ribs.
Now, we've got to admit — it sounds pretty dang good. And just imagine having the convenience of a rice bowl with the flavors of pizza; no dripping grease, no crust crumbles on your T-shirt, just ease, convenience, and flavor.
Of course, it's not the first creative dish to come from Domino's Japan, which has been churning out innovative ways to eat pizza for some time now. Its boba-topped pizza, for example (via Grape), captured the hearts of those whose love of boba tea and of pizza simply transcends all rules within the food world. We know not to knock it until we try it, though. So while we save up for our one-way ticket to Japan to have the ultimate Domino's Japan food tour, we'll just sit with our mouths watering over the pictures.