Instagram Is Freaking Out About Gordon Ramsay's Santa-Inspired Beard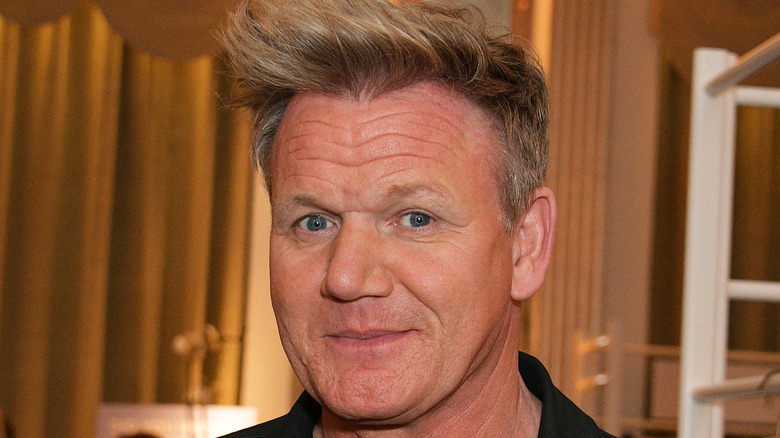 David M. Benett/Getty Images
With the fall season officially here, most people have turned their focus from bathing suits and barbeques to all things pumpkin spice and spooky in anticipation of Halloween. According to Statista, nearly 65% of Americans plan to celebrate the upcoming holiday on the last day of October, and part of those plans include spending a record $10.14 billion dollars on things like costumes, candy, and decorations (via USA Today). However, not everybody seems to share the same excitement for Halloween for those dwelling in the United States, including one famous British member of the culinary world who, based on a recent social media appearance, seems to have another holiday on their mind.
Taking to his Instagram account over the weekend, Gordon Ramsay stunned many of his 12.8 million followers with a new snap of himself in which he resembled a major holiday icon – and no, we're not talking about Jack Skellington. In the image, which hit his page on Saturday, October 2nd, and has since racked up more than 1 million likes, Ramsay could be seen standing outside in a black polo with his blond hair in its usual coiffed style, but instead of a cleanly-shaven face, the chef sported a full, shaggy beard. "Winter's coming, I'm growing my beard," the 54-year-old explained of his new facial hair before seemingly giving himself the nickname of "father Christmas."
Is Gordon Ramsay's beard real?
Understandably, many members of Ramsay's massive Instagram following freaked out over the above photo of his dramatic new look. Some voiced their approval of the notoriously foul-mouthed restaurateur's Santa Claus-inspired facial hair in the comments section of his Instagram post. "Papa Noel indeed! This beard suits you, Chef!" one person wrote, while Ramsay's "MasterChef" colleague Aarón Sánchez said he was "lookin' good." However, not everybody was on board with the chef's near beard, including one follower who requested that he "please take it off."
Others, meanwhile, theorized that the facial hair wasn't real but perhaps a disguise – potentially for his show "Gordon Ramsay's 24 Hours To Hell And Back." The Daily Mail reports he has donned a similar look for the series before. The program, which aired for three seasons from 2018 to 2020 (via IMDb), sees Ramsay go undercover to visit struggling restaurants. After witnessing their problem points first-hand, the chef then reveals his identity and helps the eatery make a major turnaround in 24 hours with renovations and menu revamps. Per TV Series Finale, there is currently no news about whether the show has been renewed for a fourth season or permanently canceled. However, considering the fact that Ramsay once staunchly denied the ability to grow a beard on Twitter, a revival of the program could very well be the explanation for his Santa-inspired facial hair.