Aarón Sánchez Dishes On His Relationship With Gordon Ramsay - Exclusive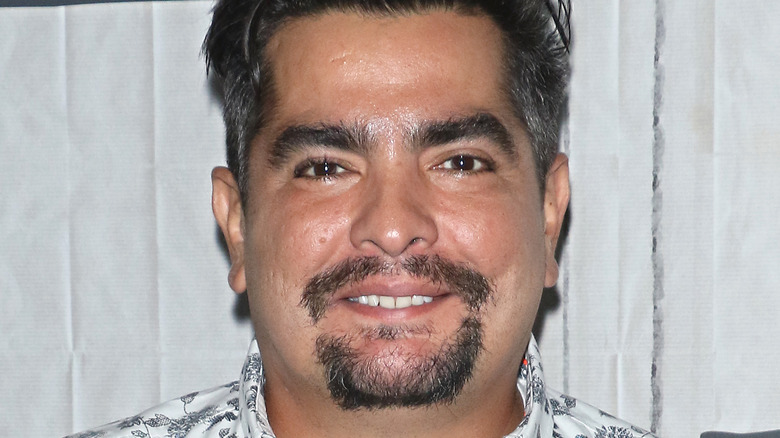 Jim Spellman/Getty Images
Despite being a household name, "MasterChef: Legends" judge Aarón Sánchez still looks up to his celebrity co-star, Gordon Ramsay. Sánchez has been vocal over the years about his admiration for the chef, restaurateur, and executive producer of the show, and told Mashed in an exclusive interview that he's never worked with a "personality and a talent like Gordon." As Ramsay's colleague on "MasterChef" since 2017, Sánchez admitted to being impressed by how Ramsay juggles multiple projects, restaurants, and responsibilities. The moment the judges step in front of the cameras? Sánchez says Ramsay is always ready to go.
It's not just that he's "one of the more premier chefs in the world," as Sánchez says, but Ramsay sets the bar high for how to be on set from minute one, "ready to go, always extremely well-prepared, high energy" regardless of the early morning call times. The chef joked, "I'm like an old Chevy — it takes me a couple hours to get warmed up." Sounds like a perfect pairing as a co-worker — and the perfect storm for great television. "It's an absolute pleasure," Sánchez shared of working with his co-star. "I respect and love him very much."
Sánchez says he and Ramsay can't stand laziness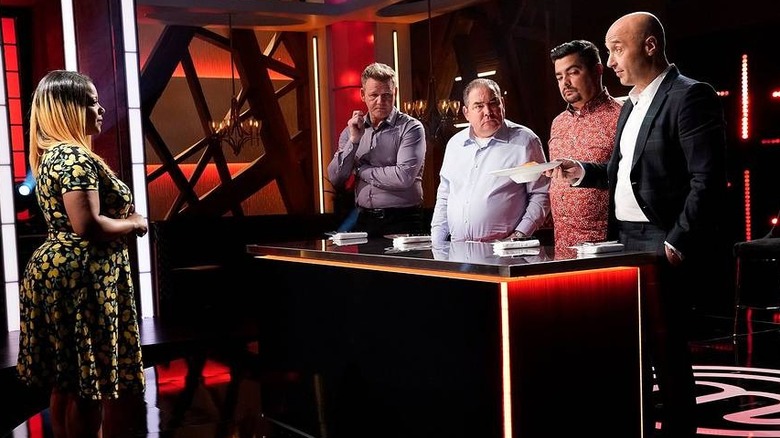 FOX
Aáron Sánchez says he and the other judges are not afraid to tell people how they feel, which is a major appeal for the show. The MasterChef: Legends judge says, "I think what ticks chefs off, especially me and Gordon ... is laziness." He explained they understand that mistakes happen, just "don't make the mistake again." Another form of laziness the chef won't tolerate is when contestants play it safe by not using the show's ample resources to show off their skills. "When we see people not trying, that's what really ticks me off — and I know it pisses Gordon off, too."
If you've ever seen an episode of "Hell's Kitchen," you know Ramsay has made a career out being brutally honest; but are these explosive personalities just for the cameras? Not everyone in the culinary world finds the behavior amusing or believable. Even Ramsay voiced regret for being a foul-mouthed bully known for all the bleeps, going as far as calling himself a "psycho" in and interview with The Guardian during the height of his culinary reign. When asked about how much of the intensity we see on screen is true to the atmosphere of a kitchen, Sánchez insisted that on MasterChef what you see is the real deal when working in high-stakes culinary situations. "Don't take it personal," he says. "It's a job."
Aáron Sanchez's biggest takeaway from working with Gordon Ramsay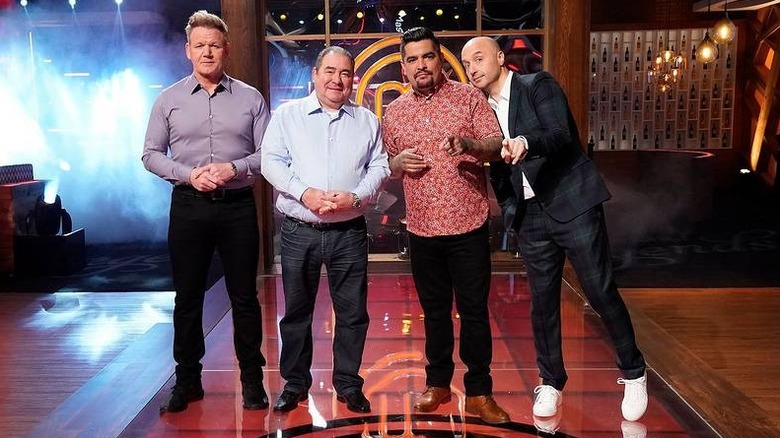 FOX
Sánchez's biggest takeaway from working with co-star Gordon Ramsay has been the ability to slow down and work efficiently. Sánchez explained Ramsay "gets a lot done in a day" while making executive decisions behind-the-scenes to ensure the team helps bring out the best in the competitors. Sánchez says about Ramsay, "He's the one that can make the decision of, like, 'Well look, I don't think they're ready for soufflés yet,' or 'I don't think they're ready for the restaurant challenge yet.'" The "MasterChef" judge says Ramsay's ability to "pump the brakes" and work collaboratively with his fellow judges and producers is what allows the show to coax the "best product" from the contestants. "I've learned from him how to be more judicious, and, I think, a little bit more tactful with my time," says Sánchez.
This season of MasterChef: Legends airs Wednesdays at 8:00 PM ET/PT on FOX, welcoming a variety of culinary all-stars (including Emeril Lagasse, Paula Deen, Roy Choi, Nancy Silverton, Iron Chef Morimoto, and more) to join hosts Gordon Ramsay, Aarón Sánchez, and Joe Bastianich as they guide 15 home cooks through a series of challenges with a $250,000 grand prize on the line.