The Ingredient You Need To Add To Potato Leek Soup, According To Reddit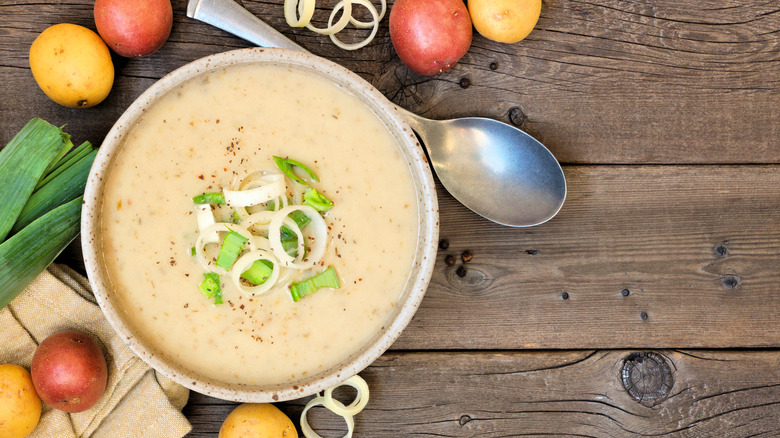 JeniFoto/Shutterstock
Do you love soup? One of the humbler dishes of the kitchen, soup is actually one of our very favorite things to cook. We love the opportunity to layer flavors such as garlic, onions, carrots, and herbs, then let them simmer away with additional ingredients, perfuming our house and rewarding us with a big pot of comfort food that's great for reheating throughout the week. From classic minestrone to creamy mushroom soup to — of course! — chicken and noodle soup, there are so many recipes out there we love to stir together at home.
One soup variety we return to again and again over the years is another classic: potato leek soup. Typically made from either chopped or puréed potatoes and sweet, sweated-down leeks, potato leek soup is a homey, nourishing classic that takes well to variations, such as the addition of sliced sausage (via Epicurious) or crumbled feta cheese (via Aldi). And when we saw a particular flavor combination suggested by cooks over on Reddit's r/Cooking board, we were intrigued by how good it sounded.
Fresh fennel brings sweetness to potato leek soup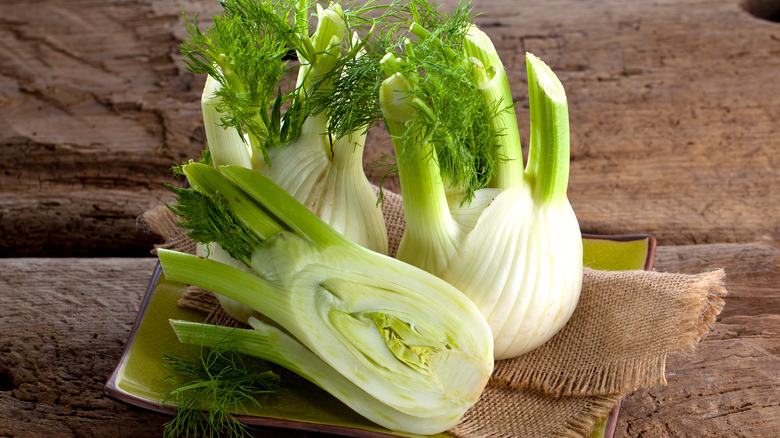 KarepaStock/Shutterstock
Have you ever tried fennel? A member of the carrot family, this root vegetable actually looks more like an onion, growing in a bulb made up of various layers (via The Spruce Eats). Raw fennel is crunchy, juicy, and sweet, with a slight licorice-y flavor that sets it apart from other vegetables. And when cooked, that sweet flavor intensifies, making it the perfect addition to potato leek soup, as some commenters on a Reddit thread noted.
"I've made leek and potato soup before, but today I tried a recipe that also had fennel, and it definitely added some dimension to the flavor," the thread's author, user ijustsailedaway, wrote. Basing their soup on a recipe from Sur La Table, the user loved the outcome and urged others to try using fennel in potato leek soup. "I've only recently used fennel in cooking, I hate licorice, so I ignored fennel for a very long time simply because it smelled similar, not realizing how subtle the flavor actually is. Give it a try! Good stuff." User Fittri responded: "Oh, this sounds awesome, I just harvested three large fennel bulbs and was looking for something to do with them."
Count us in: We're loving the idea of adding fennel to our next batch of potato leek soup. How about you?