Baskin Robbins Created This Beatles-Themed Flavor On The Spot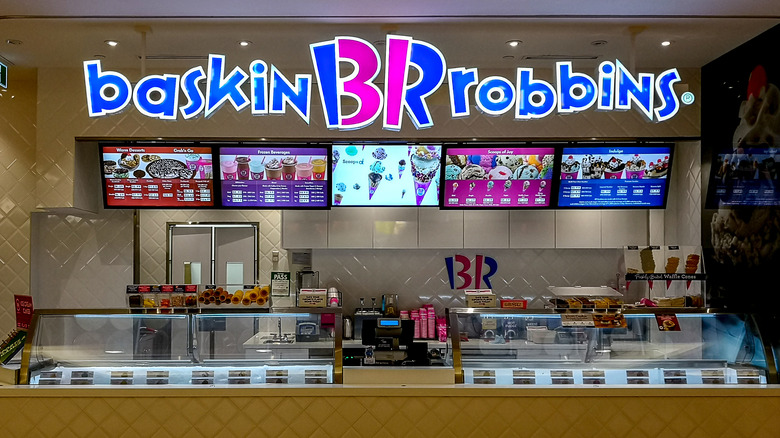 JHVEPhoto/Shutterstock
Ice cream chains are different from their restaurant counterparts in the way that there aren't as many seasoned chains. The two main ones that have managed to stay afloat for several decades are Dairy Queen, aka DQ, and Baskin Robbins. A quick compare and contrast analysis between the two parlors will tell you that their polar opposite menus are probably what have kept them in business for so long.
Baskin Robbins's strength is its creativity, passion, and unique taste in ice cream flavors. Over the last 71 years, Baskin Robbins has built a reputation as the ice cream store with 31 flavors, which is supposed to signify a flavor for every day of the month (via Mentalfloss). But as trends and taste buds have evolved, so has Baskin Robbins's menu. To this day, Baskin Robbins has created over 1,400 ice cream flavors ranging from Pralines 'n Cream to Pumpkin Cheesecake to Quarterback Crunch (via Baskin Robbins). Founder Irv Robbins, one half of the Baskin Robbin duo, was so dedicated to the craft that he installed an ice cream cone-shaped swimming pool in his backyard. The folks at Baskin Robbins HQ even used celebrities as flavor inspiration, which is how their most talked about flavor of 1964 came to be.
The Baskin Robbins ice cream flavor was called Beatle Nut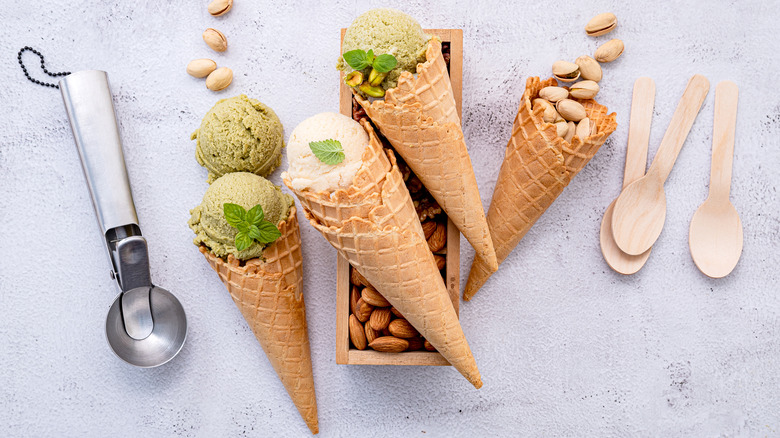 Kerdkanno/Shutterstock
The Beatles were set to perform in the United States for the first-time ever, so it was only right Baskin Robbins would offer a new, special edition flavor in commemoration of this historic event. But, that's not exactly how the story goes. Legend has it, Irv Robbins was confronted about a Beatles-inspired flavor by a Washington Post reporter just five days before the band was expected to arrive (via Mentalfloss). At the time, there had been no talk about releasing a promotional Beatles flavor. So, a flustered Robbins told the journalist that Baskin Robbins would be debuting a new ice cream called "Beatle Nut" in honor of the English rock band.
Somehow, the Baskin Robbins team was able to pull it off and Beatle Nut was created, made, and delivered to Baskin Robbins locations in under a week. Per Decades TV Network, the ice cream was pistachio and walnut flavored with a chocolate ribbon. Baskin Robbins has honored other remarkable days in U.S. history with special edition flavors, such as the 1969 moon landing (Lunar Cheesecake) and America's bicentennial (Valley Forge Fudge).