Baskin-Robbins' Festive New Ice Cream Cake Is Equal Parts Spooky And Sweet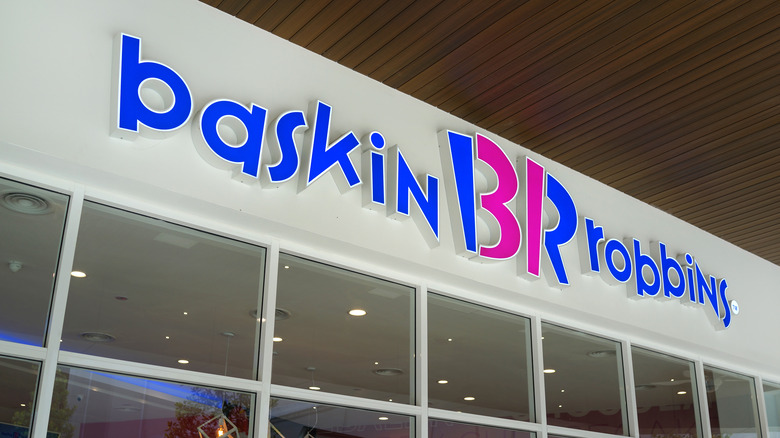 TY Lim/Shutterstock
It's not a trick. The Baskin-Robbins Unicorn is getting dressed up for Halloween. And ice cream cake lovers are in for a spookylicious treat. According to the company, the cute-as-a-button Unicorn cake debuted last year as part of Baskin-Robbins' Creature Creations lineup. The original pastel-frosted frozen confection has a white chocolate horn and rainbow sprinkles. In its spooky-but-sweet incarnation, the Unicorn Zombie cake features an Oreo-dusted sugar cone horn and dripping "blood" red glaze on a crushed "dirt" Oreo-speckled base.
"This Halloween, we're excited to elevate our traditional Unicorn Cake with a spooky Zombie twist and to bring back a flavor that has resonated with so many Halloween ice cream lovers in recent years," said Shannon Blakely, vice president of marketing and culinary, Baskin-Robbins, in a company statement.
That means the Unicorn Zombie cake isn't the only treat in Baskin-Robbins' bag of tricks this Halloween. The ice cream brand is also rolling out limited-time swirls like Trick Oreo Treat. This flavor features orange creme-filled Oreo cookies in vanilla-flavored ice cream with bits of Butterfinger and Baby Ruth candy pieces.
Celebrate with spooky ice cream all month long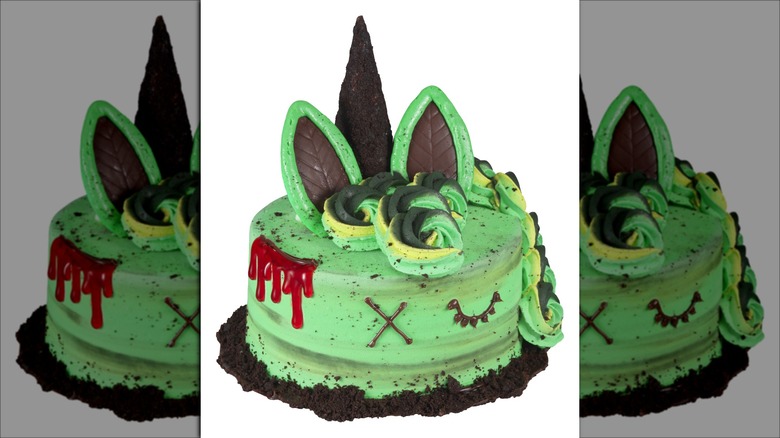 Baskin-Robbins
There's no need to wait until October 31 to get your ice cream spook on. According to a company statement, Baskin-Robbins perennial fall favorite, Pumpkin Cheesecake ice cream, finds its way back onto the menu in early October. The festive limited-time ice cream flavor features gingersnap cookie crumbles mixed into a blend of seasonal pumpkin ice cream and classic cheesecake-flavored ice cream swirled with a ribbon of cinnamon cream cheese.
And you don't even have to leave the house. From October 8 to 14, if you place an order for $15 or more via Uber Eats, Postmates, or DoorDash, you can get free delivery. The offer is available at participating Baskin-Robbins locations while supplies last and cannot be combined with other offers. The minimum order excludes taxes and fees, and you're limited to one order per customer. Or go big and host a Halloween party. Through October 31, order a Halloween cake for at least $35 on the app and get $5 off. There is a limit of one coupon, per device, per visit.