Baskin-Robbins' New Flavor Is Inspired By The Ultimate Fall Dessert
You're probably like us and sooo ready for fall. If you are eager to feel cool air, hear leaves crunching underfoot, and wanting to dig into the best autumn flavors and comfort foods, you'll be thrilled to hear about this new treat from a favorite ice cream shop. In a recent press release, Baskin-Robbins announced its September ice cream flavor of the month: Inside Out Apple Pie, a flavor that's just perfect since apple-picking and apple pie season are getting underway. 
So what exactly is in this ice cream? Baskin-Robbins says it has all the "elements of a classic pie," which means pieces of real apple throughout rich, vanilla ice cream. There's also a "ribbon" of cinnamon-spiced brown sugar to amp up the sweetness. Just like the ubiquitous pumpkin spice blend, that flavor of cinnamon with brown sugar instantly gives those warm, fall vibes and a hint of sweet, spiced treats that the holidays will bring in just a few months. That's the inside of the apple pie, and this ice cream has the outside, too, by way of tender pie crust pieces studded throughout. This flavor is such a fun way to turn a familiar apple pie à la mode on its head: Instead of ice cream on top of the pie, the pie goes inside the ice cream. And speaking of apple pie à la mode, if this September flavor of the month sounds familiar to Baskin-Robbins fans, there's a good reason why. 
Fans of this old Baskin-Robbins flavor will be thrilled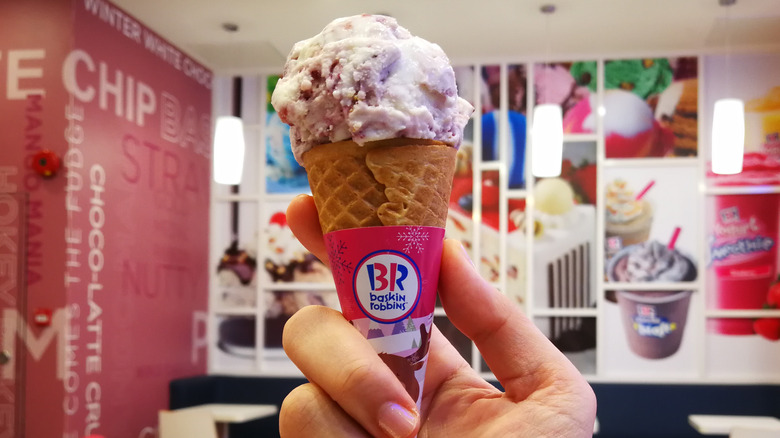 Cneo Osman/Shutterstock
Rich ice cream filled with apple, cinnamon, and pieces of real pie crust: That's what's packed into Baskin-Robbins' flavor of the month for September, Inside Out Apple Pie, according to the Baskin-Robbins press release. While this is fantastic news for apple pie lovers everywhere, it's especially good news for Baskin-Robbins fans who have been missing a long-retired flavor. Over a decade ago, the company retired several flavors, including one called Apple Pie à La Mode, which had real apples and pieces of pie crust (via USA Today). The only difference we can see is that the old flavor had swirls of cinnamon caramel, whereas Baskin-Robbins' Inside Out Apple Pie has cinnamon and brown sugar. However, there's no denying that the two flavors are strikingly similar and is a victory for those who miss the long gone Apple Pie à La Mode, a flavor Baskin-Robbins fans have wished would return. 
It's not clear how long the new Inside Out Apple Pie will be available, so don't waste any time! Baskin-Robbins suggests trying a few scoops served in one of their freshly baked waffle cone bowls, or blending the ice cream into a thick, fall-inspired milkshake. By the way, a drizzle of caramel would be lovely over the top of this apple-y ice cream!