This Massive Pumpkin Was Just Crowned The World's Largest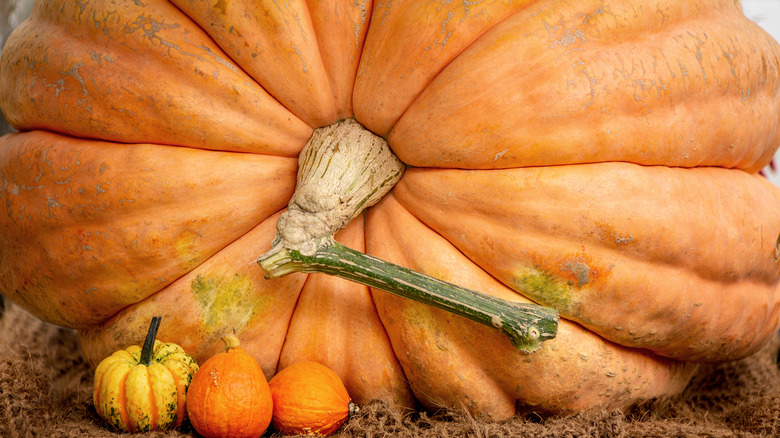 GIOIA PHOTO/Shutterstock
Now that it's officially October — or as some call it, Spooky Season — pumpkin everything is lining store shelves, filling coffee cups, and acting as home decor. We are safely in the Pumpkin Spice Latte zone and grocery stores who know a thing or two about selling seasonal items are stocking up.
One thing you might not typically associate with pumpkins is the country of Italy. Instead, you might expect it to corner the markets of pasta, wine, sauce ... you know, Italy's perceived niche. But apparently this year, the boot-shaped nation felt like shaking things up a bit.
Insider recently covered the news that a massive pumpkin residing in Italy's Tuscan countryside has not only challenged Belgium's longstanding claim to the title of "country with the largest pumpkin" but achieved victory. Italian farmer Stefano Cutrupi has won Italy's pumpkin championship. Tipping the scales at over 2,700 pounds, his behemoth entry has been declared the world's largest. Though global pumpkin domination is not so easily won. Belgium's Mario Vangeel hopes to fatten his own giant pumpkin, which clocked in at a respectably massive 2,249 pounds, before the world championships on October 10 in order to reclaim the title (and serious prize money amounting to $13,912) for Belgium.
The world's largest pumpkin is squashing all competition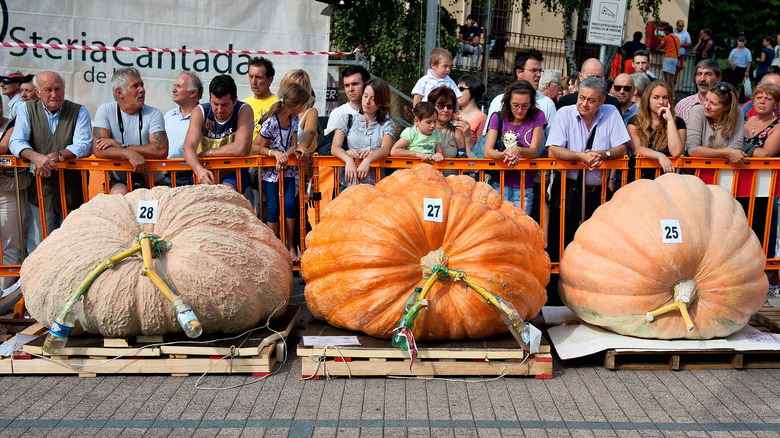 Marco Secchi/Getty Images
According to Time, growing massive pumpkins is a fairly recent tradition. It doesn't date back to the 1700s or have much historical significance really aside from the fact that a farmer in Nova Scotia decided to grow a huge pumpkin in 1979 — and never stopped. Since then and of course, with the addition of modern farming technology, cross-breeding, and the ability to genetically modify anything that grows, the pumpkins have just gotten bigger and bigger — and the stakes higher and higher.
So far, the Great Pumpkin Commonwealth (yes, that's a thing) has deemed the heaviest pumpkin ever to be 2,624 pounds, 9.6 ounces, grown by Mathias Willemijns of Belgium back in 2016, according to the Guinness Book of World Records. However, Cutrupi's pumpkin is currently weighing in at a record-breaking 2,703 pounds. Belgium's Vangeel still has a ways to go if he's going to surpass that number in just a matter of days, but it's safe to say we (and the world) are eager to see how this Spooky Season shakes out when it comes to what will hopefully be the world's largest jack-o'-lanterns.