Everything We Know About The Giant Pumpkins Coming To Aldi This Fall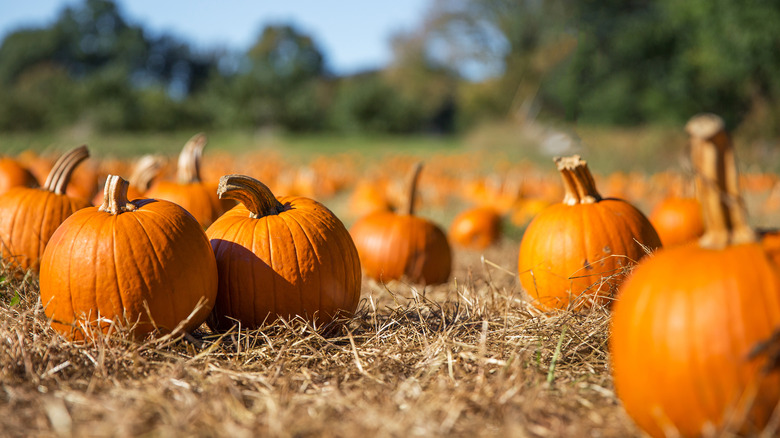 EvgeniiAnd/Shutterstock
Good news, Charlie Brown. Your favorite orange gourd is coming soon to an Aldi near you, and this year it might even be bigger than ever before. Taste of Home reports that Aldi, everyone's go-to budget grocery store, knows how just how badly you need to (pumpkin) spice up your life after a weird start to 2021, so it's moved the autumnal equinox up a few weeks to kickstart the fall season for its customers.
Well, not exactly, The Old Farmer's Almanac still has fall starting on September 22nd this year, and while the good people of Aldi can't quite move heaven and earth to start the season sooner, it can give us a bunch of giant pumpkins, and that's just what it's gonna do. Taste of Home says that this year's harvest should be bountiful, with pumpkins expected to cost from $1.99 to $3.99 a stem, subject to the specifics of your local Aldi, of course. Even Charlie Brown could probably find $4 worth of change between now and September 29th, the day when the pumpkins arrive on Aldi's shelves, to start getting in the decorative gourd season spirit.
Pumpkins aren't the only fall favorite at Aldi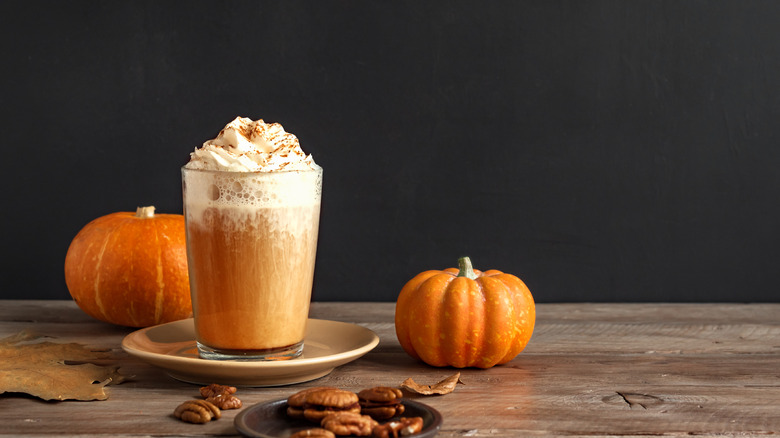 Oksana Mizina/Shutterstock
Everyone knows pumpkins are the most magnanimous member of the squash family, donating themselves Giving Tree-style to pumpkin pies, carving contests, and creamy soups every year during the autumnal season. Pumpkins – teal ones, that is – even provide a secret code for the food-allergy sufferers among us each Halloween, helping kids find the houses that won't give them hives during trick-or-treating (via Taste of Home). But if you're a gourd novice, and buying a whole pumpkin at Aldi this year proves to be too intimidating, why not start small with all the pumpkin-related favorites that the bargain grocer has to offer?
Aldi will have Trader Joe quaking in his farming boots with the amount of pumpkin spice products that Taste of Home reports it plans to push this autumn. Pumpkin spice coffee, yogurt pretzels, and candles are all on the agenda, along with a pumpkin pie cider and a pumpkin cheesecake flavored caramel corn. Park those pumpkiny products next to the pumpkin pals that are sure to adorn your home after a trip to Aldi, and watch this summer fade into autumn before your very eyes. Charlie Brown, Jack O'Lantern, and Peter Peter Pumpkin-Eater will all be plum proud.