Fried Pumpkin Donut Holes Recipe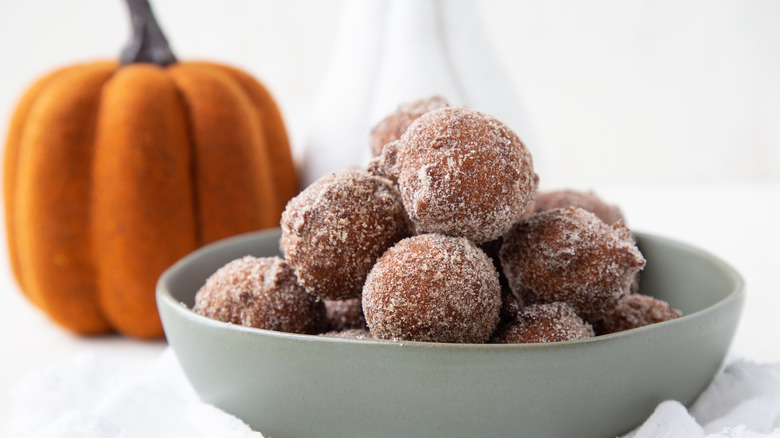 Kate Shungu/Mashed
What better fall-inspired treat to prepare (and enjoy) than one that highlights the best flavors of the season? Pumpkins are everywhere throughout the autumn months, and although it's easy to get your fix of pumpkin lattes at every street corner, we're more than eager to try a bite-sized snack. Recipe developer and food blogger at Gift of Hospitality Kate Shungu loves vamping up vintage recipes to make them novel and delicious. Her recipe for fried pumpkin donut holes is just as tantalizing as it sounds, and it's sure to be popular with everyone in your house.
You'll definitely want to get into the fall spirit and try this recipe out as soon as possible. A few simple details make these treats drool-worthy, and Shungu remarks, "I love the cinnamon sugar coating — it pairs perfectly with the pumpkin for a fall treat." 
A great characteristic of donut holes is that you don't have to feel limited to just eating one. Their small size is perfect for when you feel like having a fun snack, and you can modify the serving depending on your hunger level. Thanks to wholesome ingredients including fresh pumpkin purée, these donut holes are healthier than lots of store-bought options. All the same, you're sure to feel satisfied thanks to the delightful texture and fragrant aromas of these fried pumpkin donut holes.
Gather the ingredients for these fried pumpkin donut holes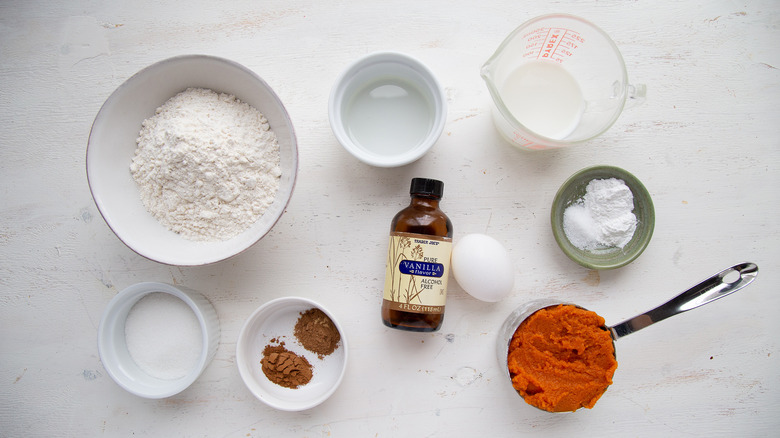 Kate Shungu/Mashed
Once you've made the donut hole batter, this recipe requires undivided attention, so be sure to gather all the ingredients to start. First, you'll need the dry ingredients for the dough. Shungu sticks to the basics — flour, white sugar, baking powder, and salt. Together, these create a pleasant texture and balanced flavor. And of course, you won't want to forget the pumpkin pie spice.
Next, it's time for the wet ingredients, starting off with milk. "You can substitute a non-dairy milk, such as almond milk, for the cow's milk in this recipe," Shungu notes. Pumpkin purée is the key ingredient for that fall flavor, and it helps keep the dough super moist. A bit of neutral vegetable oil and a lightly beaten egg bind everything together. For an extra touch of warm sweetness, you'll add a splash of vanilla. Vegetable oil is the best choice for deep frying because it has a relatively high smoke point. Finally, you'll mix sugar with cinnamon to coat the exterior of the donut holes so that they are sweet inside and out!
Prepare the batter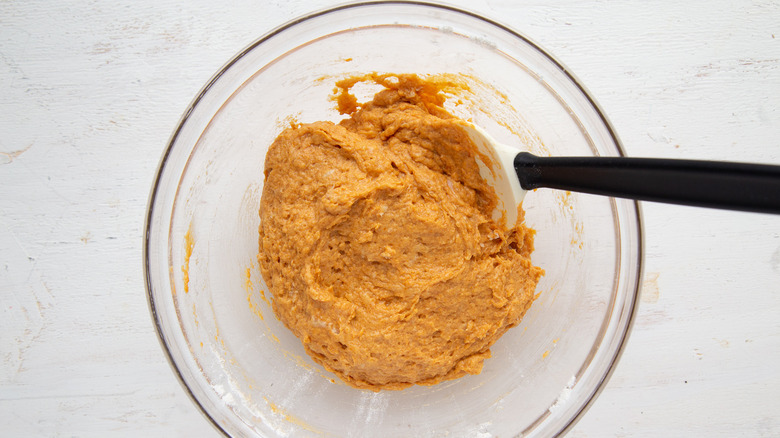 Kate Shungu/Mashed
First things first: Begin by heating 4 cups of vegetable oil in a Dutch oven or a heavy tall-sided skillet. You'll want to have a food thermometer to check when the oil reaches 375 F.
Meanwhile, set out a large bowl, and whisk together 1 ½ cups of flour, ⅓ cup of sugar, 2 teaspoons of baking powder, ½ teaspoon of salt, and ¾ teaspoon of pumpkin pie spice. Make sure the ingredients are uniformly combined before adding in the wet ones. Next, stir in ¼ cup of milk, 1 cup of pumpkin purée, ½ teaspoon of vanilla, one egg (make sure to lightly beat it first), and finally 2 tablespoons of vegetable oil. Mix everything until a smooth orange batter has formed.
Fry the donut holes in batches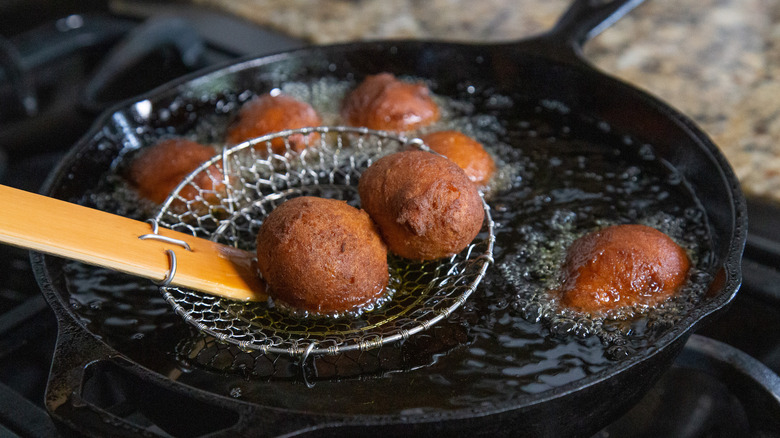 Kate Shungu/Mashed
Once you've made the donut hole dough, it's time to fry them. Shungu cautions, "It's important to make sure that the oil temperature is around 375 F before you start frying the donut holes." She continues, "If it's not hot enough, the donuts will absorb too much of the oil." On the other hand, "If it's too hot, they will burn on the outside and be undercooked in the middle." Your best bet is using a thermometer to ensure a precise oil temperature. Before you start frying the donut holes, line a plate with paper towel, and set it nearby.
When the oil is at 375 F, carefully drop the batter into the skillet by the tablespoon, about five or six at a time. Let them fry for one to two minutes per side, or until they become a deep golden brown color. As soon as the donut holes are ready, remove them from the oil with a slotted spoon, and transfer them to the paper towel-lined plate or baking sheet to absorb some of the excess oil.
Repeat the process with the remainder of the dough, ensuring that the oil is back to temperature between batches. You should be able to make 24 donut holes with the batter.
Combine the cinnamon and sugar to coat the fried donut holes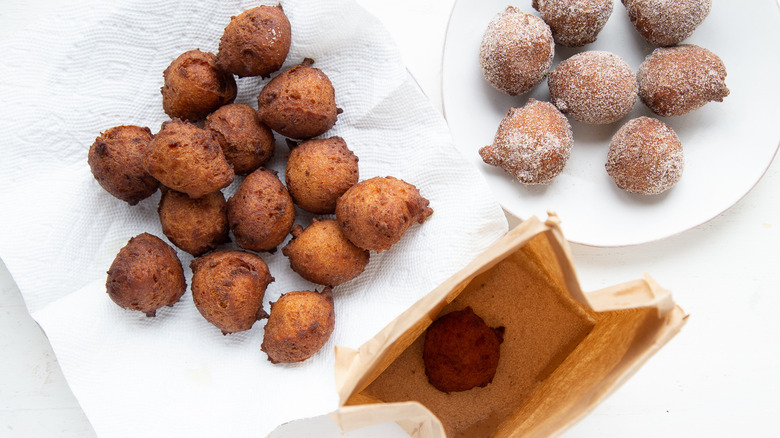 Kate Shungu/Mashed
It's almost time to devour these tasty fried pumpkin donut holes! For the last step, pour the remaining ⅓ cup of sugar and 1 teaspoon of cinnamon into a paper bag. Shake them together until they combine to make the amazing cinnamon sugar coating for the donuts. Then, working in batches, shake the warm donuts into the mixture to coat them with an extra sweet touch. In case you don't have a paper bag, mix the cinnamon sugar in a large bowl, and roll the warm donuts in it to coat.
Serve these tasty fried pumpkin donut holes while they're nice and warm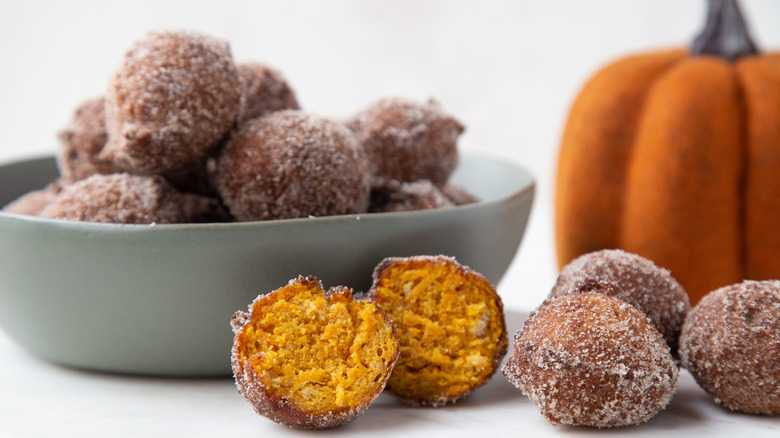 Kate Shungu/Mashed
Finally, you've reached the best part of the process. Serve these delicious fried pumpkin donut holes while they're still warm. Shungu notes, "The donut holes are best eaten the same day that they are made." While they won't go bad immediately after, she points out, "They taste the best when they are freshly fried!"
These donut holes are perfect as an afternoon snack, dessert, or as a breakfast treat. Shungu remarks, "Since the donut holes are sweet, I like pairing them with a cup of coffee or tea to complement the sweetness." There's no shortage of ways to enjoy these tasty pumpkin donut holes!
Fried Pumpkin Donut Holes Recipe
These fried pumpkin donut holes are bite-sized snacks that will surely be a major hit in your house this fall and beyond.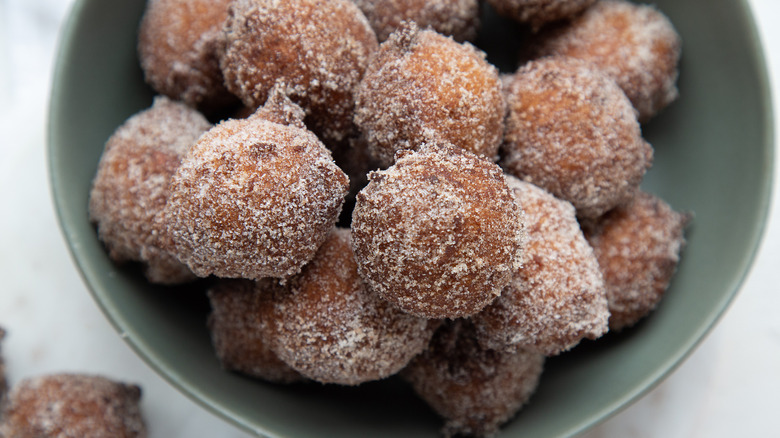 Ingredients
4 cups + 2 tablespoons vegetable oil, divided
1 ½ cups flour
⅔ cup sugar, divided
2 teaspoons baking powder
½ teaspoon salt
¾ teaspoon pumpkin pie spice
¼ cup milk
1 cup pumpkin purée
½ teaspoon vanilla
1 egg, lightly beaten
1 teaspoon cinnamon
Directions
Heat 4 cups of vegetable oil to 375 F in a Dutch oven or a heavy tall-sided skillet.
Whisk the flour, ⅓ cup of sugar, baking powder, salt, and pumpkin pie spice in a large bowl.
Stir in the milk, pumpkin purée, vanilla, the beaten egg, and 2 tablespoons of vegetable oil.
Drop the batter by the tablespoon into the hot oil, adding 5 to 6 spoonfuls at a time. Fry them for 1 to 2 minutes on each side, or until they are a deep golden brown.
Place the fried donuts on a plate or baking sheet lined with a paper towel, and repeat with the remaining batter.
Place the remaining ⅓ cup of sugar and the cinnamon in a paper bag, and shake it to combine the contents.
Add the warm donuts to the bag, and shake them in the cinnamon sugar mixture until they are coated.
Serve the donuts while they are still warm.
Nutrition
| | |
| --- | --- |
| Calories per Serving | 97 |
| Total Fat | 5.0 g |
| Saturated Fat | 0.4 g |
| Trans Fat | 0.0 g |
| Cholesterol | 6.9 mg |
| | |
| --- | --- |
| Total Carbohydrates | 12.2 g |
| Dietary Fiber | 0.3 g |
| Total Sugars | 5.9 g |
| Sodium | 64.7 mg |
| Protein | 1.2 g |