3-Ingredient Baked Taquitos Recipe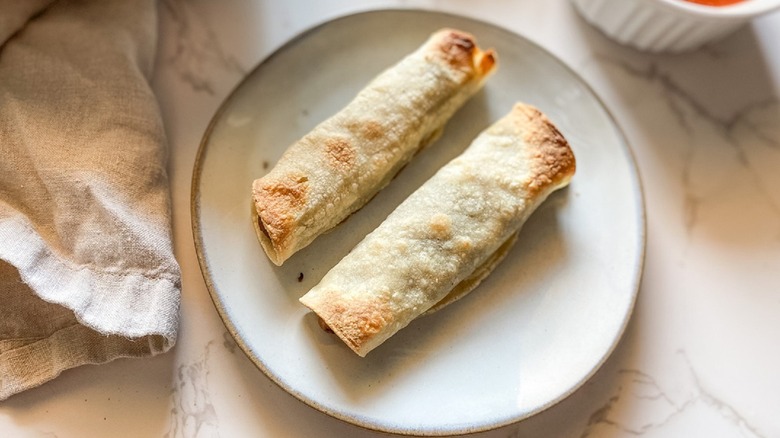 Kristen Carli/Mashed
It's pretty hard not to love taquitos. You take a few delicious ingredients, like beef, cheese, or beans, roll them up in a tortilla, and either deep-fry or bake them — it doesn't get much better than that! Not only are taquitos delicious, but they're self-contained, meaning that clean-up is an easy process and you don't even need utensils to eat them. Now, recipe developer Kristen Carli has made the dish even easier with this three-ingredient baked taquitos recipe. These taquitos are incredibly easy to throw together, and, best of all, they only require three ingredients. 
This recipe yields eight taquitos, though you can easily double or even triple the recipe if you're making the meal for your family or a large group. And, unlike traditional taquitos, this recipe calls for baking instead of frying, which cuts back on the calories while still maintaining plenty of flavor. If you love taquitos and you want a simple, go-to recipe after a long day, this three-ingredient dish will quickly become a favorite in your household!
Gather the ingredients to make 3-ingredient baked taquitos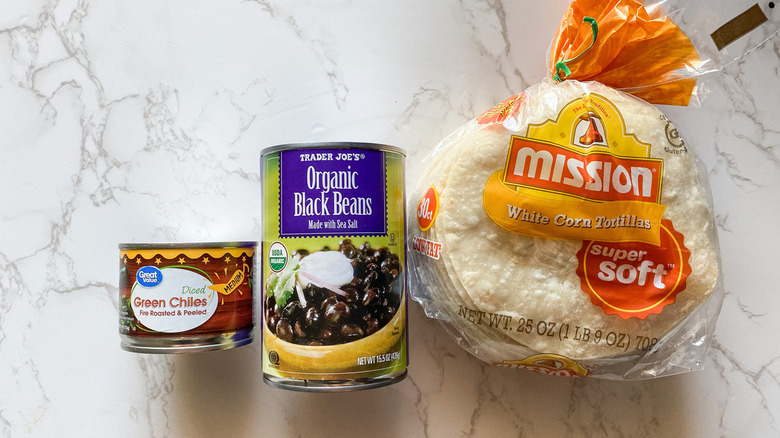 Kristen Carli/Mashed
As the title says, this is a three-ingredient recipe, so your shopping trip should be nice and quick. For starters, you'll need a can of black beans, which are the star of the show. "You could sub pinto beans if you would like, but I am more drawn to the flavor of black beans," Carli explains. "Black beans also have more nutrients like antioxidants than pinto beans." Along with the beans, you'll also need a can of green chiles and some corn tortillas. You will also need a little bit of salt and pepper, but it's likely that you already have those sitting in your pantry at home.
While one of draw of this recipe is how few ingredients it needs, you can also get some extra ingredients for toppings. Carli suggests such additions as a container of sour cream, a container of guacamole, your favorite salsa, cilantro, as well as green onions. You can also add a side of rice and beans, either from a pre-made box or you could mix black beans and Spanish rice.
Make your bean filling and heat the tortillas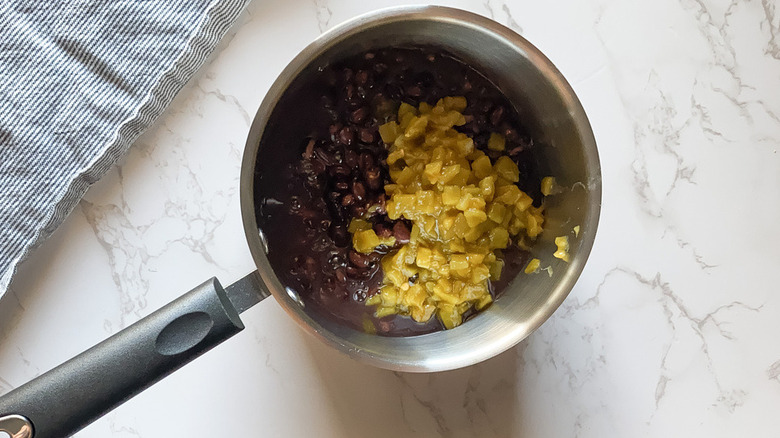 Kristen Carli/Mashed
Start by preheating the oven to 350 F. Pour the can of black beans, undrained, into a small sauce pan. Then add the green chiles, topping it all off with salt and pepper. Stir this mixture to combine thoroughly. Then place this pan onto the stove, turning it on to low and simmering for about 10 minutes. After the beans and chiles have simmered, take a potato masher and mash up the mixture, which will serve as the filling for your taquitos.
Meanwhile, you can also heat up the tortillas. Simply heat each corn tortilla on a cast iron skillet until they are nice and warm — be careful not to overcook and burn them. Also, keep in mind that it's best to heat the tortillas on the stovetop instead of opting for a microwave. "I find that corn tortillas tear easily when I warm them via microwave," Carli explains of her method.
Fill the taquitos and line them up in a baking dish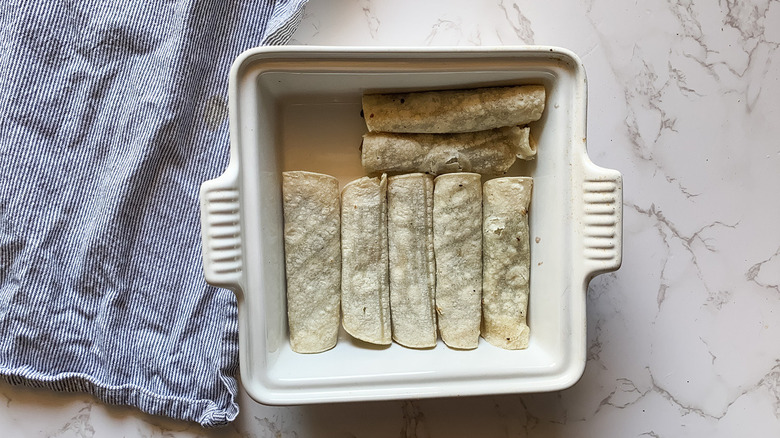 Kristen Carli/Mashed
Now that both the filling and tortillas are ready, you can assemble the taquitos for baking. Start by spraying your baking dish with a nonstick spray. Take a tortilla and spoon about 2 tablespoons of the bean mixture into it. Roll it up, leaving the ends open, and place seam-side down onto the baking dish. Then repeat until you've used up all of your bean blend and each of the tortillas. Be sure that you line the taquitos up in an even, single layer across the baking dish — if you stack them, they won't bake evenly.
Bake and serve your taquitos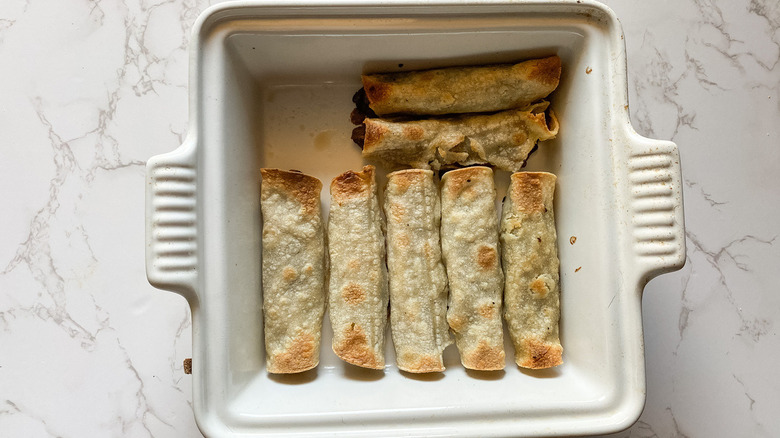 Kristen Carli/Mashed
Once all your taquitos are lined up in the baking dish, allow them to bake in the oven for 20 minutes. Finish them off by turning the oven to high broil and broiling the taquitos for about three minutes, just until they're crispy. Once the tortillas have slightly browned, you can take the taquitos out of the oven, serve, and enjoy! "I love serving these with sour cream, guacamole, salsa, cilantro and green onions," says Carli, adding that they also pair well "with a side of rice and beans." If you love taquitos and you love simple recipes, give this three-ingredient taquito recipe a try!
3-Ingredient Baked Taquitos Recipe
These three-ingredient baked taquitos are easy to throw together and are perfect for quick, simple dinners.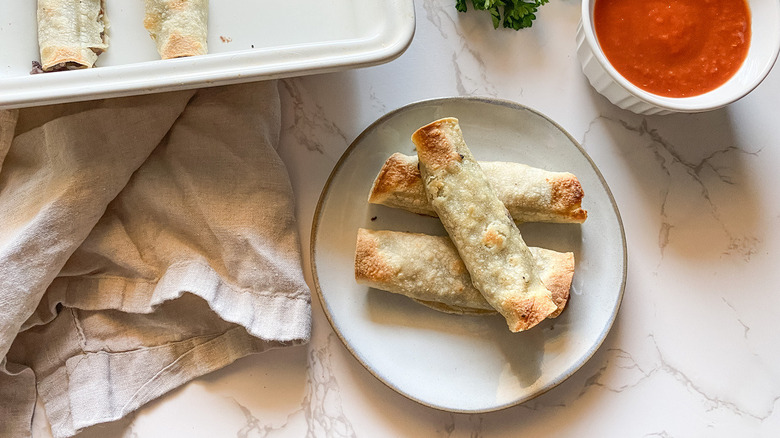 Ingredients
1 (15-ounce) can black beans
1 (4-ounce) can green chiles
1 teaspoon salt
½ teaspoon pepper
8 corn tortillas
Directions
Preheat oven to 350 F. In a small saucepan, add undrained can of black beans and green chiles. Add salt and pepper. Stir to combine.
Simmer for 10 minutes. Then, using a potato masher, mash beans.
In the meantime, heat corn tortillas in a cast iron skillet until warmed through.
Spoon 2 tablespoons of the bean and green chile mixture into each tortilla. Roll up leaving the ends open. Place seam side down in a 8x8-inch baking dish.
Repeat until all taquitos are made.
Spray the taquitos with nonstick cooking spray.
Bake for 20 minutes. Then turn the oven to high broil and broil until crispy, about 3 minutes.
Nutrition
| | |
| --- | --- |
| Calories per Serving | 416 |
| Total Fat | 3.5 g |
| Saturated Fat | 0.6 g |
| Trans Fat | 0.0 g |
| Cholesterol | 0.0 mg |
| | |
| --- | --- |
| Total Carbohydrates | 81.1 g |
| Dietary Fiber | 21.9 g |
| Total Sugars | 1.3 g |
| Sodium | 851.2 mg |
| Protein | 18.8 g |