Easy Taquito Recipe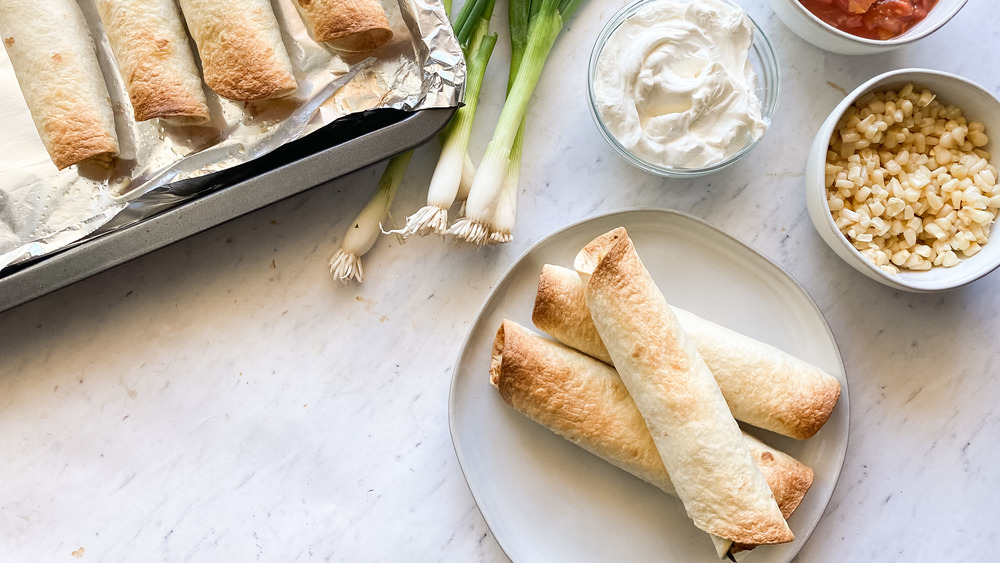 Kristen Carli/Mashed
There are few foods more satisfying than the taquito. Delicious, convenient, and even charming with their diminutive little shape, these tasty tubes are a perfectly packaged centerpiece to a meal. They're also pretty darn convenient. According to chef, food writer, and registered dietician Kristen Carli of Camelback Nutrition & Wellness, "they will keep for up to 3 days stored in an airtight container in the fridge [and] they freeze great." So, you can make a big batch now and have easy meals on hand for days or even weeks to come. That is, if you can keep yourself from eating a whole bunch of these at once.
As for when and how to serve taquitos, you really can't go wrong. "I served these with sour cream and salsa with a side of the Mashed Mexican rice recipe," says Carli. Even better, these taquitos go great with much more than rice. Try them with roasted potatoes, a crunchy green salad, or a plate of perfectly fried eggs, for one. They can also of course be enjoyed on their own as a little meal or a handy snack. And handy really is the operative word here. Sure, taquitos should probably be a knife and fork food most of the time, but why not enjoy a handheld roll of tasty goodness as you hit the road now and then?
Gather your ingredients for taquitos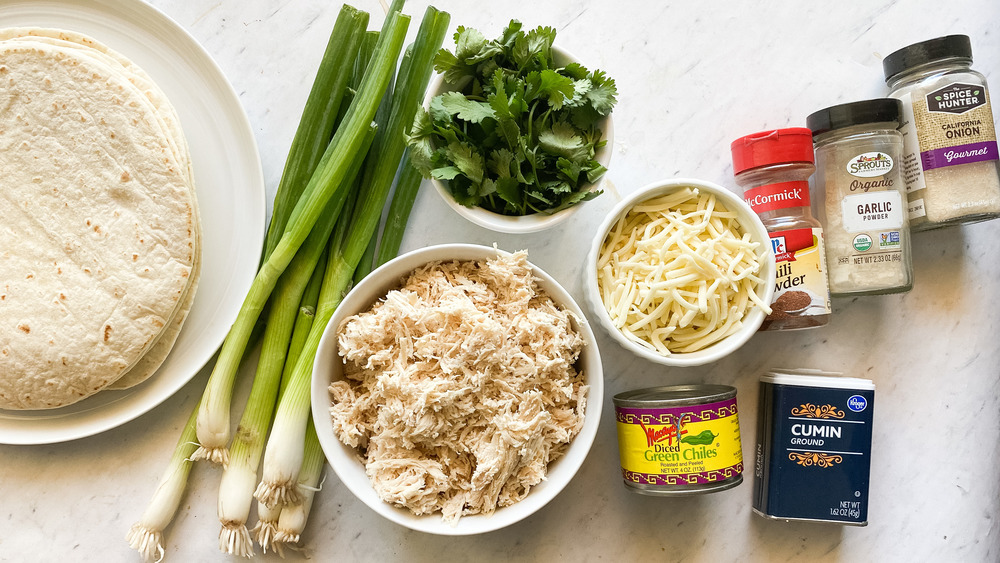 Kristen Carli/Mashed
To make the exact taquitos Carli cooked up for this recipe, you'll need 2 cups of cooked shredded chicken breast ("I followed the Mashed recipe for Instant Pot shredded chicken," she says), an 8-ounce of canned green chiles, 1/2 teaspoon cumin, 1 teaspoon of chili powder, 1/4 teaspoon of garlic powder, 1/2 teaspoon onion powder, 2 tablespoons of chopped cilantro, 2 tablespoons of sliced green onions, 1 cup of shredded pepper jack cheese, 10 small flour tortillas, and cooking spray.
There is plenty of room here for variation, including any particular dietary needs you may need to manage. "You could sub in black beans for a vegetarian alternative," says Carli. "Otherwise, pork would be a great substitute to pair well with green chiles. You could [also] easily use non-dairy cheese."
Start mixing your taquito ingredients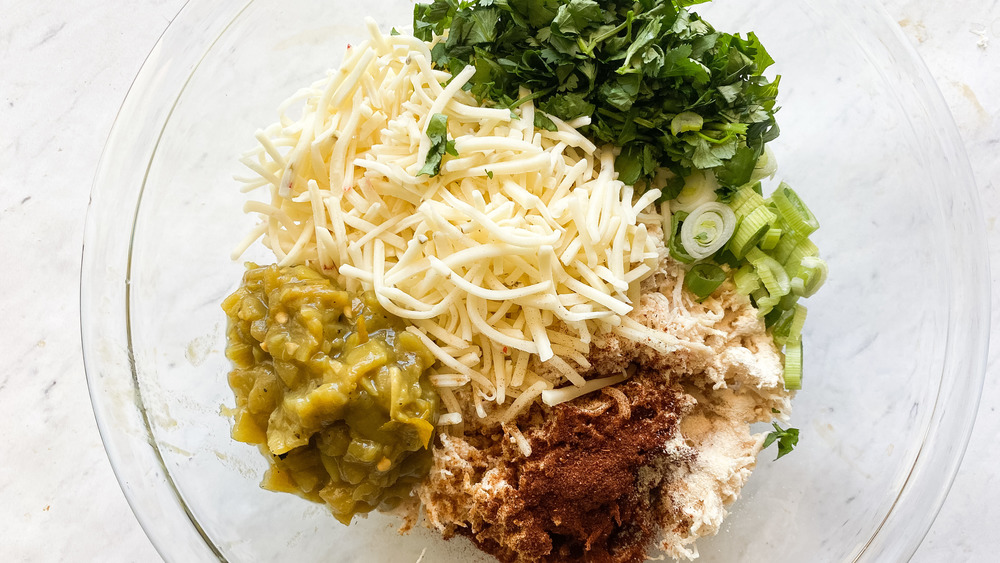 Kristen Carli/Mashed
To start things off right, remember to pre-heat your oven to a toasty 425 degrees Fahrenheit. Next, prepare a large baking sheet by lining it with aluminum foil and spraying that foil with a coating of nonstick cooking spray.
Now, in a large bowl, add the chicken, the green chiles, all of the spices, the cilantro and green onions, and the cheese. Stir all the ingredients well to combine them into one delicious mixture. To help that happen, you can add a bit of each ingredient at a time, especially the spices, to ensure that everything mixes together evenly.
Form the taquitos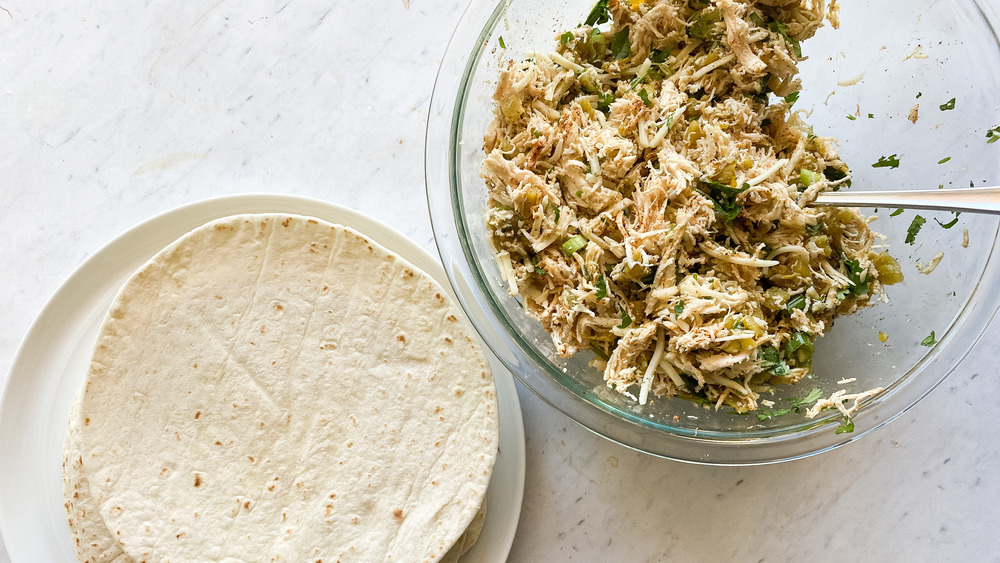 Kristen Carli/Mashed
Scoop about 2 to 3 tablespoons of the chicken, veggie, cheese, and spice mixture into one tortilla. Spread the mixture out a roughly rectangular shape across the diameter of the tortilla. Now wrap up the tortilla, but without folding in the sides as you would with a burrito. Lay the rolled tortilla, seam side down, on the prepared baking sheet. Repeat this with all of the tortillas. 
And note that you really do need to use flour tortillas here. "I wouldn't use corn tortillas because they have a tendency to break open when you roll them up," says Carli. Alas, a broken tortilla will not a good taquito make. Stick with the more flexible flour tortillas instead.
Oil the taquitos then bake them up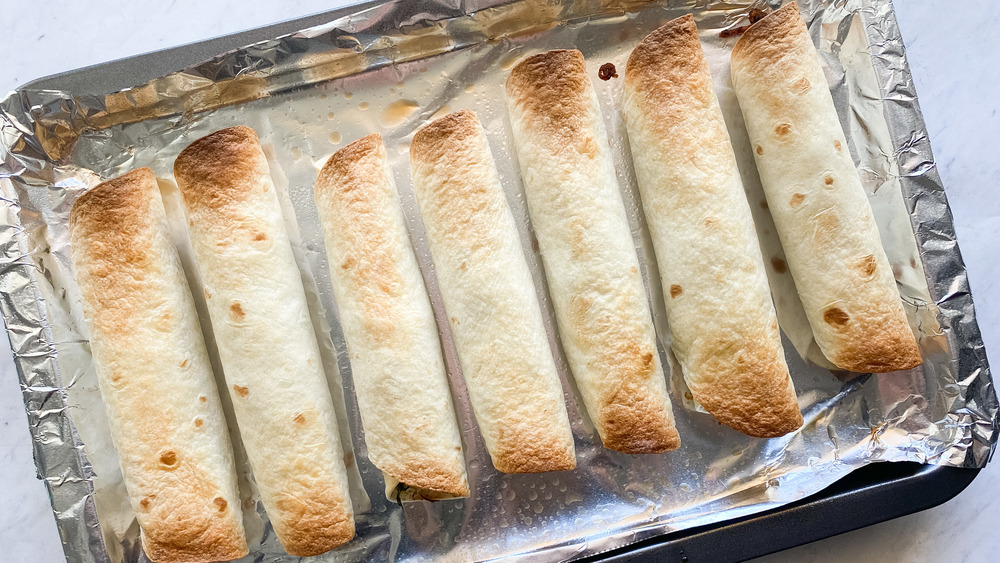 Kristen Carli/Mashed
Once all of your taquitos are rolled up and laid out on the foil-lined and sprayed baking sheet, spray the tops of the taquitos with a little more of that nonstick cooking spray. You could also give them a light brushing with oil like olive oil or avocado oil. 
Now bake the taquitos in the oven for 15 minutes, until the tortillas start to turn golden brown. Watch them carefully towards the end of the process, as you don't want to let them burn! Remember, the chicken is pre-cooked and thus safe already, so over-cooking is more of an issue here than undercooking. Keep a close eye on things as the cooking progresses.
How to store and re-heat taquitos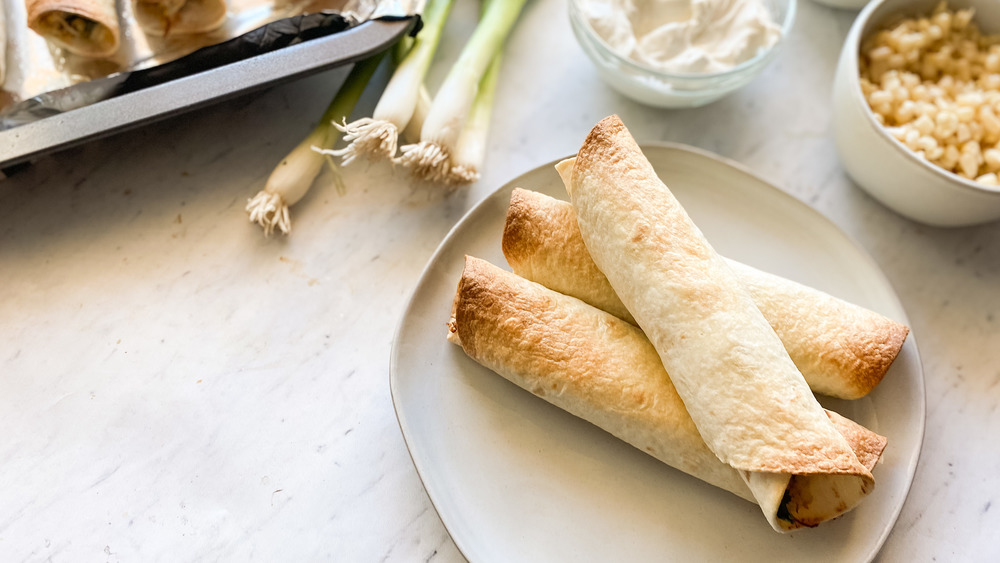 Kristen Carli/Mashed
As noted, baking up a large batch of taquitos is a great way to prepare your meals in the coming days or weeks a basically effortless affair. You can keep cooked taquitos in the fridge in an airtight container or bag for up to 3 days. You can reheat refrigerated taquitos in the microwave, in the oven, or on the stove. But it's frozen taquitos that will serve you best, as they keep for 2 or 3 months, provided you prepped them for the freezer properly.
"I would lay them out on a baking sheet and freeze the entire sheet until solid," says Carli, "then remove and add [them] to a large freezer bag. To reheat be sure to bake them in the oven."
Easy Taquito Recipe
There are few foods more satisfying than taquitos. Delicious and convenient, you'll soon want to make this easy recipe for taquitos practically every weeknight.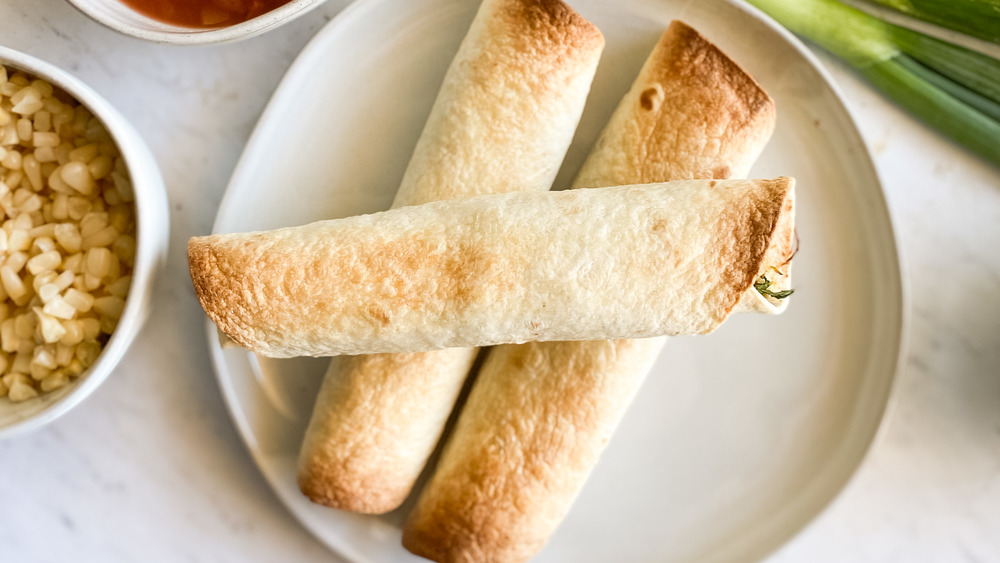 Ingredients
2 cups cooked shredded chicken breast
8 ounces canned green chiles
½ teaspoon cumin
1 teaspoon chili powder
¼ teaspoon garlic powder
½ teaspoon onion powder
2 tablespoons chopped cilantro
2 tablespoons sliced green onions
1 cup shredded pepper jack cheese
10 small flour tortillas
Cooking spray
Directions
Preheat oven to 425 degrees Fahrenheit. Prepare a large baking sheet with foil and spray with nonstick cooking spray.
In a large bowl, add chicken, green chiles, spices, cilantro, green onions, and cheese. Stir to combine.
Scoop about 2-3 tablespoons of chicken mixture into one tortilla. Wrap up without folding in the sides and lay seam side down on the prepared baking sheet. Repeat with all tortillas.
Spray the tops of the taquitos with nonstick cooking spray. Bake in the oven for 15 minutes until golden brown.
Nutrition
| | |
| --- | --- |
| Calories per Serving | 853 |
| Total Fat | 41.2 g |
| Saturated Fat | 14.2 g |
| Trans Fat | 0.2 g |
| Cholesterol | 135.6 mg |
| | |
| --- | --- |
| Total Carbohydrates | 66.7 g |
| Dietary Fiber | 4.8 g |
| Total Sugars | 3.7 g |
| Sodium | 1,599.0 mg |
| Protein | 52.9 g |