Jeff Mauro's Chicken Marsala Recipe With A Twist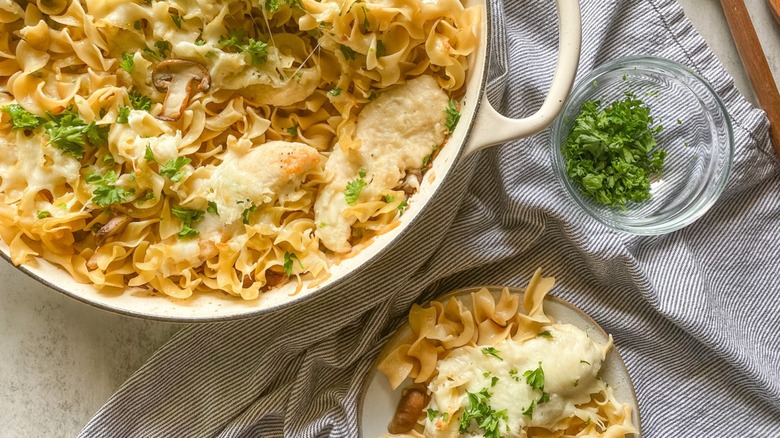 Kristen Carli/Mashed
According to his Twitter bio, Jeff Mauro is a "Professional combiner of Meat, Cheese, [and] Bread." But that's not all the chef does. He hosts not one, but two Food Network shows, "The Kitchen" and "Sandwich King," where he shows off his aforementioned skills of mixing carbs, cheese, and meat into delicious combinations. 
And even though he's considered royalty when it comes to meals involving two pieces of bread, Mauro is capable of much more. Take his recipe for chicken Marsala, for example. This comforting Italian dish made with chicken, mushrooms, and dry Marsala wine doesn't involve bread at all — though, of course, some crusty bread is recommended for serving (via Food Network). Sandwich it is not, but it's a delicious, reliable, and classic recipe regardless.
Classic recipes are classics for a reason, but it can be a fun and tasty challenge to make something that's inspired by a classic while still being its own unique culinary creation. That's what registered dietician and recipe developer Kristen Carli did when she put her own twist on Jeff Mauro's chicken Marsala recipe. It has all the flavors you want from chicken marsala and then some!
Prepare your ingredients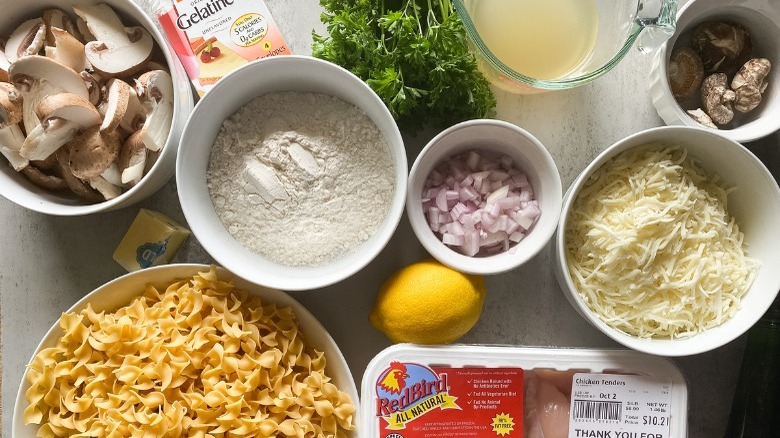 Kristen Carli/Mashed
This recipe requires chicken, of course. Specifically, you'll want to get chicken tenders, a cut you should be able to find easily in the meat section of your local supermarket. You'll also need dry Marsala wine (it's key here that the wine is dry and not sweet), egg noodles, olive oil and unsalted butter. Along with that, grab some minced garlic and shallots, shredded mozzarella cheese, chicken broth, lemon juice, chopped parsley, salt, pepper, and flour. You need two types of mushrooms (sliced creminis and dried porcini, to be specific), plus unflavored powdered gelatin.
After you've gotten your ingredients ready, preheat your oven to 350 F. Preheating your oven at this point will allow it to get up to heat in time for the baking stage, allowing this process to move smoothly.
What did we change?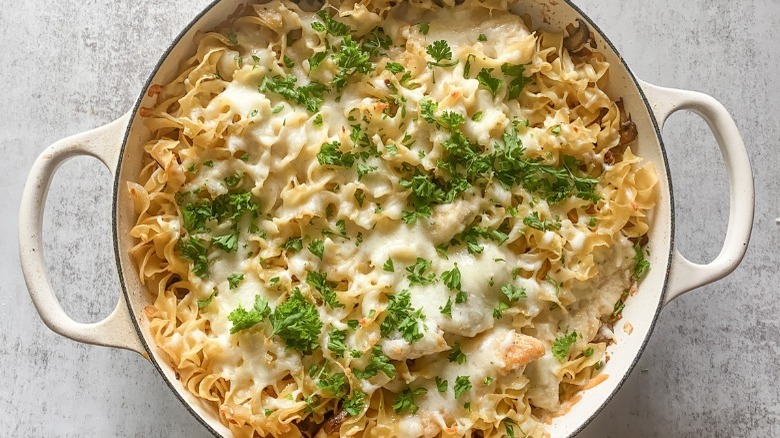 Kristen Carli/Mashed
Sure, chicken Marsala is a rich and satisfying dish on its own, but many admit that it could be more substantial. So, for her twist on Mauro's recipe, Carli went the casserole route, combining classic chicken Marsala with egg noodles and plenty of cheese. It all comes together for a savory, gooey baked meal that the whole family will love.
"The twist is an easy way to make this dish a complete meal," Carli says. "I love adding in pasta with chicken Marsala. This casserole is full of cheesy goodness!"
Cook the chicken and mushrooms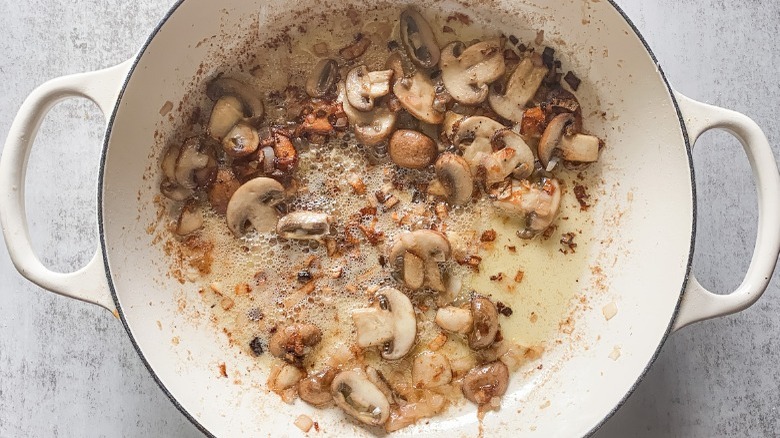 Kristen Carli/Mashed
It's cookin' time! First, season the meat by sprinkling salt and pepper all over your chicken tenders, then dredge each piece in flour. Make sure they're all good and covered in the flour so they're ready to cook up in the pan. 
Next, heat some olive oil in an oven-safe skillet over medium-high and brown your chicken on each side. While you do that, cook your egg noodles in a big pot of salted water, according to the package instructions.
Once the tenders are browned, set the meat aside. Add your shallots, butter, and both types of mushrooms to the same pan you just cooked the chicken in, so you get some of that flavorful schmaltz in everything. While that's cooking down (and smelling great), combine the powdered gelatin with some of the chicken broth in a separate bowl. This step gives the gelatin a chance to "bloom," or start to activate its thickening powers.
Deglaze, simmer, and bake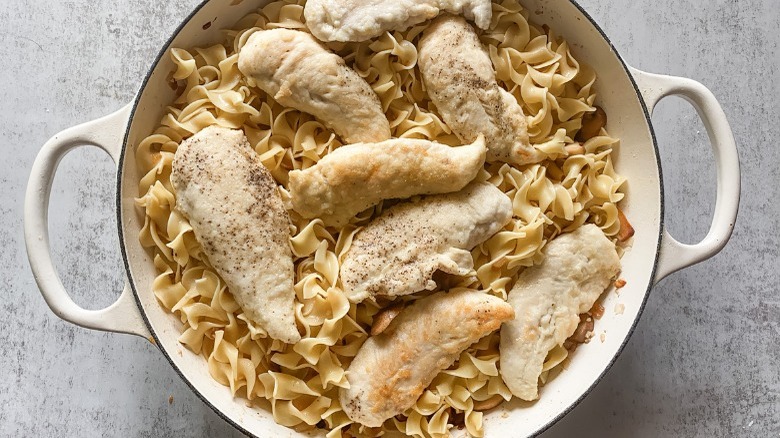 Kristen Carli/Mashed
When the mushroom and shallot mixture looks good and brown (this caramelization process should take about 15 minutes), toss the garlic in and deglaze the pan with a hearty pour of the dry Marsala wine. Be sure to use the deglazing step to work free any flavorful browned bits stuck to the bottom of your pan. After that, stir in the gelatin and broth mixture and let the whole mixture come to a simmer.
After you've simmered for a few minutes, mix in the cooked egg noodles. Place the chicken on top of everything, then scatter your mozzarella on top of that. Now, it's time to stick your trusty oven-safe skillet in the oven — which you've preheated to 350 F, remember?
Enjoy your cheesy creation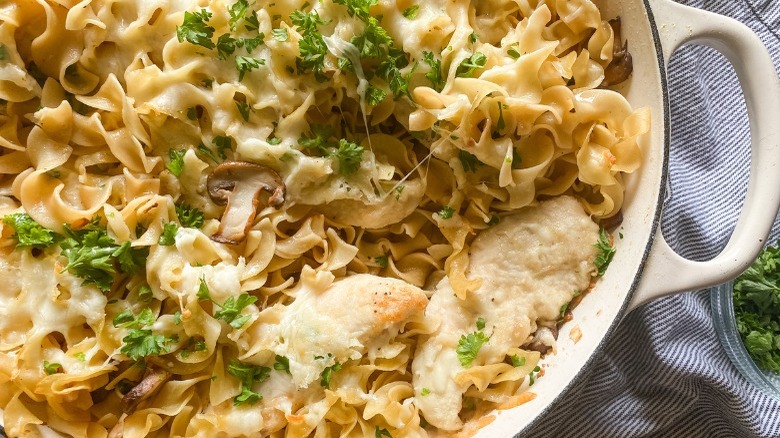 Kristen Carli/Mashed
After about 15 minutes in the oven, your cheesy chicken Marsala casserole creation is ready to come out and get devoured. Well, if the cheese doesn't look like that perfect shade of golden brown you've been dreaming about, you can let it bake for a minute or two more. Top everything with a tart squeeze of lemon juice and a scattering of parsley and there you have it: a dish that tastes a lot like Jeff Mauro's recipe for chicken marsala, but with way more cheesy, noodle-y goodness. What could be better?
This recipe will feed eight people, which is great if you have a big family or are hosting a dinner party. However, if you live alone or are making this dish for a smaller group, then you're going to have leftovers. Never fear, though, as this dish keeps pretty well. "Leftovers store well in an airtight container in the fridge for up to 4 days," Carli says. However, that means the fridge and the fridge alone. Carli notes it doesn't freeze well, so while you can take your time finishing those leftovers, don't take too much time. We're sure you won't have a problem there.
Jeff Mauro's Chicken Marsala Recipe With A Twist
This hearty, satisfying twist on Jeff Mauro's classic chicken Marsala recipe will be sure to keep everyone coming back for seconds and then some.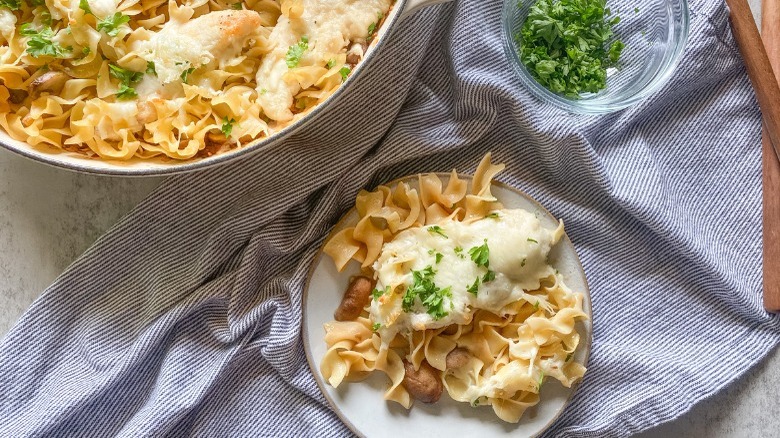 Ingredients
1 pound egg noodles
1 pound chicken tenders
1 teaspoon salt
½ teaspoon pepper
¾ cup flour
2 tablespoons olive oil
8 ounces cremini mushrooms, sliced
3 tablespoons unsalted butter
2 tablespoons dried porcini mushrooms
2 shallots, minced
2 teaspoons unflavored powdered gelatin
¾ cup chicken broth
2 cloves garlic, minced
1 cup dry Marsala wine
1 ⅓ cups shredded mozzarella cheese
2 tablespoons lemon juice
2 tablespoons chopped parsley
Directions
Preheat oven to 350 F. Bring a large pot of water to a boil. Add egg noodles and cook according to package directions. Drain and set aside.
Season chicken tenders with salt and pepper. Then dredge in flour, shaking off excess.
Heat a large oven-safe skillet over medium high heat. Add olive oil and brown each side of chicken until golden brown, about 2 minutes on each side. Transfer chicken to a plate.
To the same pan, add cremini mushrooms, butter, dried porcini mushrooms, shallots, and cook until deeply caramelized, about 15 minutes.
Meanwhile, in a small bowl, whisk the gelatin and ¼ cup of the broth together. Let it sit to bloom.
Add the garlic to the pan. Deglaze with Marsala. Whisk in broth and gelatin mixture. Bring to a simmer and cook until slightly thickened, about 5 minutes.
Add cooked noodles to the mixture, stirring well to combine. Nestle chicken in the pan and top with shredded cheese.
Bake for 15 minutes, until the cheese is golden and melted.
Top with lemon juice and parsley.
Nutrition
| | |
| --- | --- |
| Calories per Serving | 676 |
| Total Fat | 30.3 g |
| Saturated Fat | 12.6 g |
| Trans Fat | 0.2 g |
| Cholesterol | 121.5 mg |
| | |
| --- | --- |
| Total Carbohydrates | 66.7 g |
| Dietary Fiber | 3.8 g |
| Total Sugars | 4.2 g |
| Sodium | 653.2 mg |
| Protein | 29.5 g |