This Old School Dish Reminds Bobby Flay Of His Childhood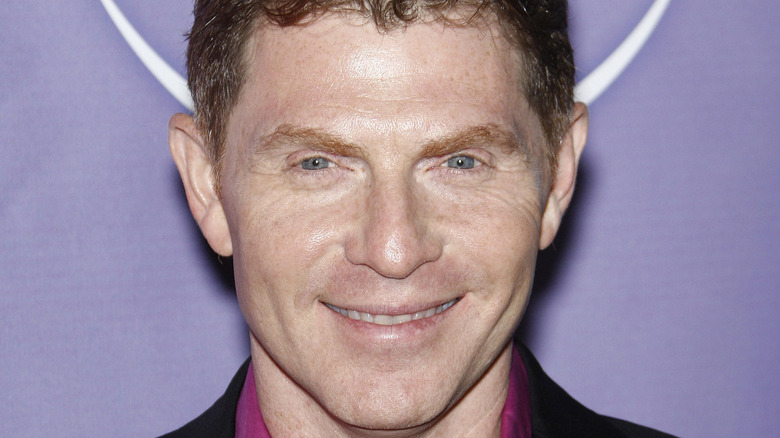 Joe Seer/Shutterstock
We may receive a commission on purchases made from links.
While there's no doubt that celebrity chef, restaurateur, and cookbook author Bobby Flay has eaten countless delicious delicacies over the years — whether as a host on numerous Food Network programs or in his own kitchen — one classic dish stands out from the rest as a memorable childhood favorite. In a tweet, the celebrity chef shared some insight into a recent appearance on the "Rachael Ray Show," writing, "I'm making Salisbury steak from a battle I lost to chef Todd Erickson. This dish reminds me of childhood TV dinners and was one of my mom's specialties."
Flay is refering to losing a battle on his hit show "Beat Bobby Flay," in which chefs battle it out for the opportunity to go head-to-head with Flay in a cooking battle featuring the signature dish of their choosing. While Flay frequently comes out victorious, he's occasionally bested by the visiting chef, as was the case with Miami-based chef Todd Erickson, who beat Flay in a cooking contest over his own nostalgic favorite during the premiere episode of the show's 11th season.
Bobby Flay has made versions of this nostalgic dish for years
The chef appeared on his Food Network co-star's talk show to promote his recently released "Beat Bobby Flay Cookbook," which is full of "battle-tested recipes" from the eponymous show, like chicken shawarma, 'Juicy Lucy' pimento cheeseburgers, spaghetti carbonara, and — of course — his own take on Salisbury steak. "In [the cookbook], you'll find my recipe and the winning recipe too," the chef shared of the dueling Salisbury steaks. Flay previously shared his recipe for a Salisbury steak with a twist, featuring ground beef meatballs made with garlic, Parmigiano-Reggiano, and breadcrumbs. The meatballs are served over egg noodles in a creamy sauce consisting of cremini mushrooms, Worcestershire sauce, beef broth, onion, tomato paste, and half-and-half.
While it's unclear whether the chef has changed up his Salisbury Steak recipe for the new cookbook — and since his on-screen defeat — one thing we can be sure of is that this classic comfort food is bound to be one of the coziest recipes to whip up all winter long.