Halloween Oreo Spiders Recipe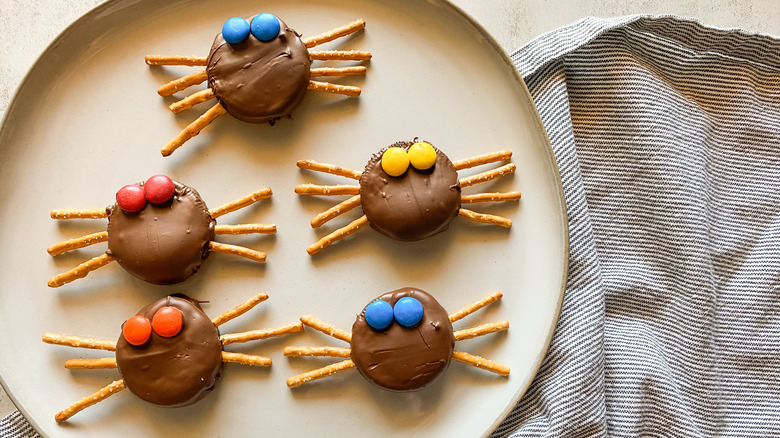 Kristen Carli/Mashed
Halloween only comes around once a year, so you need to make sure you get in your fair share of tricks and treats before the season is over. It is a rite of passage, you know! If you're looking for a chocolatey snack for a spooky party or gathering, then these Halloween Oreo spiders are perfect for you. This wonderful treat has an Oreo base with a chocolate shell and pretzel legs for a little salty to go with the sweet. How good does that sound? We love a treat that is not only fun to look at but also incredibly tasty.
Recipe developer Kristen Carli came up with this fun recipe that is sure to be a hit at your next boo bash or party. "I had so much fun making them. They are adorable," Carli shares. "I love how cute these look! They are one of the cute Halloween recipes versus the scary ones."
Keep scrolling to find out how to make what's sure to be your new favorite Halloween treat.
Gather the ingredients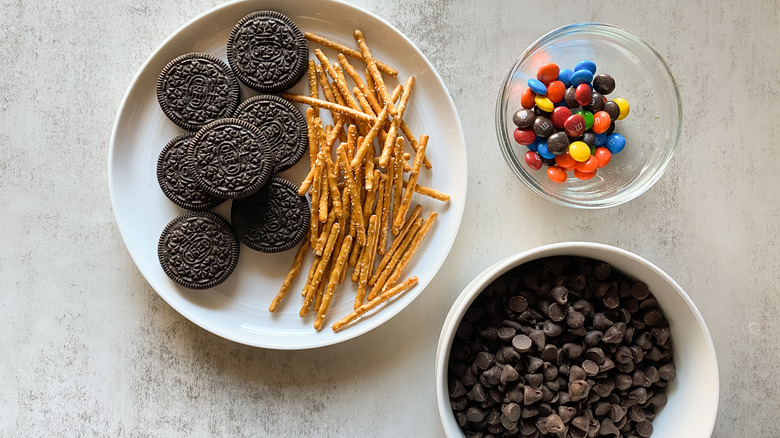 Kristen Carli/Mashed
You first need to head to the grocery store and pick up all of the items needed to whip this treat together. If you're savvy on the net, you could also order groceries through a delivery service, but we'll leave the logistics up to you. For starters, head down the cookie aisle and grab a box of Oreos. To go along with the sweet theme, you will also need some M&M's, which can be found in the candy aisle. 
Next on the list are pretzel sticks, and you will need at least 24 of them. The last item that you need to throw in your cart is chocolate chips. Then, it's time to get started.
Melt the chocolate chips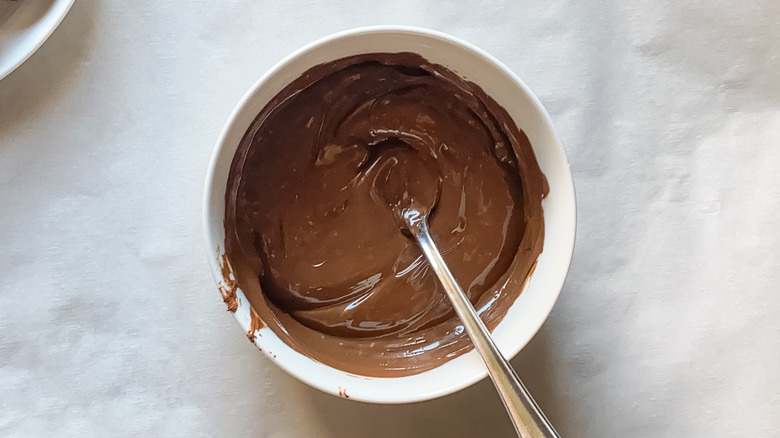 Kristen Carli/Mashed
Are you ready? Start by taking out a microwave-safe bowl. Pour in your chocolate chips and set the timer on your microwave for a minute. Once the first timer dings, grab the bowl from the microwave and give it a few good stirs with the spoon to mix the chocolate. Then, pop the bowl back in the microwave and set the timer for another minute. Once the timer goes off, you can grab the bowl again. Be careful, as it will likely be pretty hot. 
Stir the chocolate chips again, and now, you should have smooth melted chocolate. "I like melting the chocolate in the microwave," Carli shares. "It's easy and works every time."
Dip the Oreos into the chocolate
Kristen Carli/Mashed
Now that you have your melted chocolate ready to go, it's time to get dipping. Before you begin, be sure to put a piece of parchment paper on the counter beside you. This will help avoid a mess and prevent the Oreos from sticking to the counter. We love using parchment paper! 
Then, grab the Oreos and dip each one into the melted chocolate mixture. Set them aside on the parchment paper, and while the chocolate is still wet, add two M&M's to each cookie for the eyes. Repeat this process with all six of your spooky Oreo treats.
Add the legs to the spider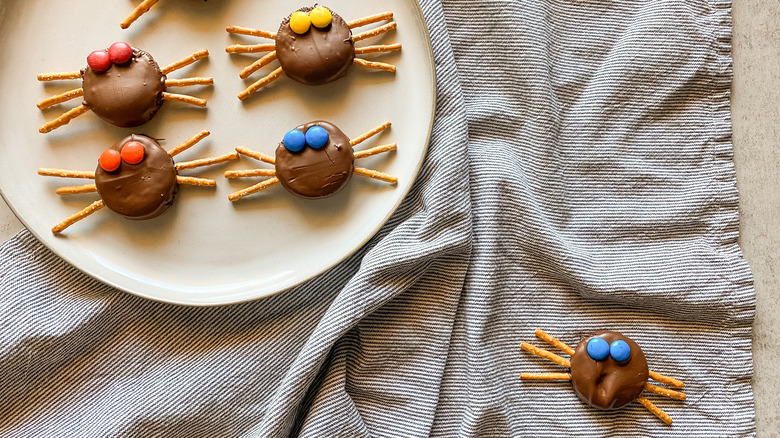 Kristen Carli/Mashed
What spider would be complete without the legs? Now, it's time to add the pretzels to every one. Remember that you should have prepped the pretzels ahead of time.
At this point, the chocolate should be pretty wet to help the pretzels stick. Push three pretzels in on each side, and repeat these steps with each Oreo. There should be six or eight total legs on each of the Oreos, making for one cute little spider treat.
Allow the chocolate to cool, then enjoy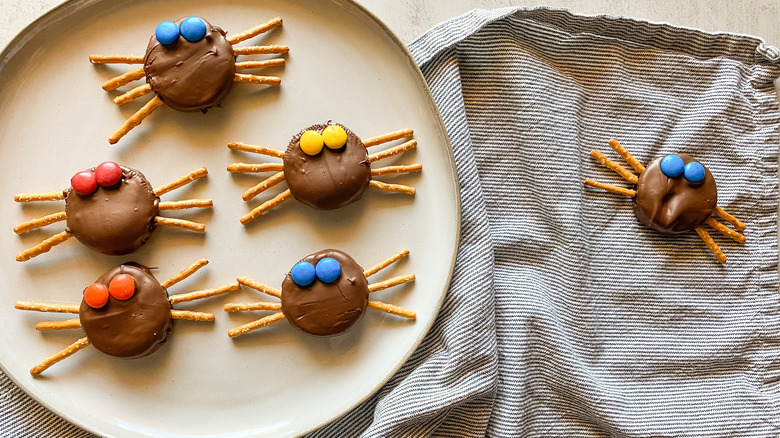 Kristen Carli/Mashed
Now that you have all of the eyes and legs on your spiders, it's just a waiting game. Set your timer for an hour and let the Oreos sit out at room temperature. This allows the chocolate to harden so it's less of a mess when you eat them. "These are ideal for a kid's Halloween party," Carli shares.
These would be great by themselves, but we think that they would go well with a large glass of milk. We don't think you will have any leftovers, but if you do, no worries. "Leftovers will last up to one week in an airtight container in the fridge," Carli shares.
We hope you love these chocolatey treats as much as we do!
Halloween Oreo Spiders Recipe
Halloween only comes around once a year, so you need to make sure you get in your fair share of tricks and treats before the season is over.
Ingredients
16 ounces chocolate chips
6 Oreo cookies
12 M&Ms
24 pretzel sticks, broken in half
Directions
Pour chocolate chips into a microwave-safe bowl. Microwave for 1 minute. Stir to combine. Return to microwave for 1 minute. Stir to combine.
Dip each Oreo into melted chocolate and set on parchment paper. Add 2 M&Ms to each cookie as eyes.
Add 4 legs to both sides of each spider by pressing the pretzels into the melted chocolate and then into the cookies.
Allow chocolate to harden by setting at room temperature for about 1 hour.
Serve and enjoy.
Nutrition
| | |
| --- | --- |
| Calories per Serving | 1,000 |
| Total Fat | 40.9 g |
| Saturated Fat | 24.3 g |
| Trans Fat | 0.3 g |
| Cholesterol | 24.8 mg |
| | |
| --- | --- |
| Total Carbohydrates | 147.9 g |
| Dietary Fiber | 5.9 g |
| Total Sugars | 113.8 g |
| Sodium | 454.1 mg |
| Protein | 10.8 g |