Apple Pie Ice Cream Recipe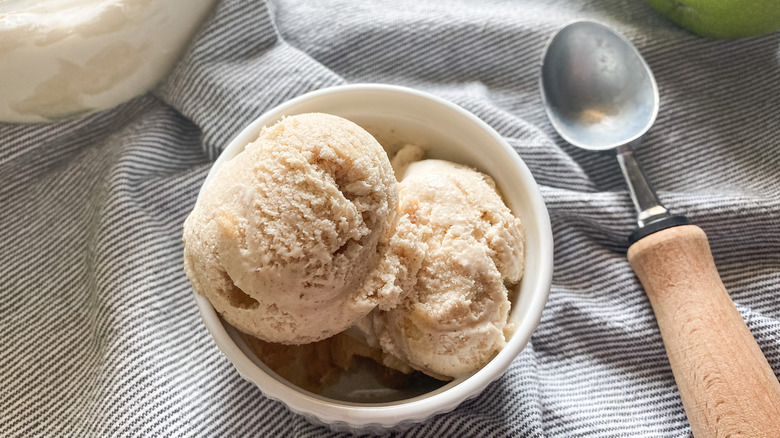 Kristen Carli/Mashed
Aside from pumpkin, there's another fall flavor that is synonymous with the season: apple. Whether you like Gala, Honeycrisp, green apples, or any other type, there's just something about the flavor and crunch that screams fall. Of course, apples are also good any other time of the year, and there's no time like the present to dig into some apple-inspired dishes. Apple pies and cobblers are delicious, but apple ice cream is one of our personal favorites. The rich, smooth taste of ice cream paired with that fresh apple flavor is oh-so-good and oh-so-tasty.
Recipe developer Kristen Carli came up with this innovative and sweet recipe that is the perfect after-dinner treat. "I've always loved ice cream with graham crackers in it! Just the best flavor!" Carli raves. "This is my ideal dessert! My pregnant heart is so happy to have this in the freezer." We think this would be great with a slice of pie or even blended in a smoothie.
Keep reading to find out how to make this tasty treat.
Gather the ingredients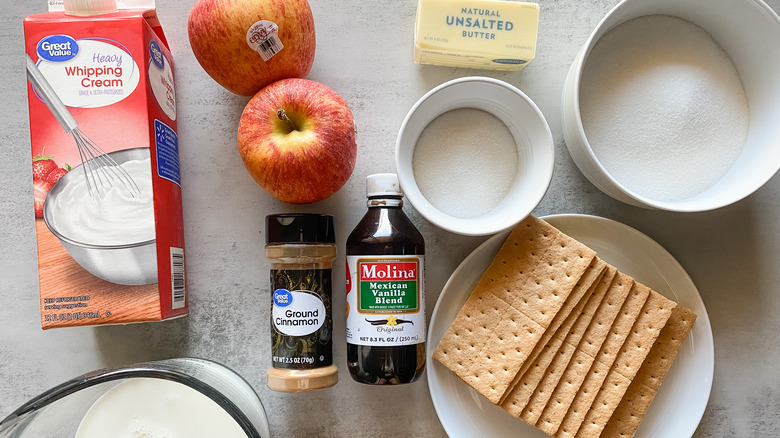 Kristen Carli/Mashed
The first thing you need to do is check what you have at home so you know what you need to get at the store. For starters, grab some unsalted butter and a few Envy apples. "Envy apples are so good in this recipe! They are sweet with extra crunch!" Carli says. "They are a breed with parents: Braeburn and Royal Gala. You can substitute Sweetango if you cannot find Envy. Apples are a good source of fiber and promote good gut bacteria."
For a little bit of added sweetness and flavor, pick up some sugar and ground cinnamon. In the dairy aisle, pick up some whole milk and a few cups of heavy cream. To complete the recipe, grab some vanilla extract and a few graham crackers. Now, it's time to get this ice cream party started!
Heat the apples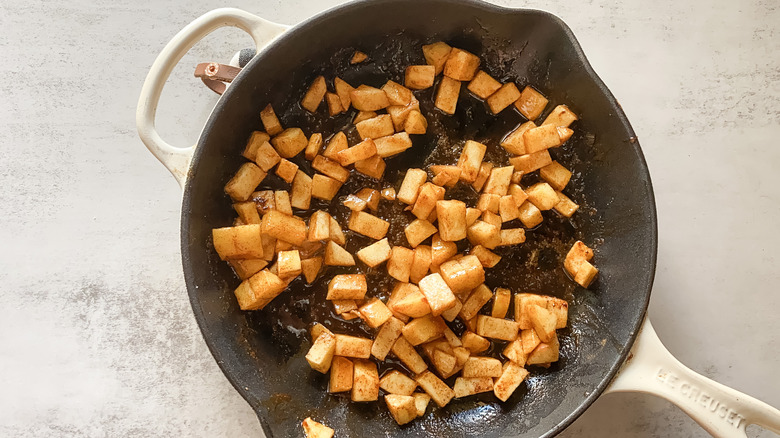 Kristen Carli/Mashed
Even though this is a recipe for ice cream, you will still need to use your stove. Start by grabbing a medium-sized skillet and placing it over the burner. Kick the heat up to medium-high, and let the pan get nice and hot. At this time, you can toss in the butter. Wait for it to melt, and then go ahead and throw in your apples. Remember that you should have diced these ahead of time.
Now, throw in a quarter cup of sugar and one teaspoon of cinnamon. Stir everything so that it combines well, and continue cooking the apple mixture for 10 minutes.
Mix the milk and cream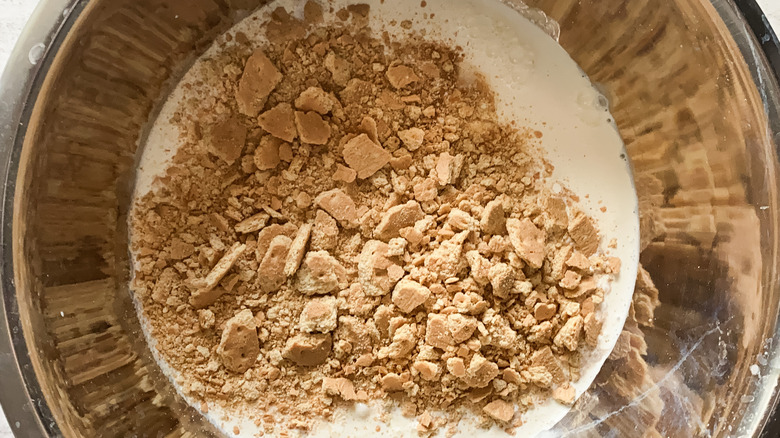 Kristen Carli/Mashed
Now that your apples are good to go, it's time to get started on the actual ice cream mixture. Take out a large bowl and start to make the mix. First, toss in the milk and heavy cream, which provide the creamy base for this delightful dish. Then, throw in the remaining sugar and vanilla extract for a delicious sweet flavor. The last thing you need to add is the graham crackers. Remember, you should have crushed these ahead of time, so they should mix in very easily. 
Stir everything well, and then move on to the next step.
Churn the ice cream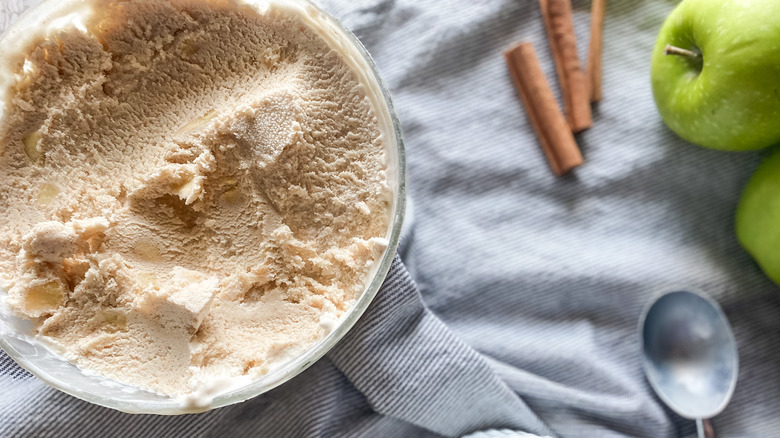 Kristen Carli/Mashed
Take the ice cream mixture and pour it from the bowl into your ice cream machine. Be sure that you followed the ice cream maker's specific instructions ahead of time for preparation. 
Then, set your timer for 25 minutes, and let the ice cream process and churn. Once your timer for 25 minutes goes off, dump in the caramelized apples, and give everything a good stir to combine the apples with the ice cream. 
Next, you'll want to stick the ice cream mixture in the freezer for at least four hours.
Serve the ice cream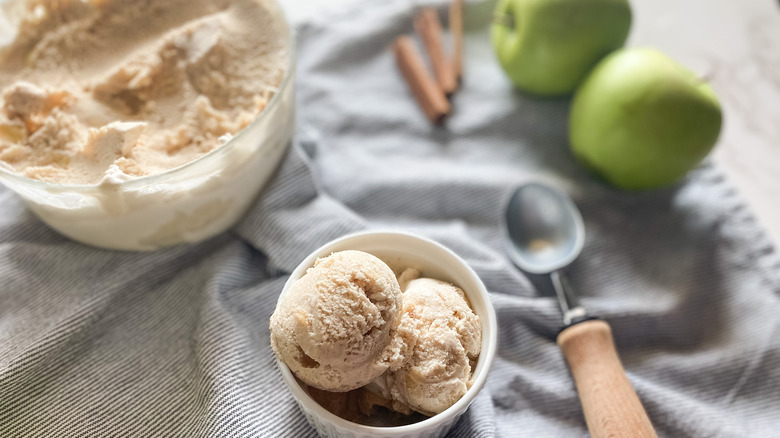 Kristen Carli/Mashed
Once you let the ice cream sit in the freezer for four hours, you can finally enjoy this tasty work of art. "I love to serve this alone, but it is also delicious with crumbled graham cracker crust on top!" Carli raves. We also think that it would be great with a dollop of whipped cream or over a piece of warm apple pie — you can never have too many apples.
If you happen to have anything left, no worries — we've got you covered. "Leftovers store best in the freezer in an airtight container," Carli shares. We hope you enjoy this sweet treat! 
Apple Pie Ice Cream Recipe
Recipe developer Kristen Carli came up with this innovative and sweet recipe that is the perfect after-dinner treat. Try this ice cream today.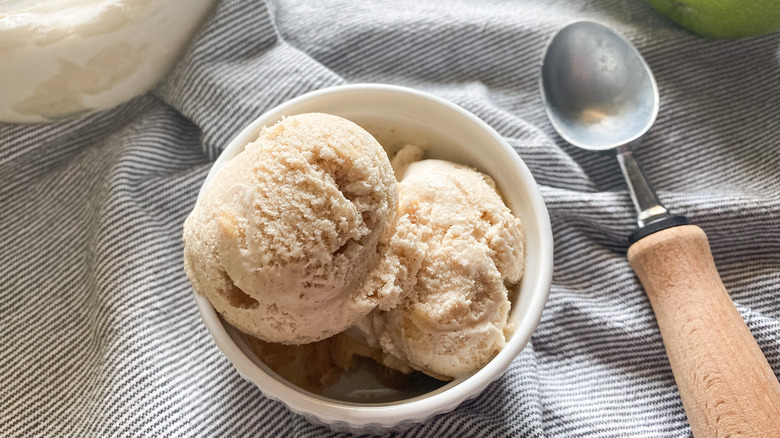 Ingredients
1 tablespoon unsalted butter
2 Envy apples, peeled and diced
1 ¼ cup sugar, divided
2 teaspoons ground cinnamon, divided
2 cups whole milk
2 ¾ cups heavy cream
1 teaspoon vanilla extract
9 graham crackers, crushed
Directions
In a medium skillet over medium heat, add butter. Once melted, add diced apples, ¼ cup sugar and 1 teaspoon cinnamon. Stir well. Cook over medium heat for 10 minutes.
In a large bowl, add milk, heavy cream, remaining cinnamon, remaining sugar, vanilla extract, and crushed graham crackers. Stir well.
Place cream mixture in an ice cream machine and process for 25 minutes. Stir in caramelized apples. Freeze for at least 4 hours.
Serve and enjoy.
Nutrition
| | |
| --- | --- |
| Calories per Serving | 438 |
| Total Fat | 28.4 g |
| Saturated Fat | 16.9 g |
| Trans Fat | 0.1 g |
| Cholesterol | 97.6 mg |
| | |
| --- | --- |
| Total Carbohydrates | 44.4 g |
| Dietary Fiber | 1.6 g |
| Total Sugars | 36.2 g |
| Sodium | 104.5 mg |
| Protein | 3.8 g |