Chick-Fil-A Is Sued By Customers Yet Again Over Its Delivery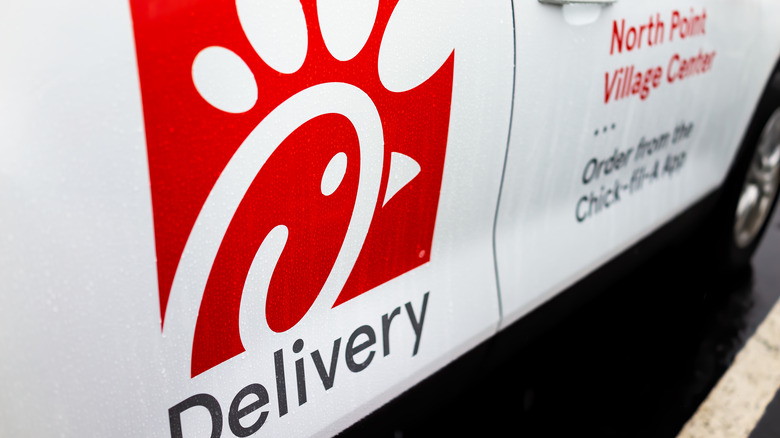 Andriy Blokhin/Shutterstock
Is it fair for a fast food chain to have two prices for the exact same item — one for pickup, and a higher price for delivery — without telling its customers? That's the question at the center of two lawsuits filed against Chick-fil-A in recent months. The first lawsuit, filed in a California court in March but moved to federal court in May, accuses the chicken chain of false advertising, according to Legal Newsline. Per the lawsuit, Chick-fil-A lets customers know up front that it will charge you $3.99 if you want your food delivered — a service the chain has offered since the start of the COVID-19 pandemic. So far, so good. But the plaintiffs who filed the lawsuit claim Chick-fil-A also marks up the price of its menu offerings for customers who opt for delivery. This markup is the problem, the plaintiffs assert. They claim it makes Chick-fil-A's delivery fee deceptive.
We conducted our own experiment, ordering a spicy chicken sandwich through Chick-fil-A's website from the same location, selecting pickup in one case and Chick-fil-A's own delivery service in the other. (Chick-fil-A also partners with Uber Eats, Grubhub, DoorDash, and Postmates for delivery, per Chick-fil-A's delivery homepage.) We would have paid $5.79 for that spicy chicken sandwich at the restaurant when we picked it up. A Chick-fil-A team member would have delivered us a $7.49 sandwich (plus the delivery fee, of course) — a 29% markup. We couldn't find a statement on the Chick-fil-A website indicating the prices would be different.
Like Chick-fil-A, major food apps such as Uber Eats also mark up menu prices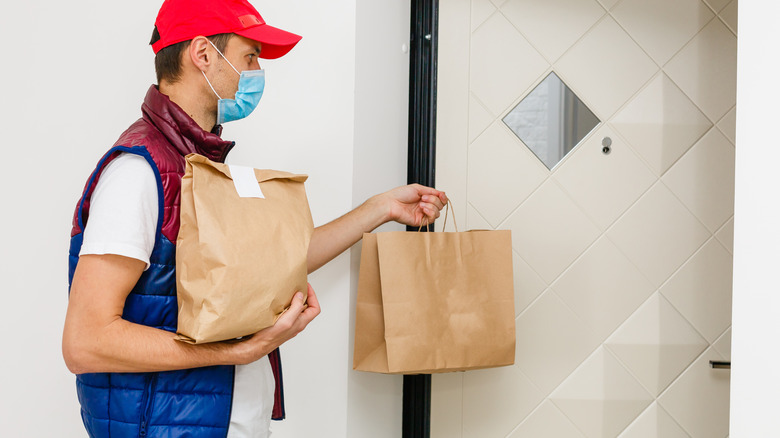 Andrew Angelov/Shutterstock
Customers sued Chick-fil-A again, this time in New York, according to a report Food & Wine posted on October 11. This federal lawsuit makes essentially the same argument as the case that originated in California. Chick-fil-A advertises a flat delivery fee of $2.99 or $3.99, but the true delivery fee isn't flat, according to the suit, because it includes a "secret" markup of 25% to 30% on menu items. This "hidden delivery fee," as the language in the lawsuit puts it, "deceives consumers into making online food purchases they otherwise would not make." The New York plaintiffs seek a monetary award and are also asking a judge to order Chick-fil-A to stop what they claim is deceptive pricing.
The big four food apps also add confusing fees to your bill, according to a 2020 New York Times report. DoorDash, Grubhub, Postmates, and Uber Eats charge anywhere from 7% to 91% more for their service than the cost of going to the restaurant and picking up the food yourself. Some of these apps include a price markup on menu items — the same tactic that has prompted the legal complaints against Chick-fil-A.