Chick-Fil-A Fans Overwhelmingly Prefer This Spicy Chicken Sandwich
Chick-fil-A
We could endlessly debate who has the best chicken sandwich: Chick-fil-A or Popeyes. Critics at Reader's Digest, Business Insider, and some other outlets preferred the Popeyes sandwich. Our own Mashed survey of 35,000 people around the world overwhelmingly chose Chick-fil-A. None of the other fast-food chicken sandwiches even came close. (Although, in a separate survey we conducted, Chick-fil-A's chicken sandwich ranked as the second most overrated fast-food menu item.)
A Chick-fil-A employee on Reddit with the handle agragg20 decided to keep their survey in-house, in a post from a few days ago. "OK all my CFA family, I gotta know who wins," agragg20 wrote. "I had one couple nights ago.... And I (swear to God) it was like heaven. Let's see who wins." Then they posted a survey, asking fellow Redditors on the ChikFilA subreddit to choose between the spicy chicken sandwich and the spicy grilled chicken sandwich, which Chick-fil-A just introduced last month (via The Chicken Wire). The Redditor said they tried a grilled spicy that had been sitting for about an hour. "It was room temp but gollee, it had some decent heat to it," they said.
Chick-fil-A's new grilled sandwich tastes good, but it's hard to beat the original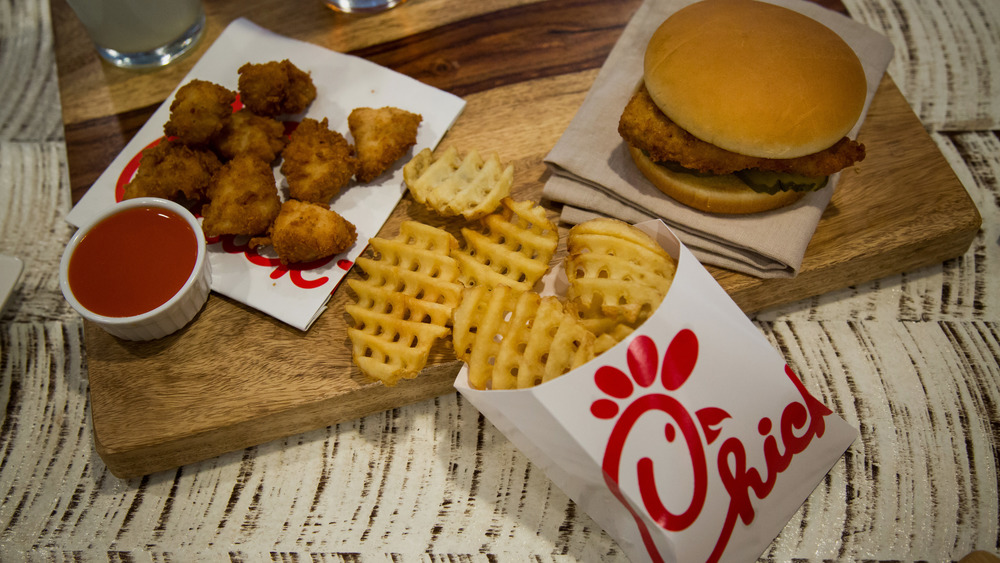 Bloomberg/Getty Images
The results of the Chick-fil-A Reddit survey – spicy chicken or spicy grilled chicken sandwich – shouldn't surprise anyone. Redditor agragg20's survey received 939 votes total: 716 for the spicy chicken sandwich and 223 for the spicy grilled chicken. That's a landslide victory for the deep-fried version of Chick-fil-A's spicy chicken sandwich – 76 percent to 24 percent. No recount will be necessary, and no challenges are expected.
Redditor MongoHomie thought it was a tough choice. "I love the new grilled, but I wish it had more of a kick to it like the normal one," they commented. User potato69969 said they thought the grilled sandwich tasted better, but it sounds like they voted for the fried-chicken sandwich: "The grilled spicy has better flavor, but it really can't beat the crunch of the breading."
Redditor RemarkableFish said the grilled sandwich has something going for it, but it has nothing to do with taste. "The grilled spicy is for those looking to save calories," they said. "The spicy deluxe is the best sandwich of all time ... all time!" No matter how you slice it or where the competition comes from – rival Popeyes or Chick-fil-A's own menu – the original spicy chicken sandwich is a winner.