Air Fryer Frittata Recipe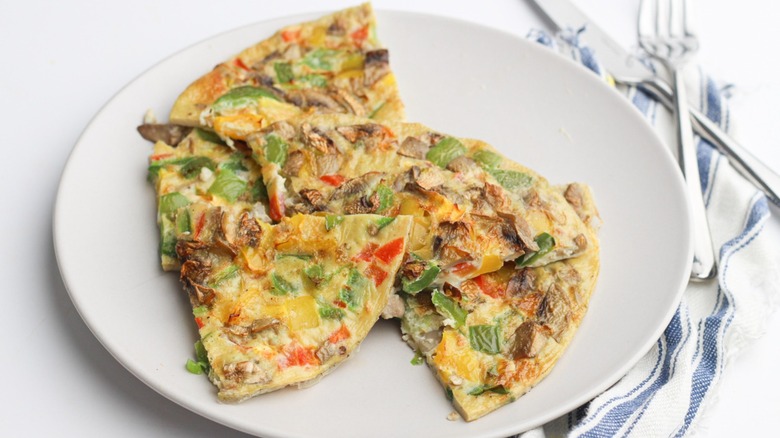 Susan Olayinka/Mashed
Even if you have never had the pleasure of having partaken in the bright and joyful perfect protein-rich dish known as "frittata," it is nevertheless likely that you have at least a vague understanding that it's pretty great. A frittata is a wonderful Italian-inspired hybrid of a veggie omelet (although a frittata isn't folded), scrambled eggs (but with more mix-ins), and quiche (albeit without a crust). But while many frittata recipes are baked in an oven, the word, "frittata" actually means "fried." That's an interesting bit of trivia that we picked up from recipe developer Susan Olayinka, who brought us this recipe for a chock-full-of-veggies frittata that is made using an air fryer. 
"I love it because it's a way to pack in vegetables in a regular breakfast," Olayinka explains. "My son is at that age where he doesn't tend to like vegetables so this is a neat way of packing them in!" To up the vegetable ante even further, you can also serve your air fryer frittata with a salad on the side, perhaps along with some crusty bread. As for why she decided to develop a frittata recipe for the air fryer, Olayinka points out that "the air fryer cooks it so evenly," and it requires less babysitting than pan-frying or oven-baking.
Gather your ingredients for air fryer frittata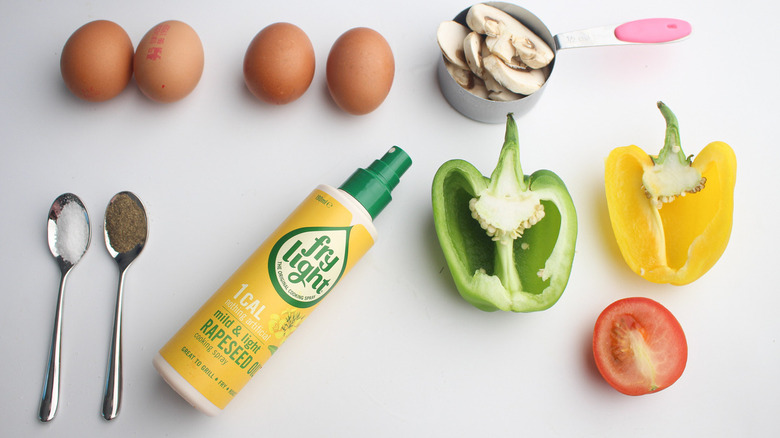 Susan Olayinka/Mashed
To make Olayinka's air fryer frittata recipe you will, of course, need eggs — 4, to be exact (that's about two per serving) And since we promised this frittata will be chock full of delicious vegetables, you'll also need ½ a green bell pepper, ½ a yellow bell pepper, ½ a tomato, and ½ cup of mushrooms. For seasoning, you'll need ½ teaspoon salt and ½ teaspoon black pepper. 
As for equipment, you should gather up a few different pieces. Since this is an air fryer recipe, you will naturally need an air fryer and a round baking pan for the frittata that will fit into your air fryer. Depending on the dimensions of your air fryer, that probably means you will need an 8 or 9-inch cake pan. You'll also need nonstick spray for the pan to make sure that your finished frittata releases easily at the end of the process.
This recipe is fairly easy to scale up, too. If you're cooking for four people, for example, then all you need to do is double the recipe. However, assuming that you have only one air fryer, you will need to cook the doubled-up frittatas in two batches of equal size. 
Prep your air fryer, your pan, and your veggies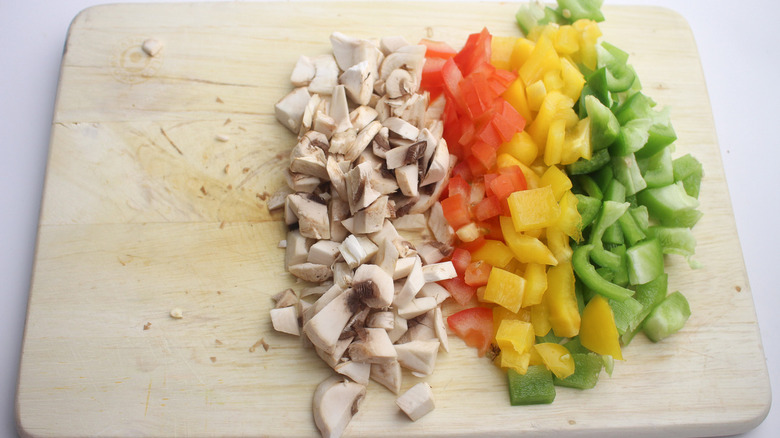 Susan Olayinka/Mashed
Olayinka is lucky in that she has an air fryer that heats up "very, very quickly, like within seconds!" But if that's not true for yours, then get started by setting your air fryer to 375 F. If it requires you to enter a time, enter 15 minutes. The time won't start running down until the air fryer is at the temperature you set it to. Since, the prep for this frittata will take under 10 minutes that means that your air fryer should be ready or darn close by the time you've finished your prep. We will talk a bit more about this below, but for now, go ahead and get the preheating going. 
At this point, you should take another quick moment to coat your pan with nonstick spray. Then dice your yellow and green peppers, tomatoes, and mushrooms into small pieces. Set those diced veggies aside for the moment and turn to the next step.
Turn to the eggs, and get crackin'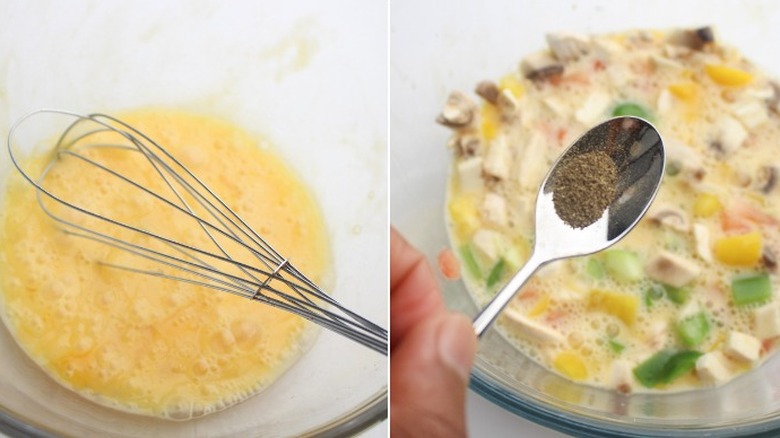 Susan Olayinka/Mashed
Crack each of the 4 eggs into a large mixing bowl. Dispose of the shells as you will, but might we suggest you don't opt for your sink's garbage disposal?
Using a whisk, beat the eggs until they are well-combined. This means that the white and the yolk should be fully incorporated in a single mixture, which should be a fairly uniform pale yellow. To the bowl of beaten eggs, add the diced vegetables and stir. Then add the salt and pepper. Give everything another good stir to make sure that everything is evenly distributed throughout.
Then, simply pour the contents of this bowl into the baking pan that you have already prepared.
Let the air fryer work its magic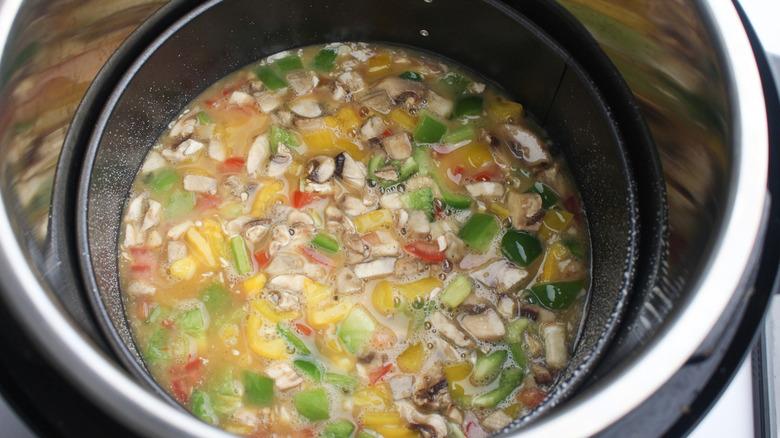 Susan Olayinka/Mashed
Place the baking pan containing the eggs, veggies, salt, and pepper into your air fryer. At this point, if your air fryer is anything like Olayinka's, it should already have reached 375 F. If so, then simply cancel the program you set and start it again by setting it to 375 for 15 minutes. Since your air fryer has already finished preheating, the timer should begin running down immediately. That means you will be a mere 15 minutes away from enjoying your homemade frittata packed full of flavorful veggies.
If your air fryer has not yet reached its full heat, then it's okay to wait until it's ready. At that point, you should place the filled baking pan into the air fryer like normal.
In any case, at the end of 15 minutes, your air fryer will turn off, and your air fryer frittata will be ready to serve. This frittata will work wonderfully on its own, though you can consider serving it alongside some rustic French bread, an Italian chopped salad, or any number of other healthy sides to complement the rich egginess of this finished dish.
Air Fryer Frittata Recipe
This recipe for a classic style frittata is full of eggs, veggies, and flavor. Even better, it's made in quick and easy fashion with the help of an air fryer.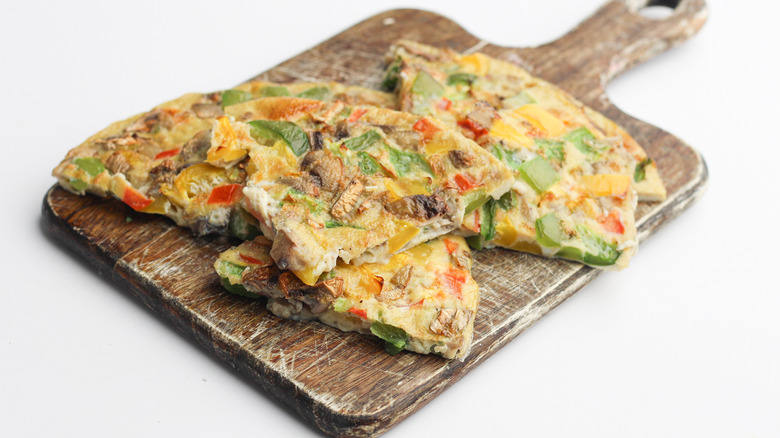 Ingredients
½ green bell pepper
½ yellow bell pepper
½ tomato
½ cup mushrooms
4 eggs
½ teaspoon salt
½ teaspoon black pepper
Directions
Set your air fryer to cook for 15 minutes at 375 F. Hit start to allow your air fryer to preheat.
Coat a circular pan that fits in your air fryer with nonstick spray.
Dice the green pepper, yellow pepper, tomato, and mushrooms.
Crack all four eggs into a large mixing bowl. Beat with a whisk until the mixture is pale yellow and well-combined.
Add the diced vegetables and mix lightly.
Add salt and pepper and mix lightly to make sure all ingredients are incorporated.
Pour the egg mixture into the prepared pan.
Place pan inside the air fryer.
The timer will begin to run when the air fryer is fully heated. After the 15-minute timer runs down, your frittata should be fully cooked.
Remove your frittata from the air fryer and serve.
Nutrition
| | |
| --- | --- |
| Calories per Serving | 153 |
| Total Fat | 8.5 g |
| Saturated Fat | 2.7 g |
| Trans Fat | 0.0 g |
| Cholesterol | 319.9 mg |
| | |
| --- | --- |
| Total Carbohydrates | 7.1 g |
| Dietary Fiber | 1.6 g |
| Total Sugars | 2.2 g |
| Sodium | 489.6 mg |
| Protein | 12.4 g |