Easy Chicken Schnitzel Recipe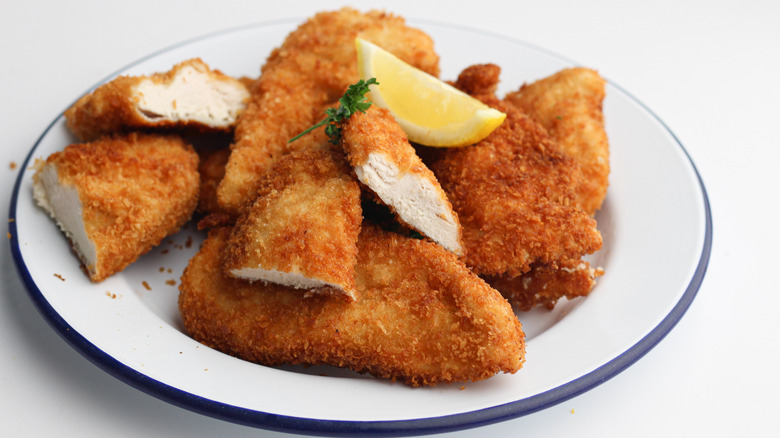 Susan Olayinka/Mashed
Even though Oktoberfest in Munich is typically held in September, chances are decent that we're not all in Munich right now, so we don't need to be sticklers for details. September, October, or really any month is a great time to celebrate the occasion — or any occasion, really — with a delicious and super-easy German-style dish like chicken schnitzel.
Recipe developer Susan Olayinka of The Flexible Fridge tells us that this dish is bound to be a classic. "Breaded chicken is one favorite in our home and I love how every culture has some form of making it," she says. And no, this dish is nothing like those chicken tenders you get from fast food restaurants, meaning you've got the chance to enjoy whole pieces of chicken and not some weird composite of chicken bits. As Olayinka explains, "To make it from scratch is a huge bonus because we know what goes in." In other words, as she says, "No nasties!" 
As if that were all enough to get you interest, know that you simply can't beat that fresh-from-the fryer flavor, as well as the joy of biting into a chicken strip that is still warm and hasn't lost any of its crunch.
Gather the ingredients for chicken schnitzel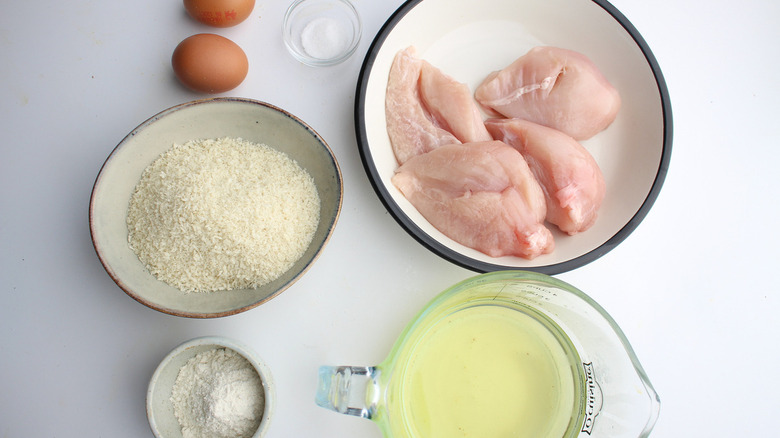 Susan Olayinka/Mashed
This chicken schnitzel starts, as so many easy chicken dishes do, with boneless, skinless chicken breasts. Specifically, you'll want to get four chicken breasts to make eight servings of chicken schnitzel. You're also going to be coating the chicken with a tasty but simple crumb crust created from flour, an egg, salt, and panko breadcrumbs. Finally, you'll need quite a bit of vegetable oil with a high smoke point to deep-fry the schnitzel, to the tune of four cups. As for equipment, we recommend using a deep, heavy pan that can fully contain that oil and will stand up to high heat, like a cast-iron pan or Dutch oven.
While Olayinka says she's yet to try making a gluten-free version of this dish, she says "I'm guessing I would use similar ingredients like gluten-free flour [and] gluten-free breadcrumbs."
Triple-dip the chicken prior to frying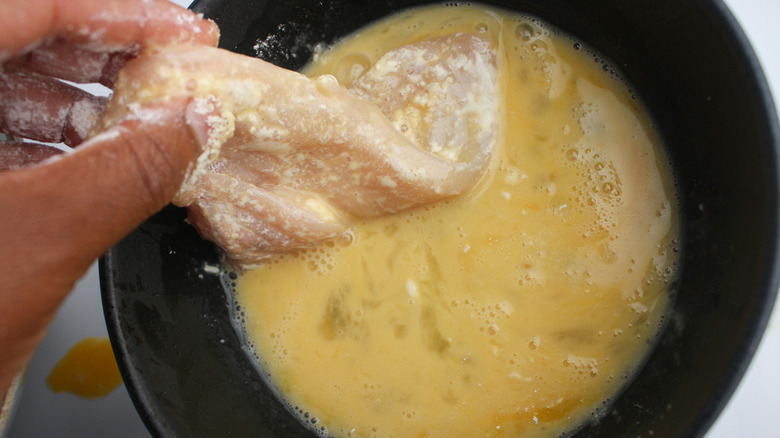 Susan Olayinka/Mashed
Start by setting up three bowls to prep your chicken dipping station. In one bowl, mix the flour with ½ teaspoon salt. In another, mix the breadcrumbs with another ½ teaspoon salt. In the last bowl, whisk the eggs together until the whites and yolks are fully incorporated.
Next, slice each chicken breast in half horizontally into strips. Then, dip each chicken strip first into the flour, next into the egg mixture, and lastly into the breadcrumbs. Shake off the excess crumbs, then set the strip aside on a dish or pan. Continue with each remaining piece of chicken while the oil heats up.
Deep fry the chicken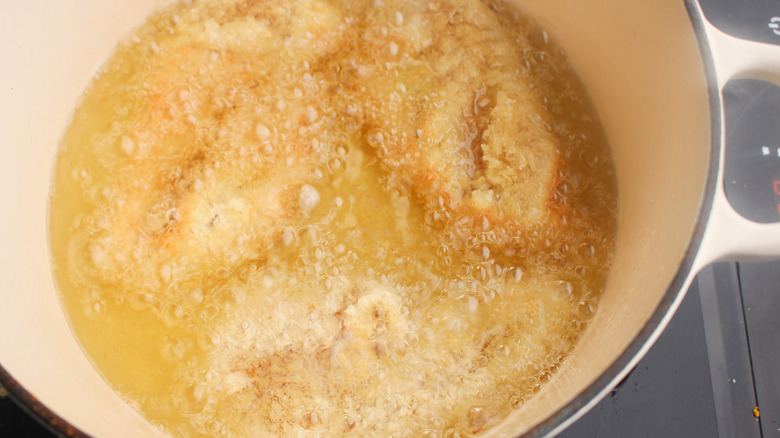 Susan Olayinka/Mashed
When you are deep frying, the proper temperature for the oil is between 350 F and 375 F. If the oil is not hot enough, your food may be undercooked, which is always a considerable danger with chicken. Moreover, it would be soggy. Then again, if the oil gets too hot, it could catch on fire.
That's why it's best to use a deep-fry thermometer to precisely monitor the temperature of your oil. If you don't have one, Olayinka says she "just put a couple of breadcrumbs in there and saw that they came straight to the surface as opposed to sinking." Whatever you do, do not leave the kitchen! If the oil begins to smoke, turn the heat off immediately. And, just in case a grease fire does happen, know what to do ahead of time and never, ever use water to put out the fire.
Pour the oil into a large pot (one no smaller than a quart and a half), then turn the heat to medium-high. When the oil is hot (but not too hot!), put the chicken into the oil. Be careful not to crowd the pot, which could lower the oil temperature. It may take you a few batches to fry all the chicken, but be patient and know that you'll get great chicken at the end of the process. Cook the strips on one side for 3 minutes, then flip them and cook the other side for another 3 minutes.
Serve the schnitzel while it's warm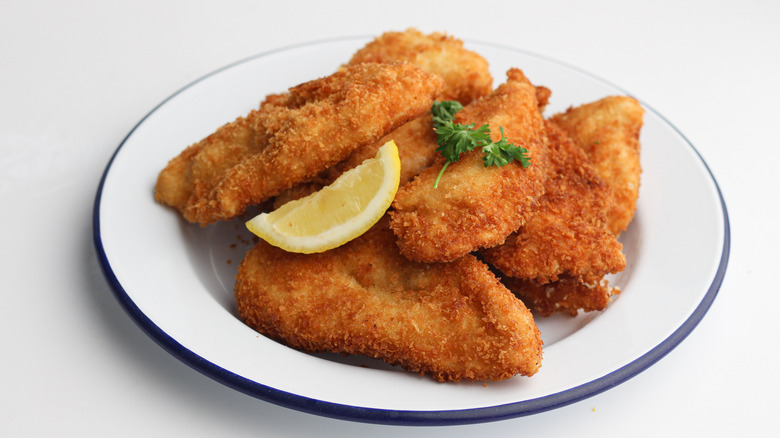 Susan Olayinka/Mashed
Once they're cooked, removed the chicken strips from the oil and drain them on a paper towel to absorb the excess grease. That said, be sure to serve them before they cool all the way down, as that's when this chicken schnitzel is really at its best. Olayinka suggests serving the dish with a squeeze of fresh lemon juice and some chopped parsley for a bright pop of color and herbal flavor. As for sides, she recommends parsley-buttered potatoes, mashed potatoes, or french fries.
Olayinka does admit that chicken schnitzel isn't strictly true to the history of schnitzel in general. According to her, an Austrian friend of hers says that "We can't call [this dish] traditional as [schnitzel is] traditionally made from veal or pork, not chicken!" Details, details. Feel free to make it from pork if you prefer, but you've got to try this delicious, if nontraditional, chicken version as well.
Easy Chicken Schnitzel Recipe
With this easy chicken schnitzel recipe, you simply can't beat its fresh flavor, as well as the joy of biting into chicken that is still warm and crunchy.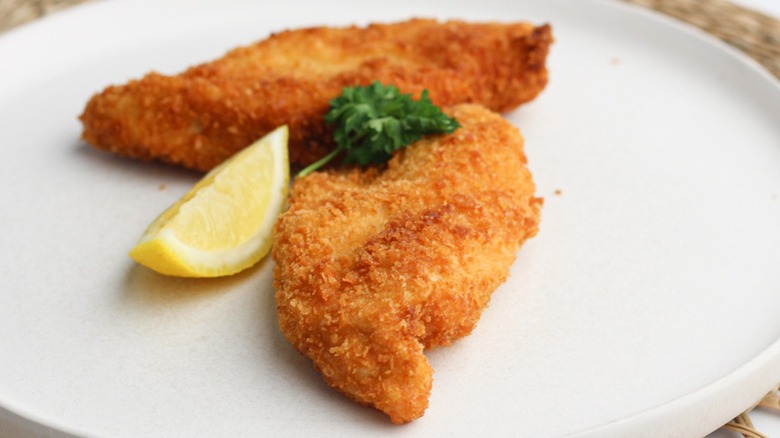 Ingredients
3 tablespoons all-purpose flour
1 teaspoon salt, divided
½ cup panko breadcrumbs
2 eggs
4 chicken boneless, skinless chicken breasts
4 cups vegetable oil
Optional Ingredients
Chopped parsley
Lemon wedges
Directions
Mix all-purpose flour with ½ teaspoon salt in a bowl or shallow dish.
Mix the breadcrumbs with ½ teaspoon salt in another bowl.
Whisk the eggs in a third bowl until the white and yolk are fully incorporated.
Slice each chicken breast in half horizontally.
Dip each chicken slice into the flour mixture, then eggs, then breadcrumbs. Set the chicken slices aside.
Heat the oil in a deep, heavy pot over medium-high heat.
Once the oil reaches 350 F, add a few chicken strips and cook for 3 minutes. Turn and cook the other side for 3 more minutes.
Repeat with additional strips until all of the chicken is cooked.
Drain the chicken strips on a paper towel.
Serve with lemon juice and chopped parsley, if desired.
Nutrition
| | |
| --- | --- |
| Calories per Serving | 1,192 |
| Total Fat | 116.7 g |
| Saturated Fat | 8.4 g |
| Trans Fat | 0.9 g |
| Cholesterol | 139.3 mg |
| | |
| --- | --- |
| Total Carbohydrates | 4.9 g |
| Dietary Fiber | 0.2 g |
| Total Sugars | 0.2 g |
| Sodium | 372.6 mg |
| Protein | 32.6 g |