Mascarpone Mashed Potatoes Recipe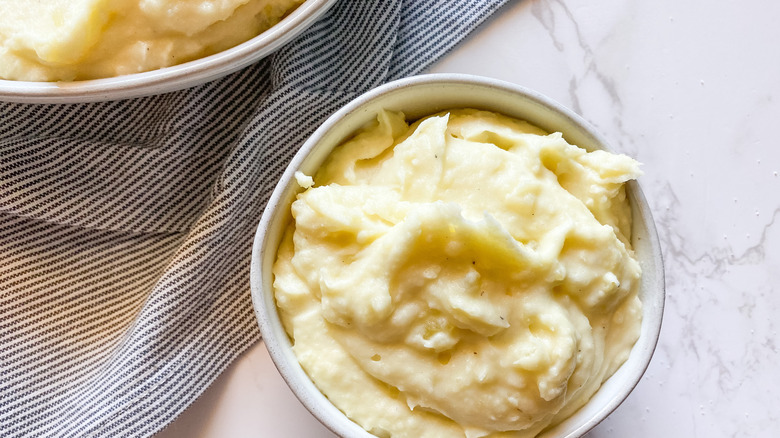 Kristen Carli/Mashed
When it comes to sides, there's nothing quite as good as mashed potatoes. The dish is a great comfort meal, and it pairs well with anything and everything. Pair the potatoes with some mascarpone cheese, and you've got one of the best recipes out there. According to Finding Lovers, mascarpone is a yummy cheese that traces back to Italy. It's known for its sweet taste and smooth texture. To know mascarpone is to love it. While mashed potatoes are super popular for a Thanksgiving side, you can serve them year-round, and they're always a huge hit with friends and family. 
Recipe developer and private practice registered dietician Kristen Carli came up with this incredible recipe that is great to feed a crowd. Whether you're cooking it for a weeknight family meal or planning on serving it for a weekend dinner with friends, this recipe will knock the socks off of anyone who eats it. Carli shares that what she loves most about this dish is the texture. "The mascarpone adds so much creaminess," she raves. "These are truly so decadent and delicious." 
Our mouths are watering just thinking about how amazing this dish tastes. So it's time to get down to business. Keep reading to find out how to make these yummy mascarpone mashed potatoes that will wow everyone you serve this side dish, too!
Gather the ingredients to prepare mascarpone mashed potatoes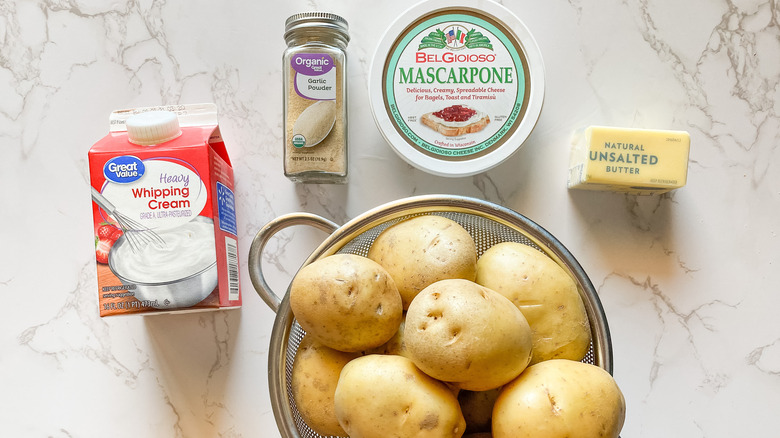 Kristen Carli/Mashed
The first step in any recipe is gathering all of the ingredients necessary to put it together. For starters, you will need 3 pounds of gold potatoes. In addition, pick up some heavy whipping cream and 8 ounces of mascarpone cheese, which help to make these potatoes so thick and dreamy. Additionally, the recipe calls for unsalted butter and garlic powder. If you're lucky, you may already have some at home since it's frequently used in recipes. 
Last but not least, the recipe requires some salt and pepper. Once you have all of those items, it's officially time to begin.
Peel and chop the potatoes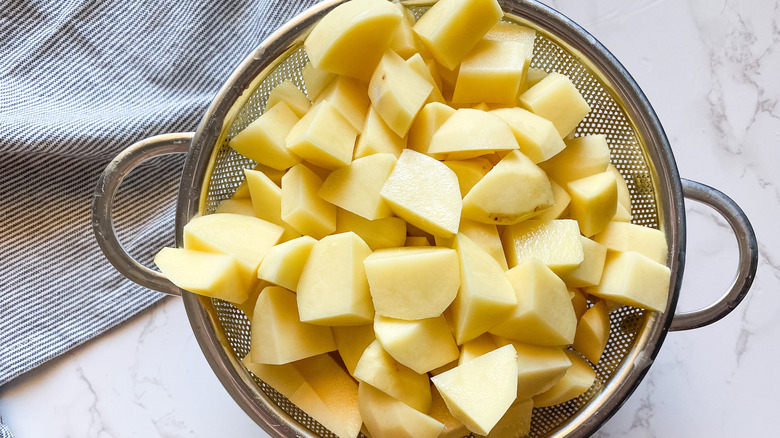 Kristen Carli/Mashed
The most labor-intensive part of this recipe involves the potatoes, which really shouldn't come as a shock. Take the potatoes out, and peel each one. Once you have finished peeling the potatoes, move to the chopping part. You'll want to chop your potatoes pretty small so that they cook faster when you put them into the boiling water. 
If you've made mashed potatoes before, then you definitely know the drill. If you haven't, don't worry, because it's really quite simple. And as we mentioned before, chopping is the hardest part. After you chop the potatoes, put them in a bowl, and set them to the side for a minute. 
Boil the water, and cook the potatoes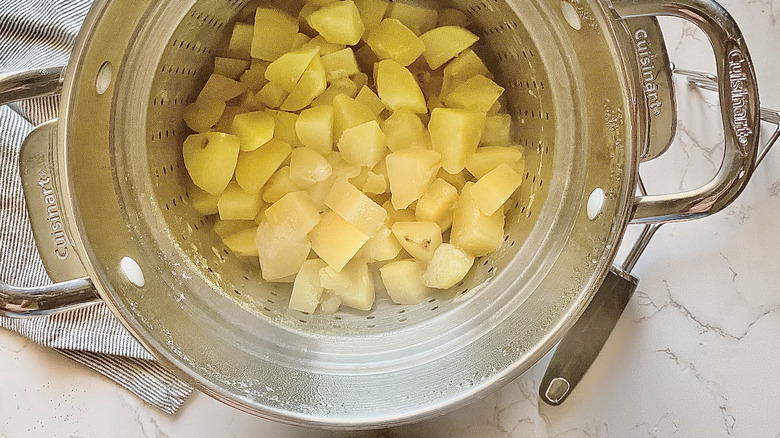 Kristen Carli/Mashed
Once you finish chopping the potatoes, you can move to this next step. Take out a large pot, and be sure that it's big enough to fit all of the potatoes that you cut up. Fill up the pot with water, and then put it on the stove. Then, turn the heat up to high, and bring the water to a boil. Once the water starts to bubble, throw in all of the potatoes, and cook them until they're tender. Set your timer for 15 minutes, because that's about how long it will take the potatoes to cook.
Drain the potatoes, add the additional ingredients to the pot, and stir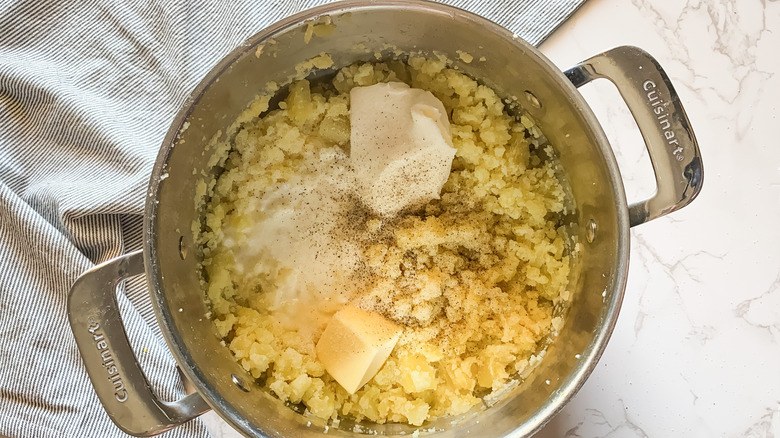 Kristen Carli/Mashed
Once the timer goes off, make sure that the potatoes are soft enough. If they are, you can continue, but if not, keep them over the heat for a little bit longer. Next, drain the water from the potatoes. After you do that, put the potatoes back into the empty pot, and add everything else. First, add in the heavy cream, followed by the mascarpone cheese, butter, and garlic powder. Then, sprinkle a dash of salt and pepper.
Stir everything well to combine all the creamy goodness together. "The residual heat from the potatoes will melt the cheese and butter," Carli notes. Be prepared, because your dish will look really yummy right about now.
Serve, and enjoy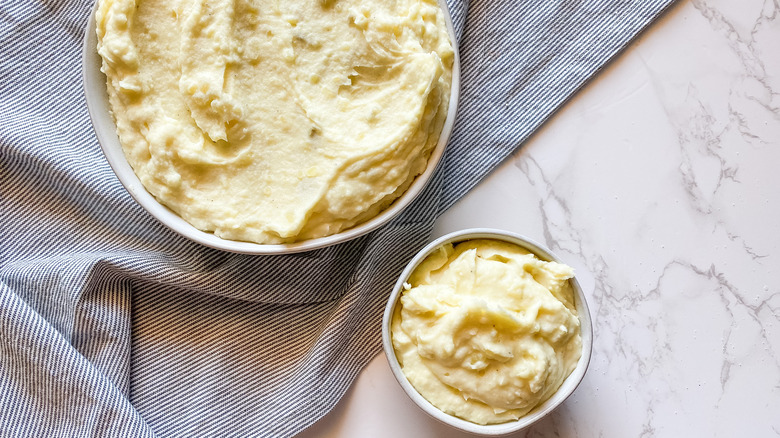 Kristen Carli/Mashed
After you blend everything together, it's time to serve the potatoes. You can remove them from the pot with a spoon, and put them directly on a plate or in a big bowl for serving. These yummy taters go with plenty. "These mashed potatoes are great with any protein. I love them paired with wedding chicken," Carli says. If you'd like, you can add gravy as well. "You could put gravy on top, but you absolutely do not need to as these are so flavorful on their own," Carli states. We don't think you will have leftovers, but if you do, they will last for five days in the fridge.
Mascarpone Mashed Potatoes Recipe
When it comes to sides, there's nothing as good as mascarpone mashed potatoes. The dish is a great comfort meal, and it pairs well with anything and everything.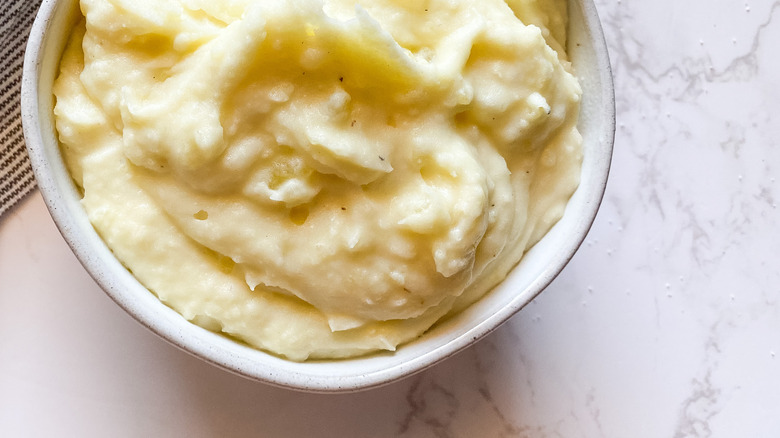 Ingredients
3 pounds gold potatoes
½ cup heavy whipping cream
8 ounces mascarpone cheese
3 tablespoons unsalted butter
½ teaspoon garlic powder
1 teaspoon salt
½ teaspoon pepper
Directions
Peel and chop the potatoes.
Bring a large pot of water to a boil. Add the potatoes, and cook until tender, about 15 minutes.
Drain and pour back into hot pot.
Add the heavy whipping cream, mascarpone cheese, unsalted butter, garlic powder, salt, and pepper. Stir to combine.
Serve, and enjoy!
Nutrition
| | |
| --- | --- |
| Calories per Serving | 425 |
| Total Fat | 26.3 g |
| Saturated Fat | 15.6 g |
| Trans Fat | 0.2 g |
| Cholesterol | 84.0 mg |
| | |
| --- | --- |
| Total Carbohydrates | 42.1 g |
| Dietary Fiber | 5.1 g |
| Total Sugars | 3.5 g |
| Sodium | 547.7 mg |
| Protein | 7.4 g |