Halloween Skull Cheese Ball Recipe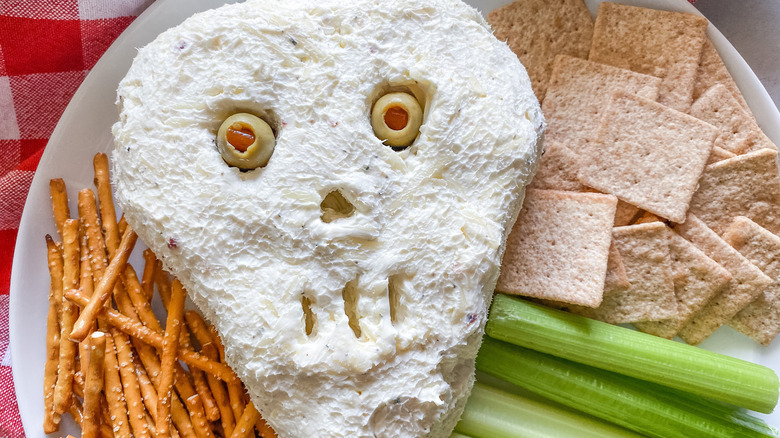 Kristen Carli/Mashed
Halloween is one of the best times of the year for many tricks and even more treats. While all things candy reign supreme during the month of October, there are also plenty of other great snacks to help you get into the festive mood. You know what they say ... 'tis the season to be spooky! Okay, maybe we made that part up, but we think that it has a nice ring to it, doesn't it?
This Halloween skull cheese ball is perfect for a party, and it's incredibly tasty too! Recipe developer Kristen Carli has come up with plenty of amazing and creative Halloween-inspired dishes, and this one is no exception. "Halloween or a skeleton-themed party are ideal for this skull cheese ball," Carli says. We also think it would be great for a kid's party or even just a cute appetizer to enjoy with the family. With this cheese ball, the possibilities are endless.
The great part of this recipe is the fact that it's easy, affordable, and super yummy. Keep reading to find out how to make this tasty treat. 
Gather the ingredients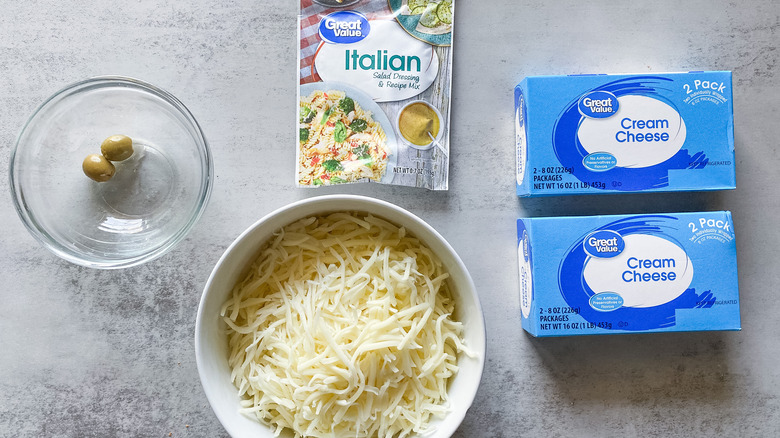 Kristen Carli/Mashed
The first order of business is gathering all of the ingredients needed to make this spooktacular cheese ball. For starters, you will need to get 16 ounces of cream cheese. In addition, grab a package of your favorite Italian dressing mix. This will give your cheese a little extra flavor.
You only need two more items to complete your shopping trip. Swing by the cheese section, and grab some shredded mozzarella. Last but certainly not least, you will need a set of green olives stuffed with pimento cheese. If that isn't enough to make you drool, we don't know what is.
Mix the cream cheese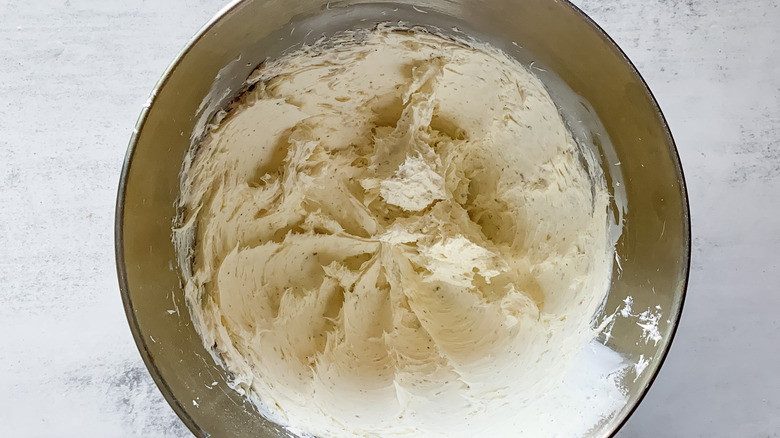 Kristen Carli/Mashed
Now that you have all of your items in front of you, it's time to get this party started. We love that this recipe doesn't require the use of a stove or an oven. Just grab the bowl from your stand mixer, and place the softened cream cheese inside. "The cream cheese needs about 30 minutes," Carli shares. "If you forget, I would recommend waiting the full 30 minutes, as heating in the microwave can lead to too runny of a texture."
Beat the cream cheese until it's lighter in texture. Then, add the Italian dressing mix, and beat until it's all combined.
Add the mozzarella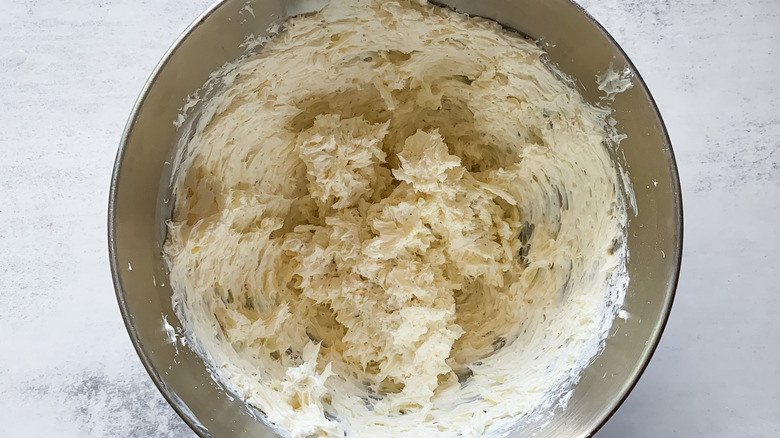 Kristen Carli/Mashed
Now that you have your cream cheese and Italian dressing mixed well, there's still another ingredient that you need to add to the mix. Go ahead and throw in the shredded mozzarella, and continue beating the cheeses together until they are well combined. The more cheese, the better! "If you don't like mozzarella, you can sub another shredded cheese such as Monterey jack or Parmesan," Carli says.
It's also worth noting that using a power mixer if you have one is way easier than doing this by hand. "Yes, I would advise using a stand or hand mixer," Carli shares.
Form the cheese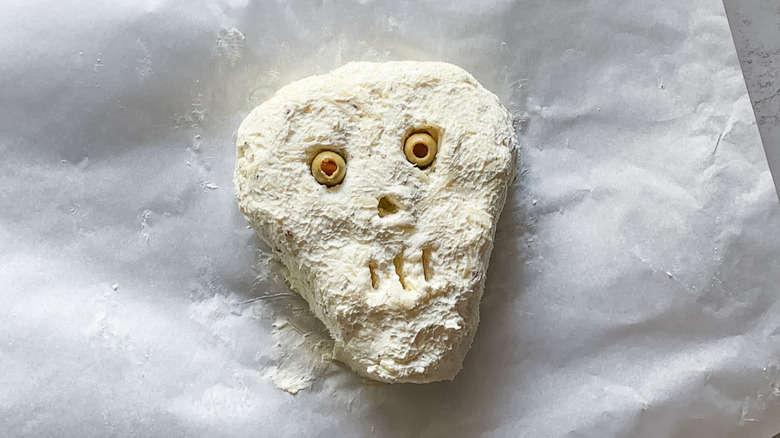 Kristen Carli/Mashed
Go ahead and take the bowl off of your stand mixer and grab a piece of parchment paper. Set the parchment paper on the counter beside you, and plop the cheese on top of it. The parchment paper helps prevent the cheese from sticking to the counter and creating a mess.
Then, form the cheese ball into a skull shape. Once you have done that, use your fingers to make two eye holes. Fill the eye holes with your green olives, and then use a chopstick to make the teeth and nose. Doesn't this kind of feel like an art project? It's always fun to play with your food, despite what your mama tells you.
Serve and enjoy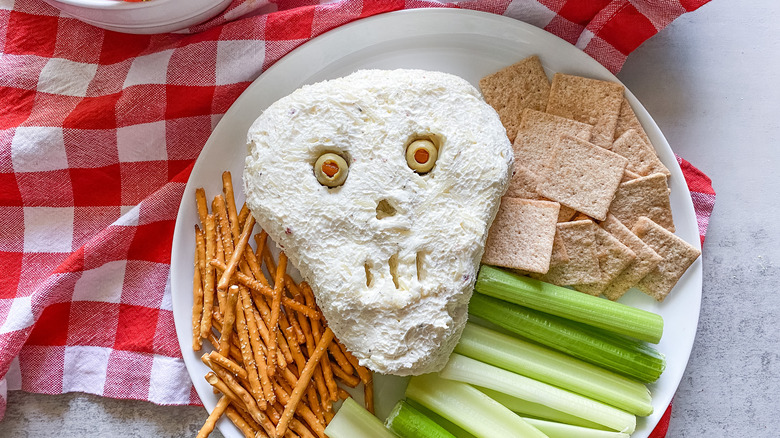 Kristen Carli/Mashed
To remove the cheese from the parchment paper, use a fish spatula. Be sure that you have sprayed it ahead of time with nonstick cooking spray so the cheese won't stick. Then, place the cheese on a serving dish of your choice, and add crackers and other snacks for dipping. "I love serving [this cheese] with crackers and veggies," Carli notes.
If you have anything left, you can keep it to enjoy later. "Leftovers store best in the fridge in an airtight container for up to three days," Carli shares. We hope you loved this adorable and fun recipe as much as we do! 
Halloween Skull Cheese Ball Recipe
This Halloween skull cheese ball is perfect for a party, and it's incredibly tasty too! It comes together in no time at all, so give it a try.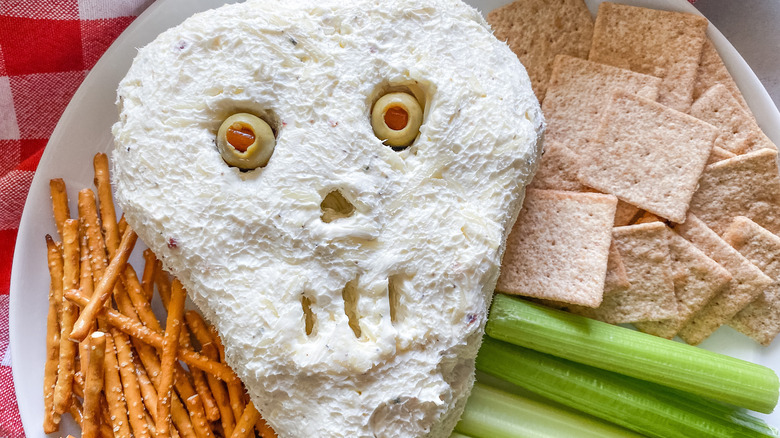 Ingredients
16 ounces cream cheese, softened
1 (1-ounce package) Italian dressing mix
1 ¾ cup shredded mozzarella cheese
2 green olives stuffed with pimentos
Directions
In the bowl of a stand mixer, place softened cream cheese. Beat until lighter in texture. Add dressing mix. Beat until combined. Add mozzarella cheese. Beat until combined.
Remove from bowl of stand mixer and place on parchment paper. Form into a skull shape. Using your fingers make 2 eye holes. Fill with green olives. Using a chopstick, form teeth and nose.
To remove from parchment paper, use a fish spatula that has been sprayed with nonstick cooking spray. Place on serving dish with crackers and other snacks.
Serve and enjoy.
Nutrition
| | |
| --- | --- |
| Calories per Serving | 154 |
| Total Fat | 13.8 g |
| Saturated Fat | 8.0 g |
| Trans Fat | 0.0 |
| Cholesterol | 46.1 mg |
| | |
| --- | --- |
| Total Carbohydrates | 1.6 g |
| Dietary Fiber | 0.0 g |
| Total Sugars | 1.1 g |
| Sodium | 248.9 mg |
| Protein | 6.3 g |