Cheese And Pretzel Broomsticks Recipe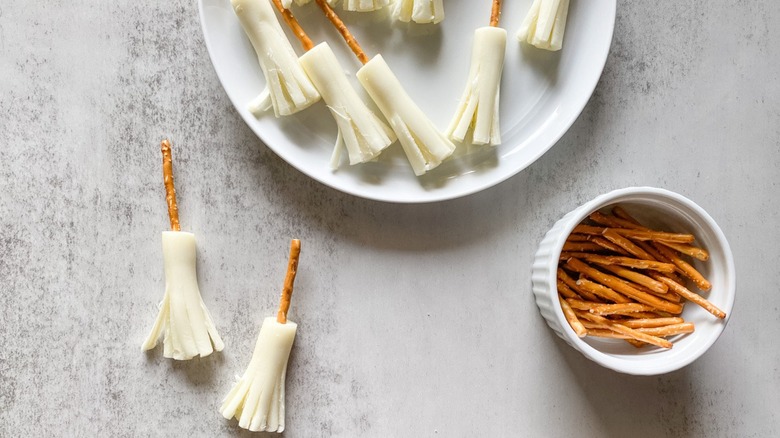 Kristen Carli/Mashed
Halloween is a rather unusual holiday, if you think about it — children wandering the streets, dressed as other people or things, knocking on neighborhood doors and demanding candy and other treats in exchange for not playing "tricks." And Americans love it. As a matter of fact, around 70% typically get in on the act, according to Statista. (This year is a bit lower at 65%, due to the coronavirus pandemic.) But there are those among us who quietly maintain that it's not the candy children love the most, but the freedom to express their creativity. That's where this recipe for cheese and pretzel broomsticks comes in handy. Created by private practice registered dietician Kristen Carli of Camelback Nutrition & Wellness, this recipe makes "a great snack for a Halloween party that is NOT candy or sweets."
In addition, Carli points out, "I love that this is a simple recipe you can make with kids that is perfect for the season. It's also a great Halloween [snack to make] for younger kiddos that isn't too 'scary.'" And the recipe is so simple and accessible that it makes a great "cooking" project with the kids. Moreover, if you're a parent, this recipe for cheese and pretzel broomsticks offers a nutrition as well as fun. "The cheese and pretzel combo is actually a very balanced snack, so you can rest assured that your kiddo is eating something healthy on this holiday," Carli explains.
Gather your ingredients for cheese and pretzel broomsticks
Kristen Carli/Mashed
For Carli's recipe for cheese and pretzel broomsticks, you're going to need two ingredients. If you guessed cheese and pretzels, as we are certain you must have, you may now advance to the head of the cooking class. Specifically, you'll need eight cheese sticks and 16 pretzel sticks. The cheese sticks Carli used in these photos are classic string cheese which is actually classic low-moisture mozzarella. However, Carli notes, "These would be great with other flavor cheese sticks as long as they peel the same way," citing Colby jack or cheddar cheese sticks as possibilities.
For the pretzels, you'll want standard size pretzel sticks, because a thicker size won't work aesthetically as a broomstick, and any thinner, and you run the risk of breaking the pretzels as you put these together. That being said, Carli has devised a very clever use for those broken pretzels, which we'll discuss below. 
Prep your ingredients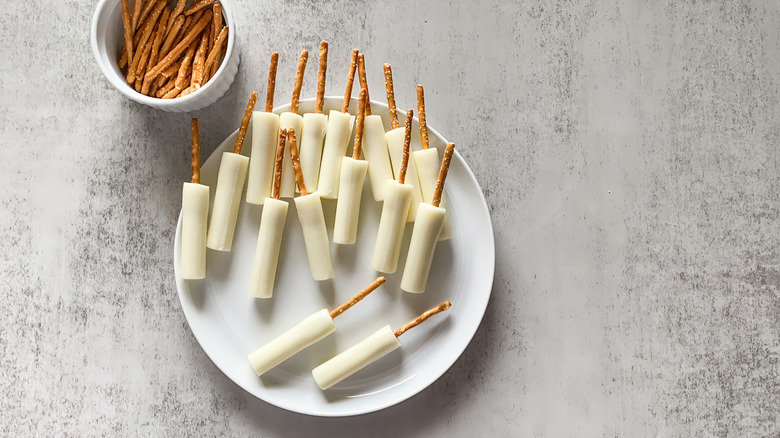 Kristen Carli/Mashed
First, you'll want to unwrap the cheese sticks, which are likely individually wrapped. Lay them out next to one another, and use a sharp knife to cut them in half lengthwise. Then, you'll want to carefully insert one pretzel stick into each half, about ¼-inch deep. Although this might seem like delicate work, Carli promises that if you just exercise a bit of care when doing the inserting, the pretzel sticks will not break. That being said, if you do have some breakage, save the crumbs for later in the process!
Fray the ends of the cheese sticks for the broom heads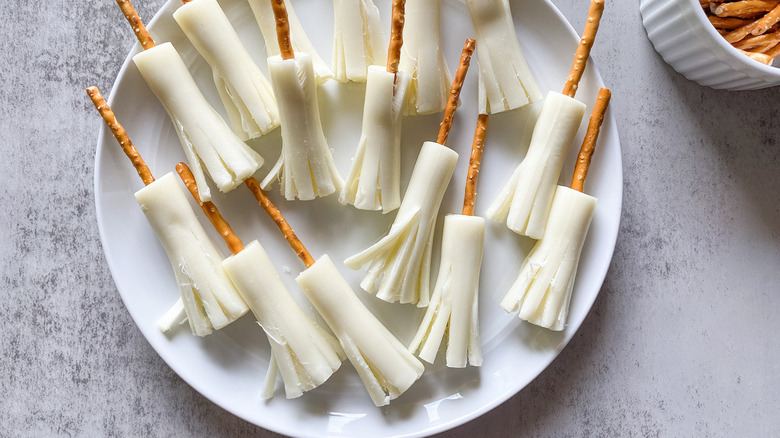 Kristen Carli/Mashed
All that is left to do is to fray the cheese stick to make it look like a broom — being careful not to fray the pieces of cheese off, and leaving about ¼ to ½ inch of the cheese stick intact. "You actually just peel it [with your hands] like you normally would string cheese — no equipment needed and kid-safe." And now, we reveal the ingenious use to which Carli suggests you put any broken pretzel sticks: "If you want to really exceed in terms of presentation, you can crush up some extra pretzel sticks and use the brooms to sweep up the crumbs," Carli advises. "Kids love this!"
Serve your cheese and pretzel broomsticks as a party food or a regular snack, and know that there is at least one healthy thing that your kiddos will have in their tummies on Halloween!
Cheese And Pretzel Broomsticks Recipe
These cheese and pretzel broomsticks are a fun Halloween treat to prepare with the kids that isn't too scary.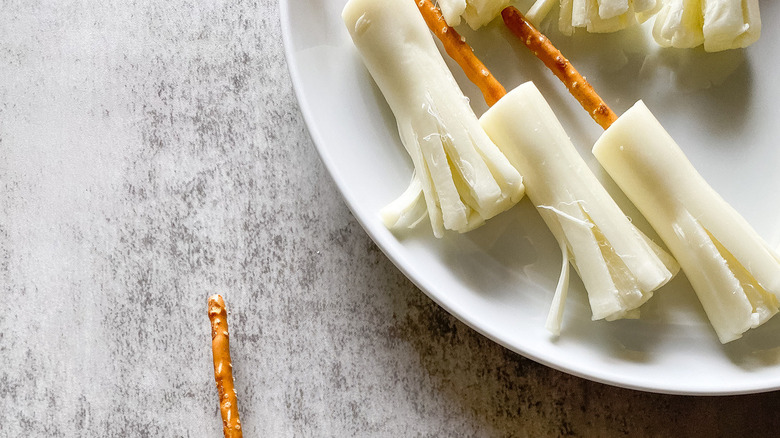 Ingredients
8 cheese sticks
16 pretzel sticks
Directions
Unwrap the cheese sticks, and cut them in half.
Place a pretzel stick into a cheese stick about ¼-inch deep to create the broomstick for each broom.
Fray the cheese stick to make it look like a broom head, being careful not to fray the pieces of cheese off, and leaving about ¼ to ½ inch of the cheese stick intact.
Serve, and enjoy!
Nutrition
| | |
| --- | --- |
| Calories per Serving | 80 |
| Total Fat | 4.9 g |
| Saturated Fat | 2.7 g |
| Trans Fat | 0.2 g |
| Cholesterol | 14.3 mg |
| | |
| --- | --- |
| Total Carbohydrates | 5.0 g |
| Dietary Fiber | 0.2 g |
| Total Sugars | 0.2 g |
| Sodium | 164.6 mg |
| Protein | 4.0 g |