Spiced Roasted Almonds Recipe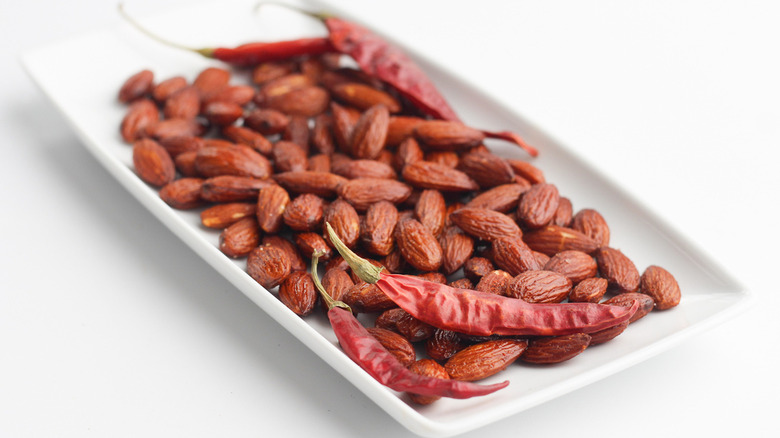 Susan Olayinka/Mashed
Cooler temperatures always invite a taste for warm flavors, don't they? And, in the autumn and beyond, nothing brings on the heat quite like a little kick of cayenne pepper. A dash of cayenne delivers a healthy dose of fire to a variety of foods like chilis, stir-fries, and soups. But why stop at the main course?
If you like hot and spicy snacks, then rest assured that you're going to love our spiced roasted almonds recipe. And your body might just like it, too. The active ingredient in cayenne is capsaicin, which boasts a number of reported health benefits, including helping to manage pain relief and potentially giving your metabolism a kick in the pants, according to Healthline. 
So, a little bit of culinary heat here and there can't be a bad thing, right? If you're still a little leery and wondering just how hot these spicy almonds are, recipe developer Susan Olayinka of The Flexible Fridge told Mashed that they have only a medium heat. And, of course, you can always adjust that heat level to your own preference, given that you're making this snack yourself in your own kitchen. Even better, this recipe is stunningly simple and fast, meaning you can whip up this snack in less than 30 minutes. So, what are you waiting for? Let's get cooking!
Benefits of almonds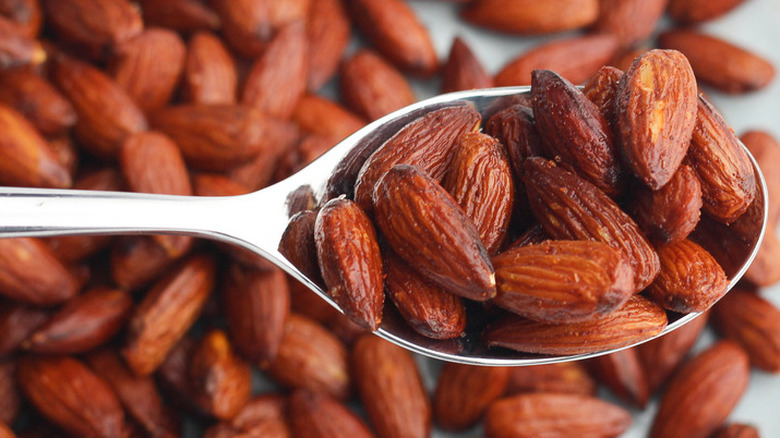 Susan Olayinka/Mashed
Even without the benefits of cayenne, it's widely acknowledged that almonds give your health a serious boost. In fact, they are arguably one of the most nutritious nuts you can eat. A one-ounce serving gives you 6 grams of protein and 37% of your daily recommended allowance of vitamin E, which studies show could help to lower your risk of heart disease (via Healthline). 
That same serving also gives you 20% of your recommended daily intake of magnesium, which could help to lower blood pressure. And, if you're looking for good snacking food but need to watch your sugar and carbohydrate intake, almonds have got your back too, being both low in carbs but high in plenty of other great nutrients. Is that somehow still not enough for you? Then consider that almonds are also known to be an antioxidant, which can help fight inflammation and cancer. 
Gather the ingredients for spiced roasted almonds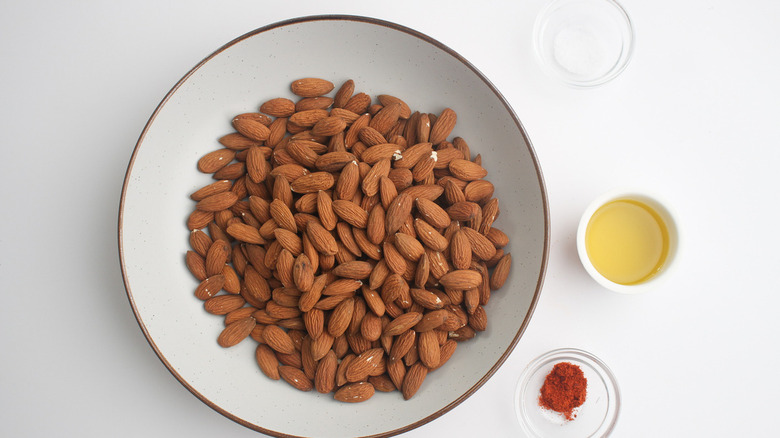 Susan Olayinka/Mashed
This stunningly simple recipe only calls for four ingredients. In fact, the ingredients necessary for this dish are so easy to find that you might already have everything you need in your pantry. How's that for easy?
First, you'll need some unroasted almonds. To be extra clear here, please make sure that the almonds you have are raw as opposed to roasted. That's because you will be doing the roasting yourself over the course of this recipe and no one wants the burned almonds that would result if you toast already roasted ones. As for the rest of the ingredients, you'll need powdered cayenne pepper, salt, and a small amount of extra virgin olive oil. Cayenne pepper is what gives the nuts their spice, of course, and a little bit of salt provides additional flavor.
Preheat the oven and prepare the almonds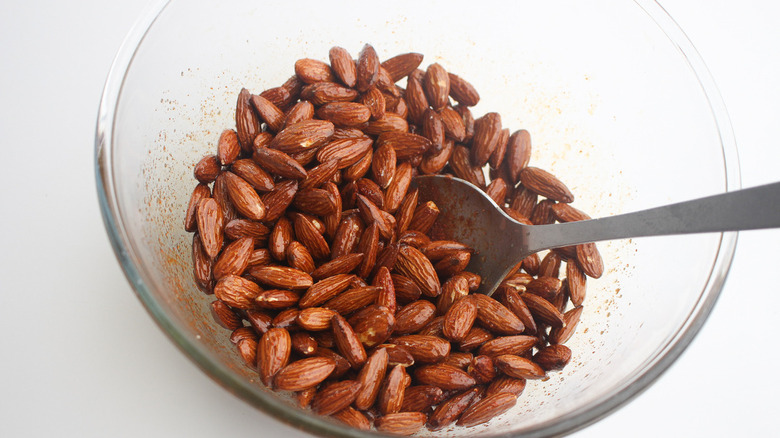 Susan Olayinka/Mashed
The first step for this recipe is to preheat the oven to 350 F. Doing so at the beginning of your cooking process ensures that it will be up to the correct temperature sooner, so you won't have to sit around waiting for it to get up to heat later.
While you are waiting for the oven to heat up, it's time to prepare the almonds. As you may have guessed, it doesn't take much effort to do this. Really, all you need to do is place the almonds in a medium-sized mixing bowl, then add the olive oil, salt, and cayenne pepper. Stir the mixture until the almonds are evenly coated with the oil and spice mixture.
Bake the almonds and enjoy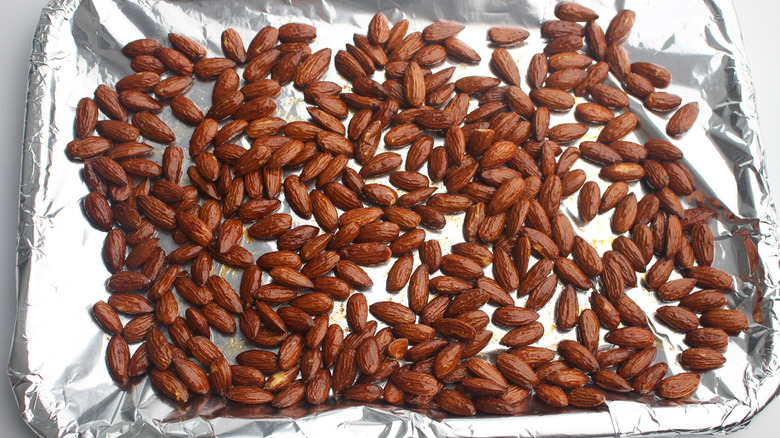 Susan Olayinka/Mashed
When you are happy with how the almonds are covered, place them in a single layer on a baking sheet lined with foil. Bake for 15 minutes, during which you'll start to smell the lovely roasted smell of the almonds wafting up from the oven. When they're done, remove the sheet from the oven and allow everything to cool down.
The next step is to enjoy the spiced roasted almonds! If you're looking for something to accompany this snack and perhaps cool a bit of the cayenne-induced heat, Olayinka says that one of the best drinks to enjoy with them is something milky, such as a milkshake, almond milk, or a mango lassi if you're looking for something fruity. All of these will help to ease the heat of the spice. 
As for storing the spiced roasted almonds, you can enjoy them immediately or place them in an airtight container. Stored that way, Olayinka says they should stay fresh for a few days. 
Spiced Roasted Almonds Recipe
This recipe for spiced roasted almonds is stunningly simple, healthy, and fast to make, meaning you can whip up this spicy snack in less than 30 minutes.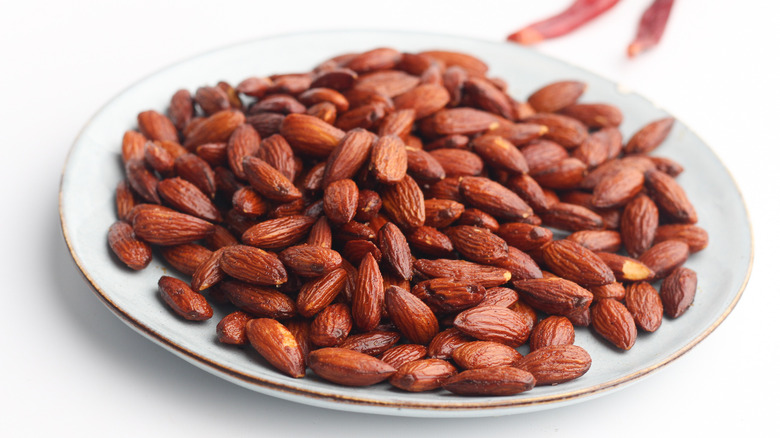 Ingredients
2 cups almonds
2 tablespoons extra virgin olive oil
¼ teaspoon salt
1 teaspoon cayenne pepper
Directions
Preheat the oven to 350 F.
Into a mixing bowl, place almonds, extra virgin olive oil, salt, and cayenne pepper. Mix until the almonds are evenly coated in olive oil and spices.
Bake for 15 minutes.
Take out and store in an airtight container once cooled.
Nutrition
| | |
| --- | --- |
| Calories per Serving | 238 |
| Total Fat | 21.3 g |
| Saturated Fat | 1.8 g |
| Trans Fat | 0.0 g |
| Cholesterol | 0.0 mg |
| | |
| --- | --- |
| Total Carbohydrates | 7.8 g |
| Dietary Fiber | 4.5 g |
| Total Sugars | 1.6 g |
| Sodium | 73.2 mg |
| Protein | 7.6 g |