Jamie Oliver Is Turning Heads With 3 Takes On Avocado Toast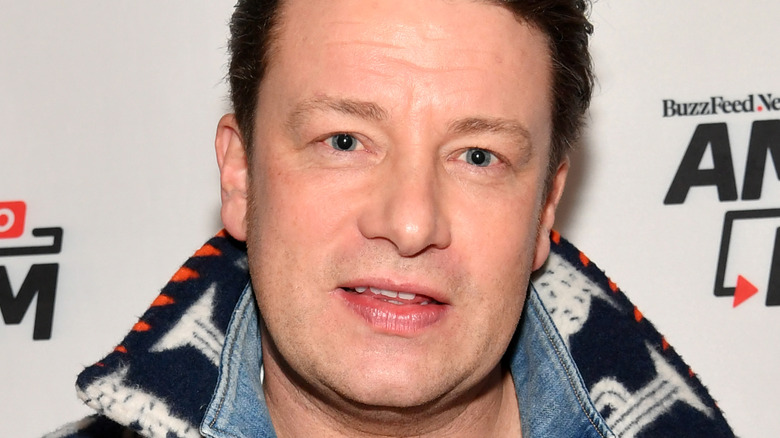 Slaven Vlasic/Getty Images
If you're a millennial saving up for your first home, don't look at Jamie Oliver's recent Instagram post. God forbid you blow your savings on avocado toast.
After an Australian millionaire suggested in 2017 that people trying to buy a house shouldn't be indulging in frivolous expenses such as $19 avocado toast, per Curbed, you might have suspected the trendy menu item would have been shamed out of existence. (To be fair, though, that's only 14 U.S. dollars.) But no — avocado toast endures, probably because it is a healthy café option in a sea of muffins and cookies. It's also an amazingly versatile dish, as Oliver proved in an Instagram video.
With Adele's "Rolling in the Deep" as the soundtrack, Oliver's video demonstrates three avocado toast options: cream cheese, greens, soft-boiled egg, and coriander; strawberries, ricotta, and balsamic vinegar; and tomato, ricotta, basil, and pine nuts. "Let me know which would you choose," Oliver wrote in the caption.
Some Jamie Oliver fans had trouble choosing their favorite avocado toast option
Jamie Oliver proved that avocado toast remains popular with the large number of replies he got on his "avocado on toast three ways" Instagram Reels video. One Instagrammer who knows their way around emojis was intrigued by the sweet-and-sour promise of Oliver's avocado toast No. 2: strawberries, ricotta, balsamic vinegar. "🍓 🥑 I'm so trying this," @xosherbearox commented.
Instagram user @saarasamppanja saw the potential for a two course meal in Oliver's post. "I'll have 3 as a starter and 2 for the dessert!" they said — No. 3 being the tomato, ricotta, basil, and pine nuts.
Overall, the race among Oliver's three versions of avocado toast was too close to call. As usual, some people needed to call out their intolerances: no cream cheese for one Instagrammer, no tomatoes for another. Others were far less picky. "Any and all. Fabulous," @younglesslie commented.
Oliver has had an appetite for avocado toast for a while now. At least two of these simple recipes come from his 2016 cookbook "Super Food Family Classics," according to his website.