Jamie Oliver Has Instagram Buzzing Over This Dish He Made Using His Beehive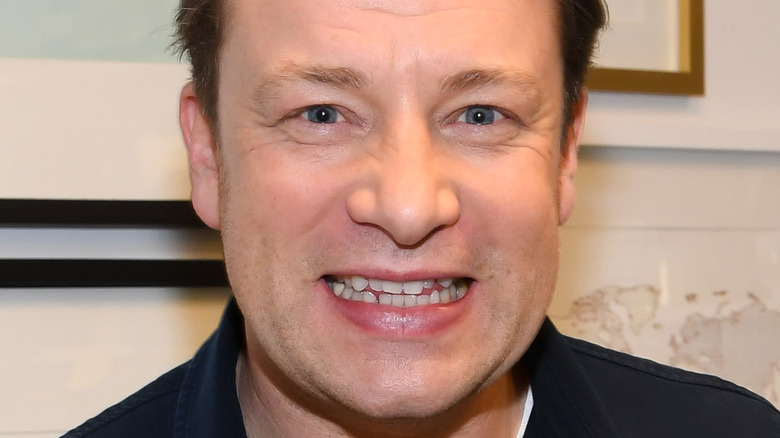 George Pimentel/Getty Images
We may receive a commission on purchases made from links.
It's hard not to love Jamie Oliver. Like, really hard. There is, of course, the simple fact that he is a fantastic chef, sure. But Instagram moments — like this one that shows ever-so-sweetly how dedicated of a father he is, or when he asks the hard-hitting questions about avocado toast and absolutely nails the aesthetic — really have us in awe of how he just seems like such a lovely human.
Oliver decided to up the ante even more this weekend, adding a new video that walks viewers through the special process of making his honey focaccia bread (you had us at "honey focaccia"), and there's a buzz-worthy, personal twist the famed chef shares with his 8.6 million Instagram followers. The video, which garnered a lot of love from Oliver's fan base, is part of a promotion of his new cookbook, "Together: Memorable Meals Made Easy." The book is a collection of recipes created by Oliver with the intention of sharing and spending time with family and friends, something Oliver says "has never felt so important" (via Amazon).
Among lots of hearts and clapping-hands emojis in the comments section, indicating both a celebration of the chef's video and love for its content, you might notice a few bumble bee emojis floating around, too. That's because Oliver captures clips showing his own beehive from which he collected honey to make this heavenly looking focaccia. If you thought the chef couldn't get any better, you thought wrong.
What Instagram fans are saying about Jamie Oliver's latest dish
Aside from the general praise of (our version of) a slightly sensual video from Jamie Oliver, featuring fresh honey, a massive rosemary sprig, and the bounciest focaccia we've ever seen, Instagram commenters also shared their excitement over the upcoming cookbook, in which this recipe can be found.
User @annetteprest1 wrote, "Fabulous. Can't wait for your new book to add to my collection. I have them all [chef emoji] thank you," and we think that's some serious dedication. While many users commented that they can't wait to get their hands on the new book, user @speechleyjan1 confirmed "Mine is on order l can't wait xx." And then there are just some delightful Instagrammers — like @to.a.tee.by.louise — who felt like warming Chef Oliver's (and the rest of Instagram's) heart with comments like, "Wonderful! What an inspiration you are," and we couldn't agree more.
So if after seeing that mesmerizing honey focaccia video and gazing calmly into that meadow of flowers, your pre-order for Oliver's cookbook is not yet confirmed, you might want to make a beeline for that link — we have a feeling there's more great content to come from Oliver on Instagram, but his real secrets lie within the pages of his books!