Anne Burrell Melts Hearts With Her Pre-Wedding Instagram Kiss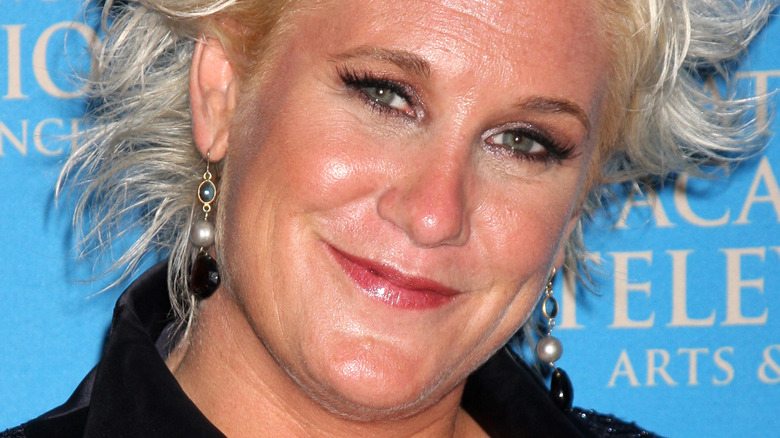 Kathy Hutchins/Shutterstock
Anne Burrell is swapping out her apron and chef's hat for a wedding dress and veil, and the soon-to-be Mrs. is melting people's hearts with a pre-wedding Instagram post. Per People Magazine, the star chef of  Food Network's "Worst Cooks in America" got engaged to Stuart Claxton, who works for Univision, last year during the pandemic. Before they found each other on the Bumble dating app, Burrell didn't expect to hear wedding bells in her future. After announcing her engagement, she explained to People, "Once you get to be a woman of 50 years old, you don't really think that marriage is going to be on the plate for you. I was always really focused on my career and marriage was never a huge thing in my life that I was looking for. Then when I met Stuart, my opinion about all that changed."
The publication shared details of the proposal, noting that Claxton had some help from Burrell's mom when it came time to pop the question. The soon-to-be mother-in-law and Claxton created an elegant dinner for two in her apartment in Cazenovia, New York, and when the celebrity chef and her beau were talking about the music they were listening to, he casually suggested it might be good for their "wedding playlist." Well, time flies, and it has landed on this weekend for a walk down the aisle. Now fans are falling in love with a pre-wedding photo of the couple.
Anne Burrell engaged in a pre-wedding smooch
Burrell shared a photo on Instagram of herself and Claxton in the middle of a sweet smooch, and she definitely seemed excited for her big day. Burrell wrote, "And just like that ... my wedding weekend is here. I get to marry my Prince Charming this weekend!! He finally arrived!! And I'm the luckiest girl in the world." Burrell followed those words with two hashtags: "#ilovewhatido #luckygirl." So sweet, right? 
The photo has received close to 60,000 likes, and her followers and celebrity friends are expressing elation and love for the couple's upcoming nuptials. Fellow Food Network chef and colleague, Alex Guarnaschelli commented, "So happy for you," and designer Isaac Mizrahi wrote, "Hooray!" A different fan responded to the romantic picture with these kind words: "So happy for you have learned so much from you admire you tremendously love ... that you have found your kindred spirit many years of love and happiness to you." 
Additionally, Burrell posted a photo of her bridesmaids on the social media platform, and Rachael Ray will be standing up alongside her friend and Claxton as they exchange vows. How can fans not be excited about this wedding! Hopefully, there will be more photos from Burrell's special wedding weekend.