Tyler Florence's 'Guilty Pleasure' Is Super Relatable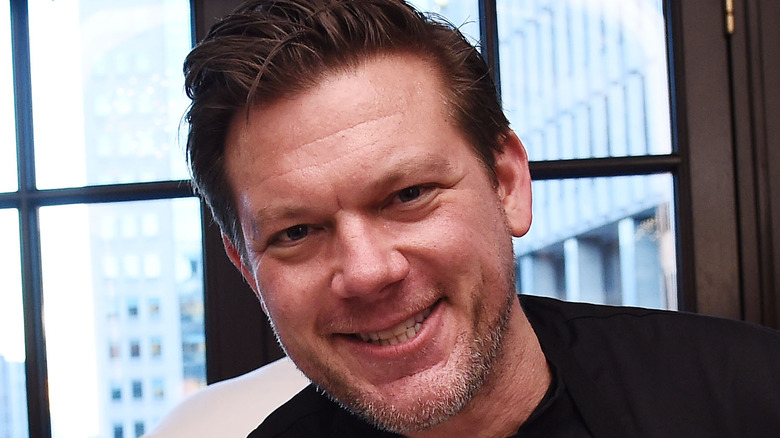 Ilya S. Savenok/Getty Images
Tyler Florence has been a Food Network presence since the late 1990s, hosting such shows as "Food 911," "Tyler's Ultimate," "Planet Food," "How to Boil Water," and "My Country, My Kitchen" (via Food Network).
So, it should come as no surprise that the chef, who describes his cooking philosophy as "American, pure and simple" (via Williams-Sonoma), chooses burgers when he wants to indulge in what he describes as a "guilty pleasure." According to a recent Instagram post, Florence, who began his career in the kitchens of some of New York's best restaurants, such as Charlie Palmer's Aureole, craves the occasional In-N-Out Burger, just like so many others on the West Coast. Florence's affinity for In-N-Out goes way back. In 2009, he told Esquire just how much he thinks of the favorite chain, "I dare anyone to tell me their burgers aren't as good as any you'll find anywhere, from fast food to fine dining."
Dressed in his chef's whites, the recent Instagram photo shows a smiling Florence holding a big box of In-N-Out bags. Just before this highly relatable post, Florence shared some beautiful food photography from his San Francisco restaurant Miller & Lux, so it appears that he might have treated his staff to some In-N-Out just prior to service at the glamorous steakhouse (via Miller & Lux).
Chefs and other celebrities love In-N-Out too
What makes In-N-Out Burgers so irresistible? Serious Eats claims the burgers trigger "every pleasure center of the brain," with "ooey-gooey" American cheese, a sweet, toasted bun, high-quality tomatoes and iceberg lettuce, a thick slice of onion, and their signature sweet-and-tangy pickle spread. (Interestingly, as praised as their burgers are, In-N-Out's fries are famously disappointing, as noted by the San Francisco Gate and Thrillist).
The fast food chain has other celebrity chef fans, too, including Gordon Ramsay, Alton Brown, and Ina Garten (via Taste of Home). The late chef and icon of French cooking Julia Child also once said of In-N-Out "Well, it's awfully good" (via First We Feast). Food Network star Guy Fieri, "Chopped" host Padma Lakshmi, acclaimed chef and French Laundry owner Thomas Keller, and Momofuku owner David Chang are also fans. The late Anthony Bourdain, host of "Parts Unknown" once said hitting up In-N-Out was one of his favorite things about visiting Los Angeles. It was often the first meals he ate before leaving the airport and the last thing he ate before he left. "What can I say about this place? It's the only fast-food chain that I actually like," he once quipped (via First We Feast).
Clearly, Tyler Florence is in impressive company when he craves a fresh, delicious burger from this hot spot.