Papa John's Just Announced 3 New Menu Items Created For Bacon Lovers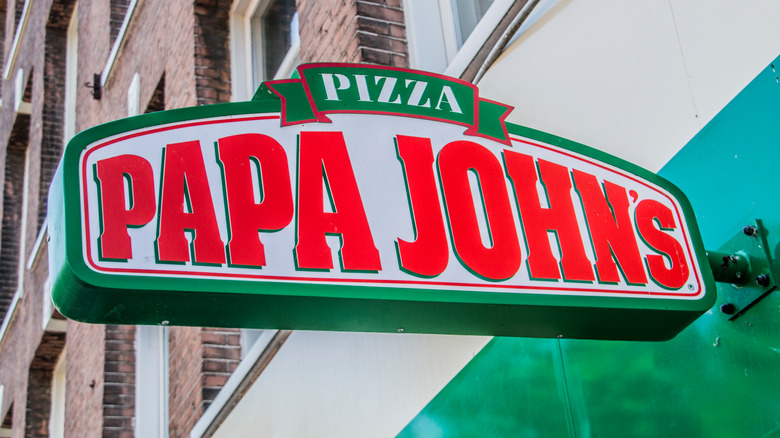 Dutchmen Photography/Shutterstock
Is there any kind of food that doesn't taste better with bacon? The U.S. restaurant industry doesn't seem to think so. According to a 2018 study conducted by Datassential (via CNBC), 68.1% of fast-food restaurant menus feature bacon in some capacity.
Papa John's understands the importance of bacon, too, which is why it just released the BaconMania Trio — a set of three new (super decadent), bacon-topped menu items. The lineup includes "Triple Bacon Pizza," a new "Smoky Bacon Parmesan Crusted Papadia," and "Bacon Jalapeño Popper Rolls." The bacon pizza comes with three different kinds of bacon — bacon crumbs, julienne-cut Canadian bacon, and smoked bacon strips — and it's a steal at $13. 
For pizza-sandwich lovers, there's the new $7 papadia, which offers more bacon-on-bacon goodness (again, julienne-cut Canadian strips paired with smoked bacon), plus fresh onions and a creamy ranch sauce. Things get even more bacon-y with Bacon Jalapeño Popper Rolls: tiny dough bites filled with PHILADELPHIA cream cheese, jalapeño peppers, and (of course) hickory-smoked bacon. At $5 per serving, these are a lot of bang for your buck.
BaconMania is available for a limited time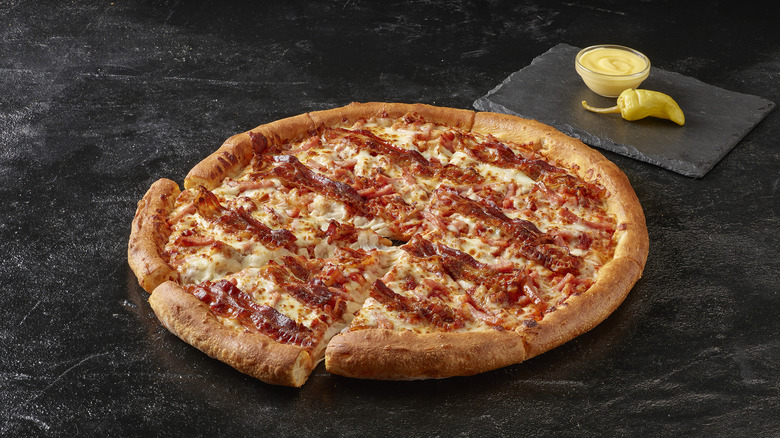 Papa John's
Arriving just in time for fall, the BaconMani Trio is available to Papa Jonn's Rewards Members starting October 18, and will be made available to the general public beginning October 25th. The deal runs through December 27, 2021, giving you plenty of time in the coming weeks to enjoy some cozy, bacon-pizza-filled moments with friends and family. (Is there any kind of social gathering not improved with the addition of bacon?) 
Speaking of seasonal get-togethers and festivities, Papa John's has even more holiday-themed surprises in store for pizza lovers — "an extra-special way for fans to elevate their pizza moments during the holiday season," according to a press release. The surprise will be revealed November 1st, so stay tuned! (No word yet on whether it involves bacon.)
Following the August return of the Shaq-a-Roni, BaconMania is Papa John's latest limited-time offer. If you're a bacon lover, this is the deal for you. If you're a pizza lover, this is the deal for you. And if you're a deal lover, this is the bacon pizza for you.