Anne Burrell Is Sharing Her Post-Wedding Bliss From An Unexpected Location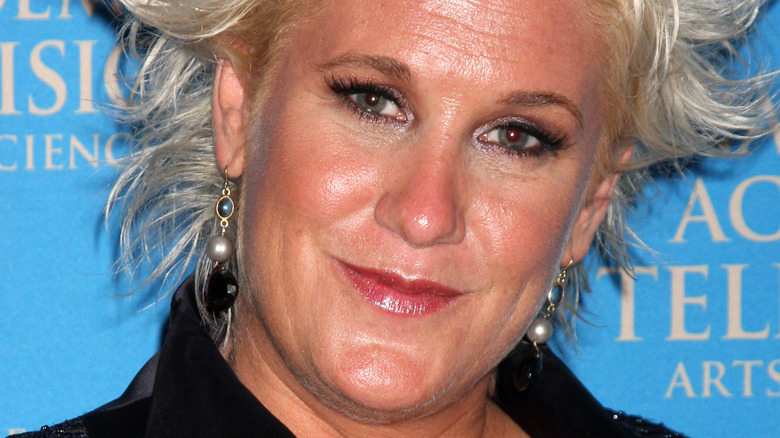 Kathy Hutchins/Shutterstock
This past weekend, chef Anne Burrell wore something a little different than her chef jackets and signature skirts. According to People, the Food Network star instead donned a Carolina Herrera gown for a very special occasion: her wedding! Burrell tied the knot with ad sales marketer Stuart Claxton at an estate in her hometown of Cazenovia, New York, where the couple served an incredible multi-course fall-inspired meal that Burrell, of course, was heavily involved in planning.
"The caters, I'm sure, I've driven absolutely bonkers," Burrell said. "They gave me a bunch of suggestions for menu ideas, and I was like, 'Hmm, no. Hmm, no.' I felt bad, but I was like, 'I'm sorry, I'm a chef.'" The final menu included cauliflower steak, caviar, butternut squash ravioli with pumpkin seed oil, braised short ribs, and potato-crusted halibut atop spaghetti squash. And no wedding would be complete without cake, specifically one made by none other than Buddy Valastro of "Cake Boss" fame. That sounds like a line-up that could ruin most people for all other foods. So you might have a difficult time picturing one of the meals the newlyweds found themselves enjoying afterward.
Anne Burrell went from caviar to paper napkins
The wedding's menu selection may have been formal and impressive; however, the couple would later indulge in some food that's a little, perhaps, surprising for a chef of Anne Burrell's caliber. And that food was found at a truck stop off I-81 in Harford, Pennsylvania (via Trucking Zone). The spouses stopped here on their way from Cazenovia back to New York City. Seems like after all that decadent food, the pair were in need of something more comfort-style.
Burrell posted a photo on Instagram from the Penn-Can Truck Stop, Exit 217, featuring plates filled with French fries, what appears to be a partially eaten burger, and breakfast delights like eggs and toast. There's everything you love about a classic diner here: the placemats, the tiny ramekins filled with packaged jelly, the classic coffee mugs. In the photo, Burrell tagged both her new husband and his son Javier, who was Claxton's best man (via People).
Burrell captioned the post: "Post wedding bliss... and some much needed greasy food!! OTW back to NYC ... there are just SO many people to thank – it REALLY takes a village!! Pics will be coming of the most magical weekend ever!! #weddingweekend #ilovewhatido #luckygirl." When you're that happy, everything life puts on your plate is probably delicious.