Red Lobster Fans Won't Want To Miss This Expanded Endless Shrimp Deal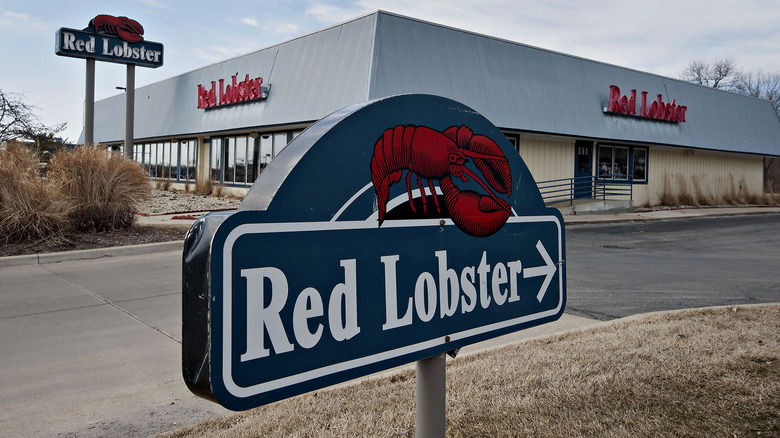 Bloomberg/Getty Images
Most seafood fans are familiar with Red Lobster, the seafood chain that has been coming up with delicious seafood dishes for years. Additionally, the brand claims that it came up with popcorn shrimp when seafood was starting to become a popular option. And those who swear by the chain will rave about its Endless Shrimp deal, a shrimp special for those who can't get enough.
Believe it or not, there are actual "guides" that help fans figure out ways to feast on more shrimp at Red Lobster. As for Red Lobster itself, the brand knows that the Endless Shrimp deal is a good way for people to get together with their loved ones for a hearty meal. If you're someone who enjoys shrimp season at Red Lobster, you may want to take notice of this: The chain is back with its Endless Shrimp offers, according to a tweet from the restaurant.
It's available for a limited period
Well, it's officially time to dig into lots of shrimp at Red Lobster. A tweet from the restaurant on October 18 let fans know that the restaurant's Ultimate Endless Shrimp season is now back for a week. Fans can grab the deal for $17.99 from Monday to Thursday. According to the brand's website, the limited time deal is only available at participating outlets in the U.S. and Canada. Friday through Sunday, fans can get their hands on the deal for $5 to $6 more, taxes not included. Also, the prices may vary depending on location.
According to Delish, the Endless Shrimp deal basically lets customers choose from several dishes: two shrimp dishes at first that are served with a side salad, Cheddar Bay Biscuits, and another side dish option such as mashed potatoes. A customer can rely on individual shrimp dishes for their next selection. Per PR Newswire, the five dishes to look out for are the Parrot Isle Jumbo Coconut Shrimp, Walt's Favorite Shrimp, Garlic Shrimp Scampi, and Grilled Shrimp Skewer.
Deanna Kotch, vice president, marketing at Red Lobster, said that the company has taken note of its customers' needs. "Endless Shrimp is a truly epic event that many of our guests have made a tradition this time of year, every year — and now we're going to give them what they want — with Ultimate Endless Shrimp all day, every day for a limited time," she said.