Bobby Flay Is Opening Another Las Vegas Burger Joint In This Casino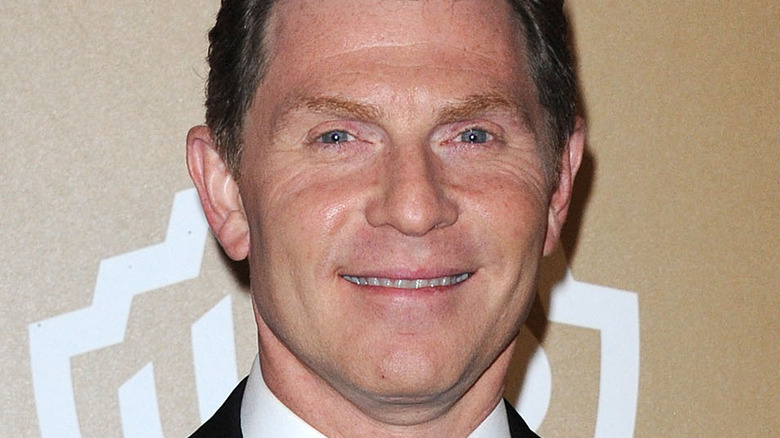 DFree/Shutterstock
Bobby Flay is expanding his Las Vegas reign with restaurant openings that fans of burgers and casinos might get excited about. As Eater reported in September, Flay will be debuting a second Bobby's Burgers, a casual dining eatery, at Harrah's, located across the street from Bobby's Burgers' original Las Vegas location inside the Forum Food Hall at Caesars Palace. Better yet, the restaurateur just announced that a third Bobby's Burgers will be opening at Paris Las Vegas in the Le Boulevard area in March 2022 (via PR Newswire).
Speaking about the expansion, Flay stated, "Since the opening of our first Las Vegas location at Caesars Palace back in May, we've seen an incredible response to Bobby's Burgers and my twist on the American classic. Now guests can also enjoy one of my burgers at Harrah's or just beneath the Eiffel Tower replica at Paris, with both center-Strip locations easily accessible and serving up some of the best bites in town."
Bobby's big, brilliant burger business
So what will be on the menu? Las Vegas Sun points toward some of Bobby's Burgers' most popular burgers, including the Crunch Burger complete with a potato chip topping, and the Bobby Blue + Bacon Burger, which boasts bleu cheese sauce and bacon. Eater describes the Brunch Burger as being made with bacon and egg and lists the joint's five delectable milkshake flavors: pistachio, dark chocolate, strawberry, cookies and cream, and vanilla bean. PR Newswire reports that sides will go beyond traditional French fries and include sweet potato fries and buttermilk onion rings. With such rapid expansion, it's a safe bet to assume business collaborators are pretty happy with Flay.
"Bobby Flay has been an incredible partner to Caesars for nearly 20 years ... we were inclined to find additional opportunities for our guests to experience his food," said Sean McBurney, Regional President of Caesars Entertainment. "Guests of Harrah's and Paris are going to be blown away by the flavors Bobby is able to inject into his recipes and the hand-crafting that goes into each menu item."