Instagram Is Loving Joanna Gaines' Video Of Her Son Enjoying Fall Weather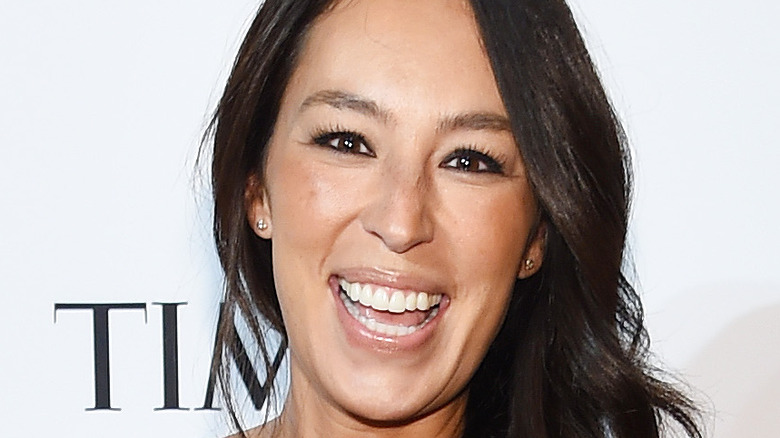 Larry Busacca/Getty Images
While almost anyone can take a sigh of relief when the sweltering summer months give way to the cooler temperatures of fall, few are quite as adorable when enjoying the weather as Joanna Gaines' youngest child. Gaines shared a precious video of her son, Crew, who turned 3 in June (via Parade). Posted on her personal Instagram account on October 17th, the clip features the youngster being free and playing outside. The caption read, "Crew is loving this beautiful fall weather!" Within two days, the post had received around 115,000 likes.
In a sequence of scenes, viewers see Crew playing in a bubbling stream, taking interest in a large brown leaf, wandering through rows of a garden, and playing with cats in a barn. Young Crew looks like he knows how to enjoy the season. And Gaines' choice of Bob Dylan's "Blowin' in the Wind" as the music for the video makes it feel nostalgic. Of course, fans of Gaines jumped into the comments section.
This is what fans have to say
Tons of fans were gushing over the Instagram video in the comments. One user wrote, "just Devine, I'm in heaven watching this. Your beautiful boy allowed to be free through that wonderful waterways and THAT leaf ahhhh." Someone else responded in agreement, writing, "Took the words right of my mouth! What a wonderful childhood." Another fan pointed out one of their favorite moments in the video: "That's so cute. The best is when Chip pours the water out of Crews boots." 
Seeing Joanna Gaines' little boy living in the moment might have reminded some people of how fleeting it all is. One sentimental fan said, "love it.... It's all about the memories and the moments of making memories." Some nostalgic commenters said the clip made them miss the times when their own kids were young.
Will Joanna and Chip Gaines one day feel the same way while looking back on this video? Their four other children are older, and the oldest one is nearly a legal adult (per Parade). It's so cute to watch Crew's exploration before his age changes like an autumn leaf. We're guessing fans will be all about seeing more footage and photos as he grows up.