Instagram Rains Hearts Over Joanna Gaines' Post About Her Favorite Month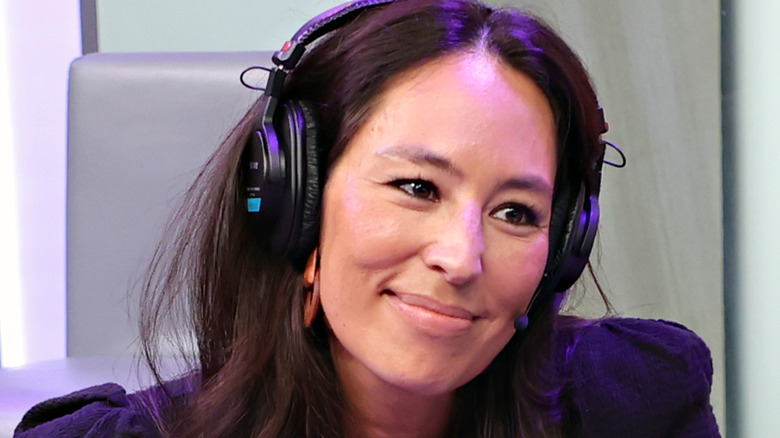 Cindy Ord/Getty Images
Joanna Gaines is many things: mom, entrepreneur, author, television personality, the list goes on. The "Fixer Upper" host has always placed the home at the center of everything she does, which includes the feelings and emotions we attach to it. 
"Throughout all the joys and challenges that life brings, home always seems to be right in the middle of it," Gaines wrote on her Magnolia blog. "It's what catches us, and also what lifts us up. It's where we retreat, where we are restored, and also where we bring our community together to share a meal at the table." It's also the place where Gaines ushers in autumn, and her fans have plenty of love to show for it.
Gaines posted a video of herself welcoming October to her home, set to Ella Fitzgerald's very apropos song, "Early Autumn." The Magnolia Network owner wrote on her Instagram, "The first day of October always feels like a gift. It marks the return of my favorite month of the year—one that carries so much beauty, hope, and expectation–and some of my best memories. If this time of year is stirring a little something in you too, I hope you'll join me in embracing every bit of magic it has to offer." Why does October give Gaines such positive vibes? 
October is a celebration of milestones
If you hop over from Gaines's Instagram post to her blog, Gaines shares the significance of her favorite month. "I opened the doors to the Little Shop on Bosque in October; and that same month twelve years later, we hosted our first Silobration at Magnolia Market," Gaines wrote. "For those reasons, October always feels like a homecoming of sorts for both Chip and me." 
Naturally, her fans loved the glimpse into Gaines's home the video provided. The seasonal decorations, her (literally) jam-packed pantry, and Gaines climbing her pear tree and sharing images of the fruitful bounty she collected are life goals. Fans loved it so much, they rained hearts, giving the post close to 170K likes. One follower chimed in with her mutual appreciation for fall, typing, "Everything in the garden is ready to be picked and be displayed with so many beautiful colors. I can snuggle in a sweater and just enjoy a cool evening walk as I take in all the smells of fall. The beginning of cinnamon & apple season." While another simply wrote, "I could watch this over and over again!" Same.
Gaines closes her October musings with a challenge. "As fall approaches, instead of bracing ourselves for the chaos, let's prepare to fully embrace its goodness. Because even more than the rushed mornings and hectic schedules that this season promises, what it offers us in even greater measure is growth, gratitude and wonder." What a thoughtful way to start the month!