Gordon Ramsay's Roast Pork Belly Video Is Turning Heads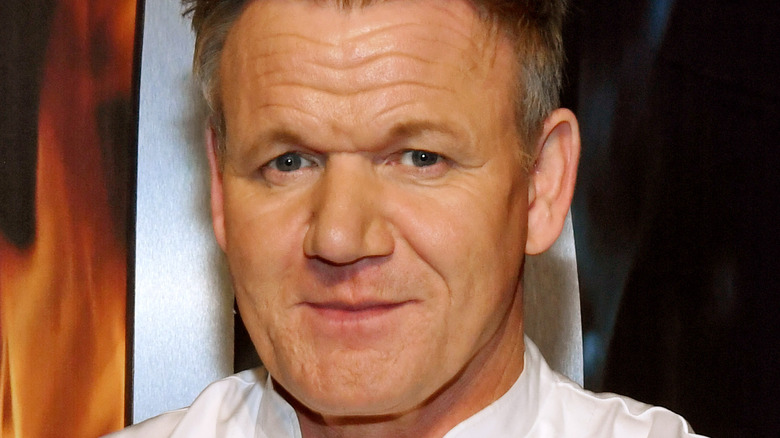 Ethan Miller/Getty Images
Gordon Ramsay is a featured contributor on many a "best recipes" list. His beef wellington, featured as a copycat on PopSugar and in many other locations as an homage, is likely his best known dish consisting of fillet mignon that is seared and wrapped in layers of grainy mustard, prosciutto, and duxel under a bed of puff pastry. Others on Quora's fan forum remember Ramsay for his more recent lobster tortellini and his sticky toffee pudding, a traditional English dessert.
Although many of his restaurants fall outside of Michelin Guide purview, he still managed to score Michelin stars at four establishments out of a boasted 35 Michelin and non-Michelin grade locales around the world (via Fine Dining Lovers). Suffice to say, any number of these dishes could turn heads, but the latest to add to his list is a very fancy pork belly that was posted to his social media account.
Gordon Ramsay shows off his impressive skills
While the post might not be as smile inducing as his son stepping into his giant shoes, this pork belly has garnered the attention of Ramsay fans everywhere. The chef took to Instagram to reveal his dish, which he calls "An all time classic .... slow roasted Cumbrian Saddleback pork belly!!" The entree comes from his restaurant Bread Street Kitchen, which has locations across London and the video features someone pouring a signature sauce or gravy over the dish that is served with two pieces of pork and a puree. 
Fans of the video noted how mesmerizing it is, with one noting, "I've watched this like 20 times." Another user seems to have tried it in person claiming it is "Still the dish that blew my mind like nothing else has! For me – the epitomy of the London food scene!" It's clear that the chef who caters food favorites, has not yet lost his touch.