Gordon Ramsay Is Turning Heads With This Picture-Perfect Beef Wellington Post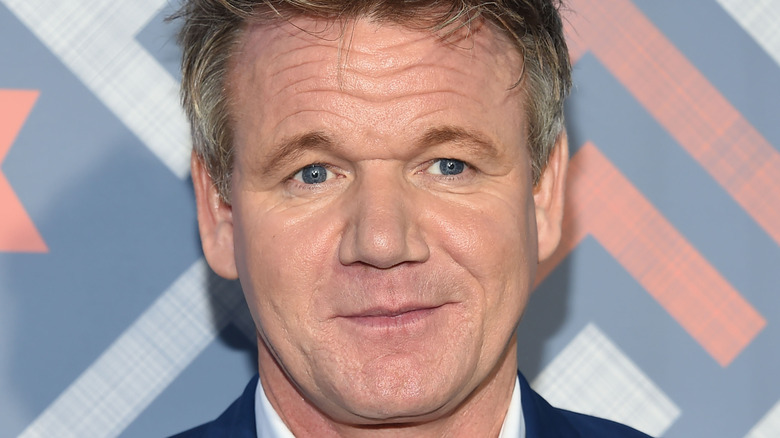 DFree/Shutterstock
We will stop writing about Gordon Ramsay's beef Wellington when he stops creating mouthwatering videos of savory, flaky, tender, steak-filled delights. You already knew that beef Wellington was a Chef Ramsay specialty, but he just keeps proving it over and over, like with this recent Instagram post that has us drooling on our keyboards. Captioning the video, Ramsay shares, "Guys .... Worldwide Wellington is back and @breadstreetkitchen Southwark are showing us how it's done !!" The video has garnered over 1.3 million views on Instagram in just 1 day, but most followers seem just as tongue-tied as we were, opting to respond to the delicious dish through heart-eye emojis and trailing "mmmmmmms."
The mouthwatering beef Wellington shown is from Heddon Street Kitchen, one of Ramsay's many restaurants. It's made with "beef fillet and seasonal produce" and is part of the Worldwide Wellington event (via Gordon Ramsay Restaurants). The pictured dish is part of a 3 course prix fixe menu, which includes a craft cocktail. Interested in experiencing this specific Wellington? The Heddon prix fixe menu is designed for a minimum of 2 people and available at a set price of £130.00.
However, this dish is part of a larger promotion across Gordon Ramsay restaurants everywhere, so don't be disappointed if you can't get to Piccadilly.
A worldwide Wellington celebration
Gordon Ramsay's global set of restaurants is celebrating his signature dish as part of Worldwide Wellington month from October 1 to October 31 (via Gordon Ramsay Restaurants). Diners can enjoy a Wellington celebration across Breadstreet Kitchens and Cafes as well as in the United States at the famous Hell's Kitchen Gordon Ramsay Steak in Kansas City. Worldwide locations, like Singapore and Dubai, are also listed. Beef Wellington is available as part of set menus — like the one at Heddon Street — but a la carte options are advertised as well. For those who don't eat meat, Chef Ramsay has shared some fabulous try-at-home recipes for Beet Wellington and Nut Roast Wellington.
Home cooks can participate in this celebration of "all things Wellington" by trying their own hand at cooking this intricate dish at home. Those who share their mouthwatering results on Instagram or Twitter using the hashtag #SHOWMEYOURWELLY will be entered into a contest where you can win a "Beef Wellington Experience for 4 guests at Bread Street Kitchen in St Paul's." Foodies who prefer to dine out can also enter by sharing their Wellington experience at one of Ramsay's restaurants.
If last year's Worldwide Wellington pics (and the near-perfect example Ramsay just posted) are anything to judge by, our social media feeds are about to make us a lot hungrier.