This Chef's Cookbook Taught Adele How To Cook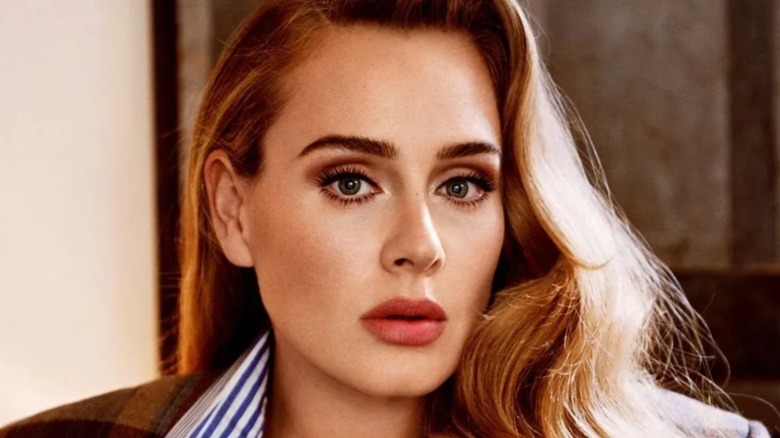 American Vogue
Adele recently made a bold claim to British Vogue: "I know everything there is to know about food." She backed up that claim by identifying a respectable eight out of 12 classic UK dishes blindfolded, in the magazine's "Ultimate British Taste Test." This isn't a bad score at all, considering the superstar singer left her home country for Los Angeles two years ago (via People). Adele learned a lot about cooking from her mother, who made a good banoffee pie – one of the dishes in Vogue's test. "Her food never looked good, but it used to taste good," Adele said.
If Adele is indeed the food expert she claims she is, she managed to master the subject while cranking out two of the biggest albums of the past decade. The two projects, titled "21" and "25," have racked up combined sales of almost 30 million, according to Billboard. (No doubt the new album "30," dropping next month, will be a big seller, too.) As it turns out, Adele had help from a certain British chef in mastering food while dominating the record charts. 
Adele makes a great fish pie thanks to Jamie Oliver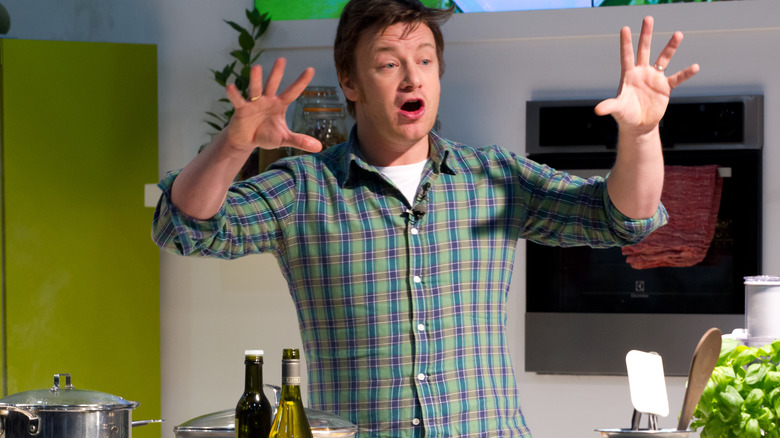 Mr Pics/Shutterstock
Celebrity chef Jamie Oliver's mission has been to make cooking at home seem less intimidating. With Adele it was mission accomplished, thanks to Oliver's cookbook "30 Minute Meals." As Adele told British Vogue (via YouTube), she started living on her own around the age of 18. Life as an independent adult for Adele started with take-out dinners for two months straight. "It was just costing too much money," Adele said. "So I think I read '30 Minute Meals' by good old Jamie Oliver. That's how I learned the basics of cooking." With an assist from Oliver, Adele says she can now make a spicy pasta that wins admiration even from her Italian friends.
Adele makes the best fish pie, too, if she does say so herself, and she credited a Jamie Oliver recipe. "I'm really giving Jamie Oliver some air time today, aren't I?" she said in the British Vogue video.
It's nice to see things are copacetic between the UK's biggest recording artist and biggest chef (sorry, Gordon Ramsay). In 2016, the media pitted the two against each other after Oliver said on a radio program that breastfeeding was "easy" (via Salon). In fact, breastfeeding was difficult for Adele, who had to give it up after nine weeks. "The pressure on us is f***ing ridiculous, and all those people who put pressure on us can go f*** yourselves," Adele said at the time. Thanks for the great recipes, though!