Instagram Is Stunned By Marc Murphy's Law & Order Cake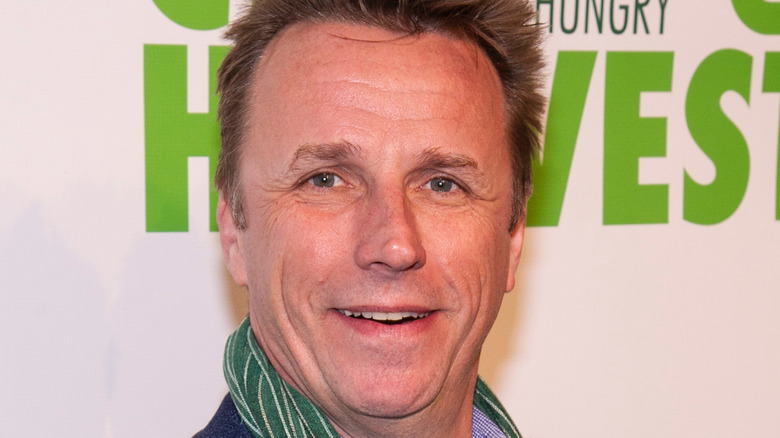 lev radin/Shutterstock
When it comes to marking a special occasion, cakes are pretty much mandatory — who doesn't love gathering everyone to indulge in a sweet treat as you celebrate a particular milestone or victory? Well, the "Law & Order: Special Victims Unit" team recently reached a massive milestone, and they indeed decided that a cake would be a crucial part of their celebration. The episode of "Law & Order: Special Victims Unit" airing on October 21 will be the show's 500th episode, which will aptly be titled "The Five Hundredth Episode" (via IMDb).
In order to mark the accomplishment, someone arranged for chef Marc Murphy to create a cake for the occasion. Luckily for everyone who isn't on the cast and crew of the show, Murphy decided to share a snap of his culinary creation on Instagram so that fans could check it out as well. Murphy created a three-tier cake that featured an illuminated New York City skyline on the lowest tier, the show's trademark glowing blue and red logo on the middle tier, and of course, a police badge on the top tier. The cake was accented with some caution tape and handcuffs on the base, and a metallic "500" perched triumphantly atop the cake.
The cake appeared to be set up in the set's courtroom, with many cupcakes flanking the statement three-tier cake, as well a some balloons arranged in the backdrop. 
What fans thought about Murphy's showstopping cake
Marc Murphy paired the Instagram image with congratulations to "everybody who's ever been involved with 'SVU,'" and the comments section was filled with fans gushing over the creation. One couldn't seem to find the right words, and instead just left a string of clapping hands emoji as a comment. Quite a few others followed that user's lead, sharing some virtual clapping, although they didn't clarify whether it was the show's milestone or the stunning cake that they were most impressed by.
"When my food world and my fave show and actor collide!" one fan wrote. "So wonderful! To the next 500!!" another viewer added. "Love this show. I've watched so many episodes. Thanks for sharing @chefmarcmurphy," yet another chimed in, thrilled to have gotten the opportunity to check out the cake.
Mariska Hargitay, who posed with the cake for the Instagram share, may have celebrated the victory with a slice of cake, but that doesn't mean she'll be tuning in to celebrate when it airs live. During an appearance on "Live with Kelly and Ryan," she confessed that "They sent me the link so many times, and I was actually too nervous to watch it" (via People). Now, the only mystery is — what flavor was that cake? Perhaps finding that out from a photo alone is a task best left to the likes of Olivia Benson.