The Reason Your Matzo Balls Sink, According To Andrew Zimmern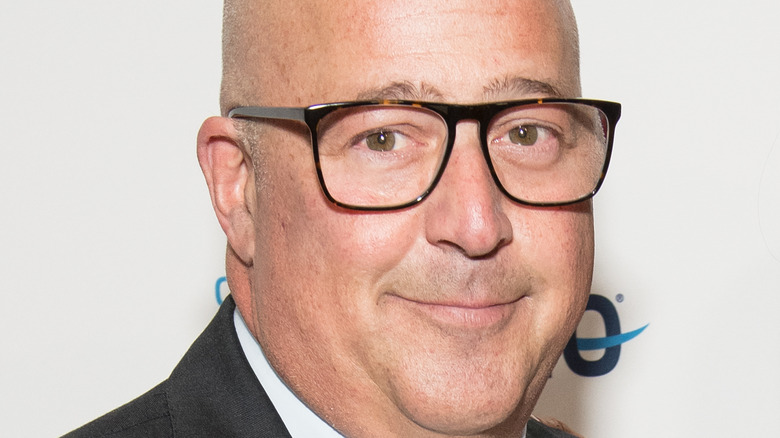 Noam Galai/Getty Images
​Andrew Zimmern got his love for Jewish foods from his grandmother. The star of the Travel Channel's Bizarre Foods told Hadassah Magazine that on Sundays his grandmother Henriette made Zimmern "a Jewish lunch" composed of "gribenes with schmaltz and sweet-and-sour tongue." Zimmern further divulged, "Try as I might, to this day I can't say I've quite nailed that tongue recipe." His love for his grandmother and her food has spilled over into his own cooking, whiched he called the "hug that food can give." This might be why the celebrity chef's matzo ball soup is shared all over the internet. It's full of love.
Matzo ball soup is a great comfort food. Per Budget Bytes, this classic dish is served at your favorite deli alongside a pastrami on rye or during Passover. And while it's a well-known offering, it can also divide a dinner table. What could possibly be divisive about a ball of cooked matzo meal bathed in chicken broth? Well, according to The Jewish Star, matzo ball soup draws a line in the sand between its eaters, sparking a lingering question from last year's meal, namely: should your matzo balls sink or float? Zimmern shared on his website that he takes a middle of the road approach on this debate, and if you like floaters but keep ending up with sinkers when you make this dish, he can help.
Zimmern suggests adding this one ingredient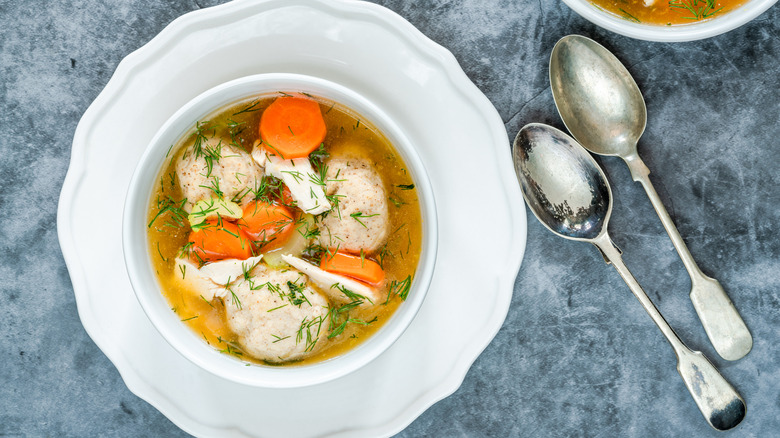 BBA Photography/Shutterstock
There are naturally two schools of thought when it comes to matzo balls. The Jewish Star explained that those who like floaters are said to enjoy a lighter matzo ball, while sinkers want their doughy dumpling to be denser and soak in all that rich broth. Neither is necessarily right or wrong. It's more a matter of preference. However, if you like matzo balls that float, Zimmern has a trick for you.
The television personality revealed on his website that the secret to floaters is air. The way to achieve this? Whipped up egg whites. Zimmern wrote, "Before I had a bottle in my mouth I was sipping on this soup, and it's remained one of my top five favorite foods. This is the only recipe I've come across that measures up to my grandmother's. This matzoh ball is a floater. To make good floaters, you have to get air into the balls, which is best achieved with beaten egg whites."
Serious Eats took it a step further, noting that if you want your matzo balls to float like a balloon filled with helium, use stiff beaten egg whites. After those have been folded in, add seltzer and baking powder. Just don't serve them up to those who love sinkers!