The True Origin Of Matzo Ball Soup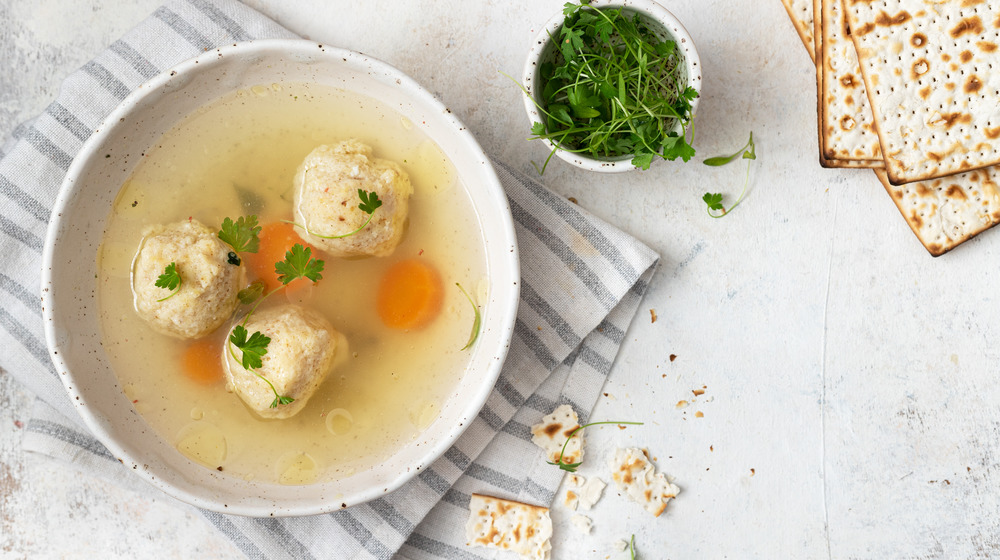 Shutterstock
If you have only made matzo balls from a mix, you don't know what you've missed out on! According to Food Network, making this Passover classic from scratch doesn't take much effort. Formed from leftover matzo crumbs, these dumplings combine eggs, oil, and seasonings with the namesake meal to form a classic that's graced tables for generations. 
While we love to indulge in this hearty staple, few of us know the true origin of this meal our great-grandparents took pleasure in. According to Label's Table, the origins of matzo balls trace their way back to the days of Moses. As the Jews fled ancient Egypt, they didn't have time to pack proper provisions, and had to eat unleavened bread made out of flour and water. To honor the memory of this struggle, anyone celebrating Passover could only eat unleavened matzo that mothers and grandmothers had to make by hand. 
While this bread used to come in all shapes and sizes, the whole matzo game changed when the automated matzo-making bread machine came into being in 1838.
A technological achievement for matzo enthusiasts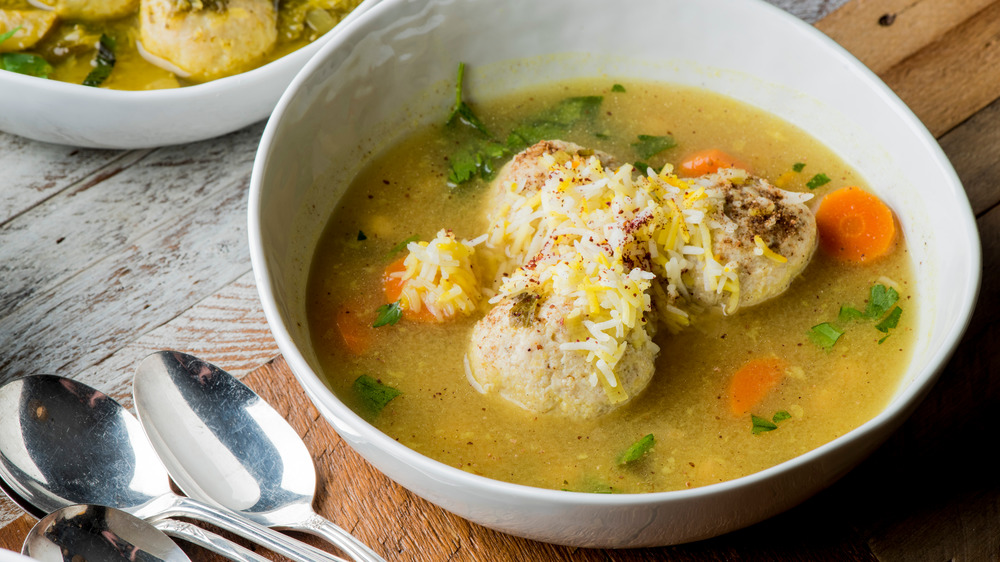 Shutterstock
The whole matzo landscape shifted when the Manischewitz Company burst onto the scene. According to Label's Table, this food company started operations back in 1888 and began mass producing their signature matzo. In order to placate Jews who didn't approve of the commercialization of this sacred bread, the founder of the company journeyed to Israel to study the Talmud for 13 years, winning over any naysayers. 
The industrialization of the bread brought matzo to households that previously couldn't indulge in it, making Manischewitz a household name in the Jewish community. Matzo ball soup came about as a way to use up the leftover crumbs from the bread and create a substantial dish that used all of this precious baked good.
Next time you dig into a bowl of matzo ball soup, take pride in knowing that we can easily have access to this special dumpling that we take for granted. Thanks to the Manischewitz Company and the industrialization of the food, we don't have to hold out for Passover celebrations and can enjoy the soup year round.