Instagram Is Loving Bobby Flay's Birthday Post For His Cat Stella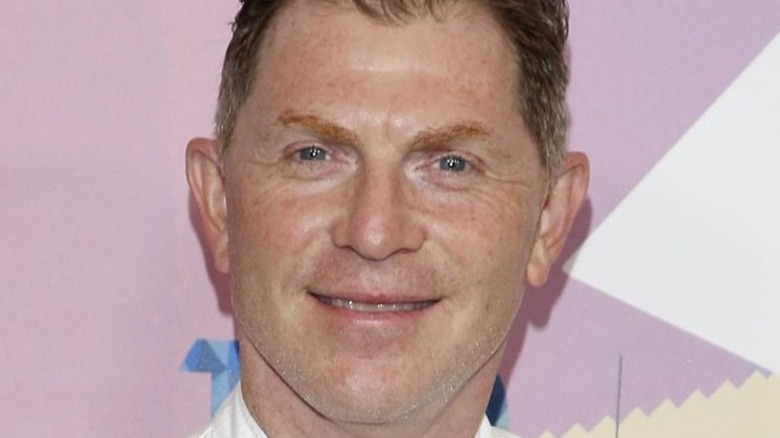 Gabe Ginsberg/Getty Images
Anyone who follows the life of celebrity chef Bobby Flay knows that the food personality loves cats. In an interview with People earlier in 2021, Flay revealed that he had plans to release a signature brand of cat food called Made by Nacho, inspired by his very own pet cat, Nacho. "I have had cats in my life basically forever," Flay told People. "I am an only child. My mom always had two or three cats in the house. I literally feel like I was raised by cats in some ways because that's who I hung out with at home." Nacho has since grown into a star, having attracted over 240,000 followers on its Instagram account featuring the cat lounging in a variety of poses. 
While his feline clearly leads the life of a celebrity, Flay had enough love for more than one cat and eventually adopted another one named Stella. In a recent post, Flay showed off a picture of Stella that came captioned with a birthday message reading, "I'd like to open up this beautiful Friday morning by wishing the lovely @stella.flay a happy 3rd birthday. She's the most supportive little sis to her entrepreneurial big brother @nachoflay and holds down the 'fort' while Nacho is packing and sending boxes of @madebynacho to all of his cat pack. She's a sweet, strong and playful young lady and we love her dearly in the Flay household. #happybirthday Stella."
A ton of love for Stella
Flay's 1.6 million followers over on Instagram can't get enough of the adorable birthday post for his furry feline Stella. Sweet replies ranging from "Too cute" and "Happy happy birthday beautiful Stella," have poured in. Flay's other cat, Nacho, even chimed in, saying, "LOVE YOU SIS!" While Nacho's namesake cat food company also shared the love and replied with "Happy birthday to the world's best (and cutest!) taste tester!"
Flay's love of cats runs deep and the Instagram post proves just how much he truly loves his pets. With any luck, the famous chef will hopefully keep posting more photos of Stella, or at least create a personalized Instagram account for her. If you need to get inspired for your own pet's birthday post, look no further than Flay's tribute to Stella and get ready to enjoy many more years of the pet gracing his social media page.