The Secret Ingredient Bobby Flay Puts In His Cat Nacho's Food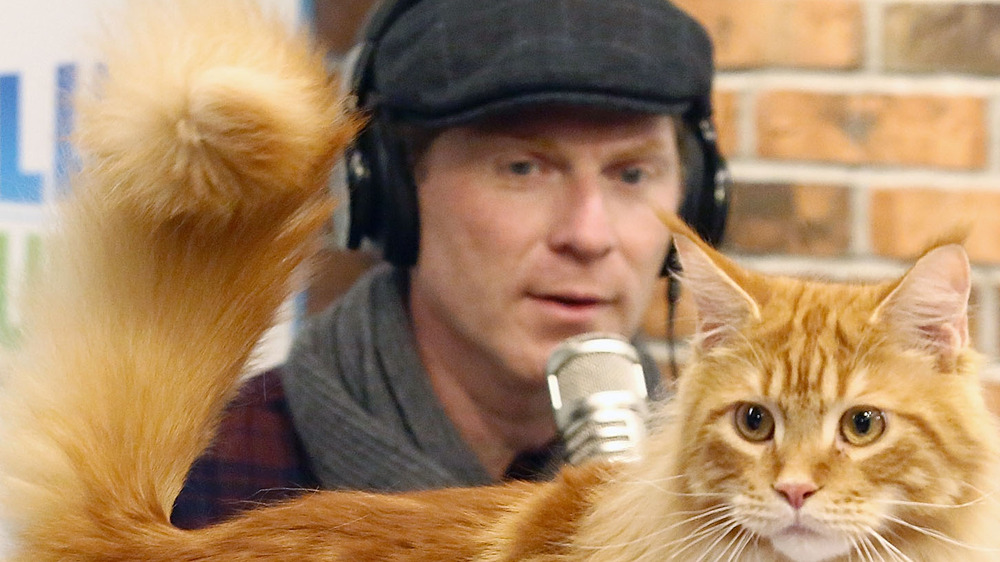 Astrid Stawiarz/Getty Images
Nacho Flay and his papa, Bobby, are finally ready to share their line of cat food with the world. Bobby Flay has been thinking about how to pamper cats for a while. "I literally feel like I was raised by cats in some ways because that's who I hung out with at home," the celebrity chef told People. On its Instagram page, Nacho and Bobby Flay promise that their cat food line will give cats "that 'Why, yes, I do work out' look. (MEOWWW.) 
Hungry felines (or the humans who take care of them) can choose between wet food, dry food, and cat treat options according to the product line's webpage. As per Nacho Flay, who (perhaps thanks to his new super-cat diet) has apparently learned how to type, cage-free chicken, grass-fed beef, and sustainably caught salmon are the stars of his recipes. "My dad taught me it's all about the ingredients," Nacho writes on his website. "By combining [meats] with pumpkin, cranberries, blueberries, millet, and pre and probiotics, I've created balanced recipes that include a dose of antioxidants and support a healthy digestive tract." Nacho worked not only alongside his dad, but also alongside his vet, the pet nutritionist, Dr. Katja Lang, to come up with the recipes for the food. Lang helped point Bobby and Nacho toward one, extra- special ingredient. 
Made by Nacho contains one, very special ingredient
Spoiler alert: it's the bone broth. "Bone broth is a trend on human shelves, and that's sort of our secret ingredient," Flay explained to People, "It's very palatable for cats. It's packed with protein and also provides the extra hydration cats need."
Flay's not telling tall tales. According to cat food blogs like Be Chewy, bone broth can positively contribute to your cat's liver, bone, and digestive tract health. In short, the effects of bone broth on felines seem very similar to the effects of bone broth on humans. So, for example, much like it does for humans, the amino acids in bone broth are likely to boost your feline's entire immune system (via BBC Good Food). Who knows, as with humans, bone broth might even help your cat catch a few more z's.
We're all for Nacho's new line of cat food. However, like Food Network star Alex Guarnaschelli, we want to know: "Where's the blackberry pomegranate glaze" (via Instagram)?