Gordon Ramsay Is Giving Away A Trip To His Vegas Restaurant. Here's How To Enter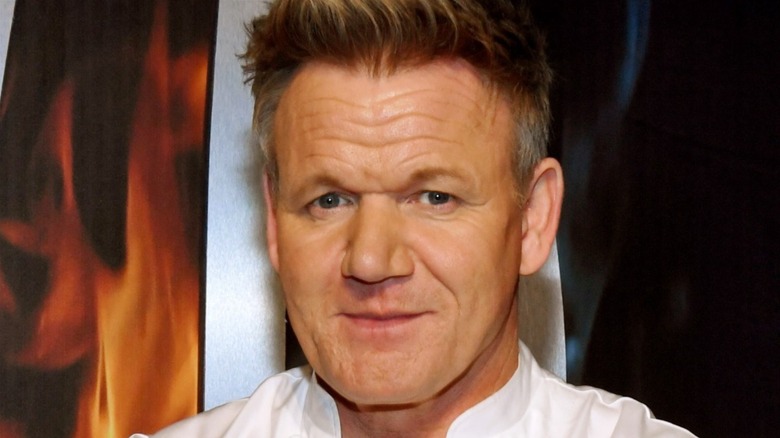 Ethan Miller/Getty
If you ever find yourself able to score a reservation at one of Gordon Ramsay's five restaurants in Las Vegas, you're in for a good time. According to OpenTable, diners in particular love Ramsay's Hell's Kitchen spot at Caesar's Palace, and often post glowing reviews like, "Food was AMAZING! Beef Wellington is a MUST!" or, "Expensive but the best money I have ever spent, the food was incredible." If you live outside of Nevada, however, planning a Las Vegas trip can prove more difficult, not to mention expensive — but, thankfully, Ramsay has now come up with a way to get you out to the desert to dine at his restaurant on the house.
In a recent Twitter post, the chef shared, "Feeling lucky?? I'm giving away a trip to #Vegas at @CaesarsPalace and a VIP dining experience at my restaurants." To enter to win, Ramsay added, you need to get his new mobile game called Chef Blast (it can be downloaded for free on portals like Google Play) "and play the first 10 levels to enter." In an accompanying video, Ramsay further explained that the grand prize awards a winner and a guest with a four-night stay at Caesars Palace with access to five of the chef's Las Vegas restaurants.
Here's how to get Gordon Ramsay's new video game and enter to win
If you want to enter the contest to head to Vegas and try out Gordon Ramsay's restaurants, you first need to download his new mobile game, "Chef Blast," which you can do so for free in the Google Play or Apple stores. According to the game's developer, Outplay, it's a culinary-themed puzzle game where you "tap matching cubes to blast them to smithereens and cook up a storm!" Pocketgamer reports that the contest officially started on October 21 and is open to players in the U.S., U.K., and Canada who are at least 21 years old and beat at least 10 levels of the game — upon doing so, you'll automatically be in the running for the chance to win. Even better, the article says "Chef Blast" will have "spooky upgrades" for this Halloween season, like special décor in the kitchen and an exclusive recipe of Raven's Wings with Bloody Hell Sauce.
The contest is open until November 18 and winners will be announced November 25, per Pocketgamer. In addition to getting a luxurious set of meals provided by Ramsay's restaurants, winners also receive a $5,000 Caesar's Palace gift card. If you have always dreamed of a perfect Las Vegas vacation and love the idea of enjoying some of Ramsay's classic dishes for yourself, try your luck and see if you can win big.